A week ago, my ex-colleague contacted me saying she bought tickets to Bari for the beginning of December. Before I moved to Apulia, not so many people knew about its existence, and now I'm here as a local guide :). Obviously, I received a message on Facebook "What will we do there? Maria, help!"
In this post I'll tell you about the main Puglia cities to visit, restaurants, Puglia trulli and other sightseeings, hotels in Lecce and Martina Franca. So, I'll try to describe you a route for your first trip to the Italian heel.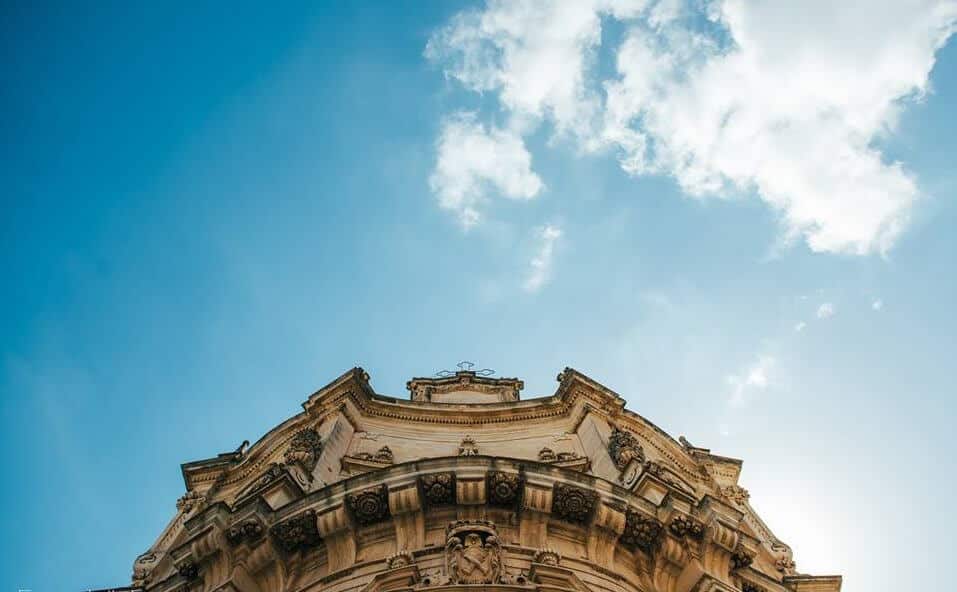 Here we go. In Puglia, there are lots to do besides the beaches. I was here in December, March, May and since June all summer until today. That's why I'm telling you that you can come here in any season, like in Rome and Milan. In summer it's very hot here, so people do not really have a possibility to see the area around. It is possible just to move from a beach to another beach or go out to the city during the evening, because it is+ 40+42 at the end of July.
By the way, now it is 27th of October and the whole week the weather in Puglia is perfect, +23 degrees. And frankly speaking, I am fully enjoying!
The friends from St. Petersburg, who visited us September, said us after they came back home:
"The weather is 💩, but for now at least the leaves brighten the streets. As soon as they disappear, it's gonna be a total gloom, a perfect moment to take out the new year decorations!😹 I try to keep that 3-days suntan as long as possible! And I can't forget our fantastic Apulian vacation. We saw so much but still, it seems like we saw only 1 percent of the region."
Once I've asked my husband what do Austrians and Americans do here in winter? There so many foreign cars here. And he replied me that they come here to buy vineyards and masserias. So, if you want to invest, here is one more way.
In general, agritourism is well-developed here and is on demand among British people. Basically, you live in Apulian masseria (luxury or not it is your choice) inside of the peninsula, visit wineries, see the wine creation process, visit local small cheese or salumi factories like I did this summer (see the video here).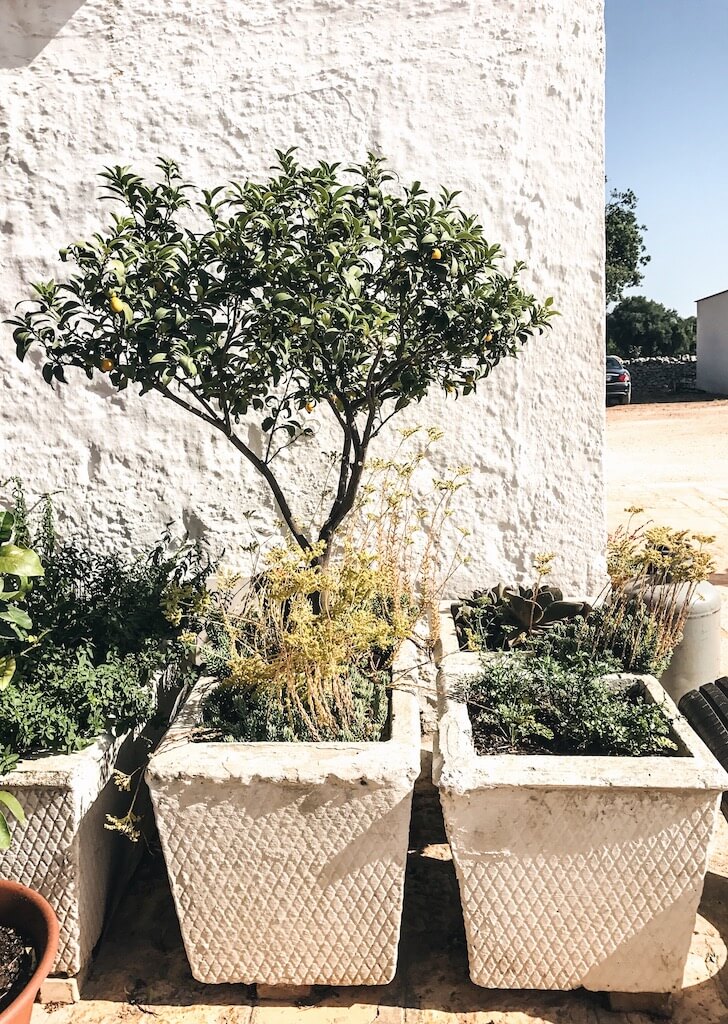 But the most popular this region is as a wedding destination and birthday celebrations of celebrities! For example, Ivanka Trump comes here already for two years for a summer vacation and Madonna celebrated her birthday in Monopoli this August. So I guess Puglia has got something particular what you already don't find making usual Italian itineraries.
So what to do in Puglia in autumn or winter?
Day 1 – morning arrival to Bari. Destination Monopoli
From Bari immediately move towards Monopoli, which is 45 km away from a non-official Puglia capital. I don't recommend to stay the first day in Bari, you'll dedicate it a half of a day on your way back.
I really fell in love with Monopoli after 2 weekends spent there. This city has everything: a beach, a small port, white typical Apulian houses, cozy atmosphere, it is very lively, there are fantastic restaurants to taste fresh seafood… Well, it will be perfect for your first day in the heel of the Italian boot.
Book a b&b, which is the most popular type of accommodation in Puglia after villas (but this works good for your summer vacation). Though is one amazing hotel, situated in a historical center on a rock, called Don Ferrante – Dimore di Charme. It all has rooms with a sea view and a breathtaking rooftop terrace. So look the map and choose something suitable for you in this zone. All the buildings near the waterfront are like in a fairy-tale, all freshly painted in white, covered with flowers and washed bedclothing. Love it!
A good choice from all b&bs where my friends have already stayed can be Playa del Mar for adults only, which has a really good position. It is situated just out of the ancient fortification walls of Monopoli, i.e. ancient downtown, and right near the beach. So you can be both near the central neighborhood and the sea waterfront.
Othe accommodations to consider are I Nobili Suite, very close to the waterfront and it'll cost you around 60-70 euros per night, and Palazzo Bregante, which is situated near Piazza Vittorio Emanuele II where the new center begins. Anyway, the distances are small.
Dimora Madina apartments Monopoli
A very cute option in the historic heart of Monopoli is an apartment Dimora Madina. It is a 4 floor cozy and a very characteristic apartmanet. It is a bit narrow, but hight, every floor is a room: the ground loor is a bathroom, first floor a bedroom, second floor – a kitchen and the last one ia a terrace. For two people it is a gorgeous place.
Places to eat in Monopoli
There two high-quality restaurants I've discovered in Monopoli thanks to our local friends. Both are seafood places and a located between Monopoli and Polignano-a-Mare. You enter there like in fresh fish kiosk to choose what the chef will cook you. Of course, forget about looking into the menu. The waiter will tell you what they have in that concrete day, what you should try, etc. The atmosphere in the restaurant is very pleasant.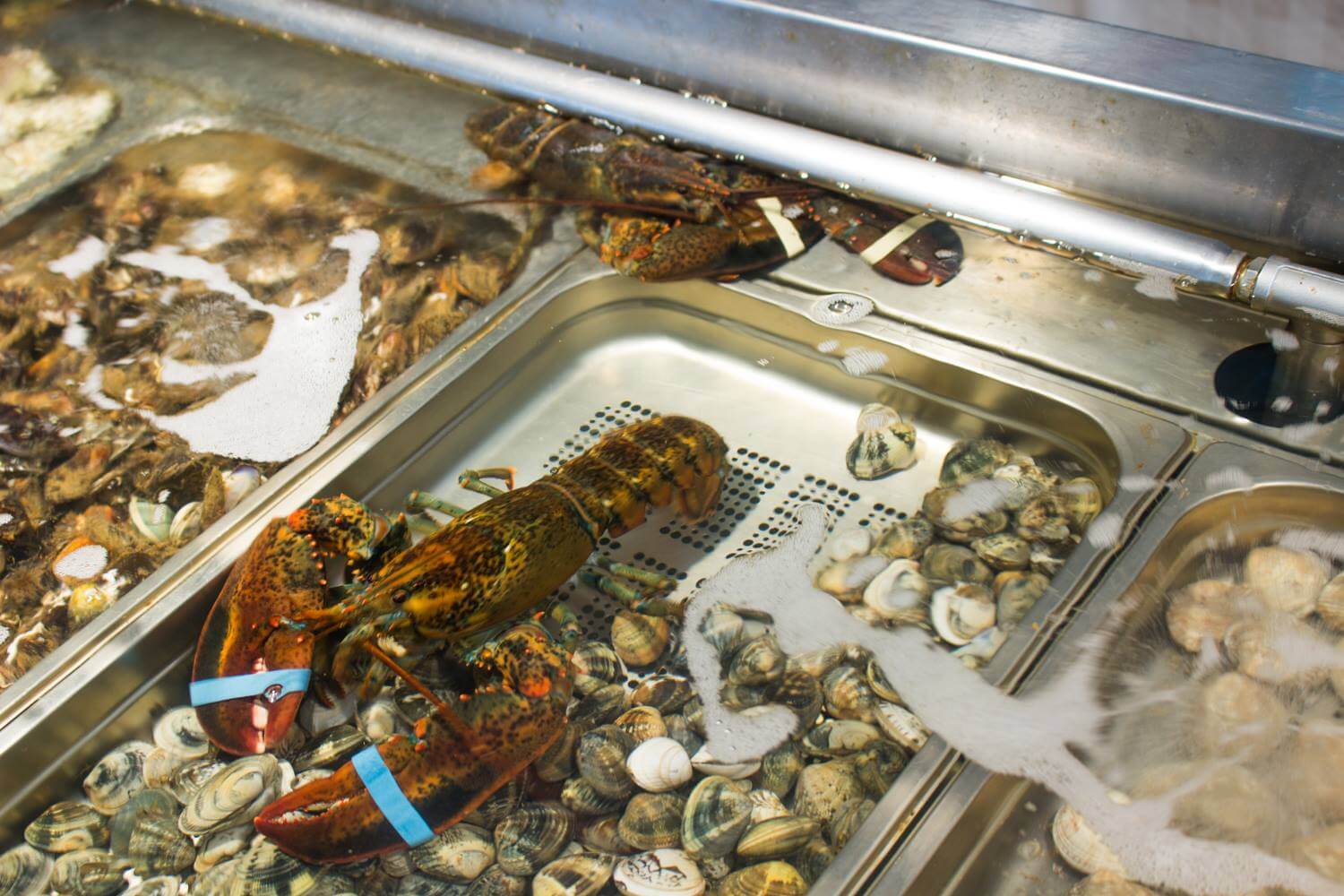 The second restaurant is called La Locanda sul Porto and is located right in front of the port of Monopoli. This place is a paradise for those who love crudo – fresh seafood. Here you'll be also recommended the most delicious local seafood like Gallipolian viola shrimps, which are sweet and don't need any condiment, just a little bit of Apulian olive oil. The restaurant serves big plates for two of first and second courses and the quantity of antipasti is endless.
Write me a message and get a glass of wine or a discount in my favorite restaurants in Monopoli

Monopoli has one huge and richly decorated cathedral, which on December 15 will turn 900 years old. It is called Basilica concattedrale di Maria Santissima della Madia and it has a particular story.
In brief, the story is the following: the cathedral was erected near the site of a Roman temple and burial site. Work began on it in 1107, but was supposedly halted for the lack of roof beams. A miracle occurred in 1117 when a raft carrying an icon of the Madonna drifted into the harbor. This news came as a dream to a servant of a bishop. He woke up and ran to the bishop telling him that they had to go to the port and take the icon. The bishop didn't believe him and the dream repeated three times until the lightning struck the bell tower and this time everyone ran to the port. They found the icon on a raft, took it out from the water and put it into the cathedral and the raft beams were used to construct the roof. Those original beams are still located in the cathedral.
The Monopoli cathedral is very huge and magnificent, all constructed from murble inside. So it is your first must visit sightseeing in this city.
Day 2. Martina Franca
The distance – 32 km from Monopoli. So wake up earlier, take your coffee and get into the car. Destination -Itria valley, Martina Franca. Another white city is waiting to wonder you.
On your way yo Martina Franca think about the opportunity to visit another three popular towns in the valley – Alberobello, Locorotondo and Cisternino. This trio deserves attention! The first town is, in fact, like an open-air museum where the main Puglia attraction trulli is located. Trulli are the old style houses with a conical roof, which are listed in UNESCO and exist only here. They look so cute!
In Cisternino you will find uno dei borghi piu belli d'Italia, which means one of the most beautiful quarters in Italy. Italians even have got such nomination list in the piggy bank 🙂
Summarizing, you book accommodation for a night in Martina Franca and visit a couple of above mentioned towns.
Try Relais Santa Maria b&b, which is located in the heart of Martina. The price might be a bit higher than the average one, around 90 euros, but it is worthy to stay here. The b&b is very characteristic, created in a local Apulian style, checked by the followers of the blog.
Or you can check the most authentic accomodation – an Apulian masseria.
For example, Masseria Fumarola nearby Martina can be a good choice.
Tip #1
Consider when making the trip plan, that in Puglia almost everything is closed during the lunch time, which lasts from 13:00 to 17:00 (!!!). Yes, yes 🙂 So it's better to use this time for moving from place to place after the lunch.
Tip #2
In the pre-Easter period, especially during the Holy week, you can watch unique rituals on the streets of Puglia. In Taranto, Martina Franca and other cities with their own peculiarities, there are processions of barefoot people with closed faces like capuchins that repeat the road to Calvary and ask for the atonement of sins. No one knows whose face is under the hood. Often participants are even criminals.
By the way, such scene is shown in the series Gomorra (talkes about mafia napoletana of current days), where the Order of "Battenti" in Naples (those who beat) commits the procession on a Holy Friday.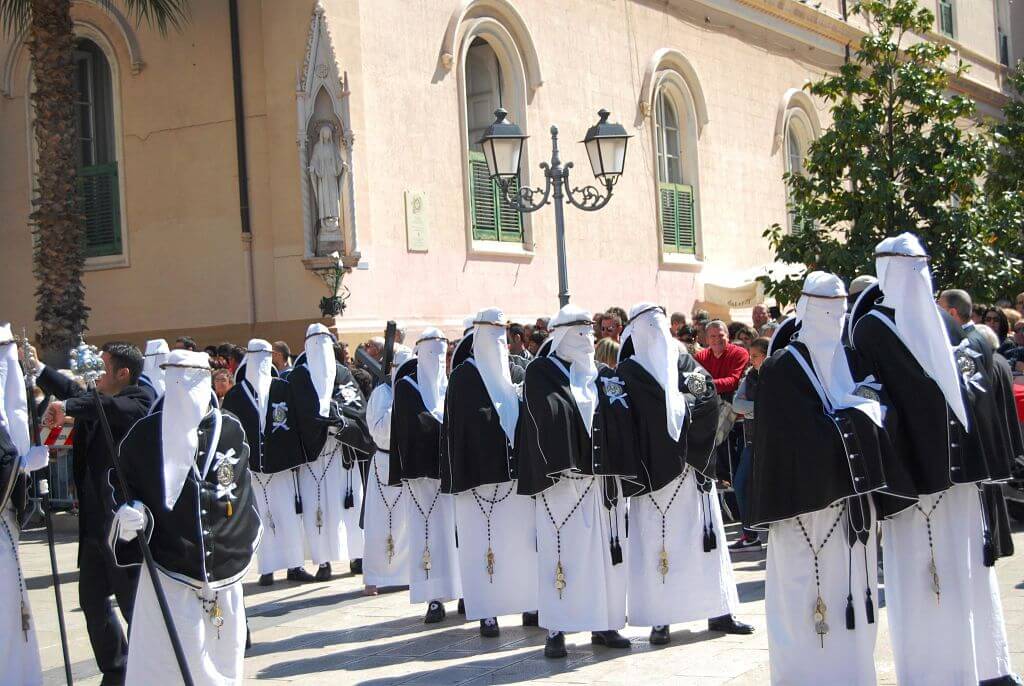 So, Martina Franca is the center of the light industry of Apulia and another beautiful white city. When you walk around the historic center, the impression is that the pavement stones are polished by someone every single day. In Martina there is an open for public palace near the main square, lots of antique shops, Sunday flea markets, lots of clothing shops from local designers to luxury boutiques and very delicious meat and wine! There are plenty of tailor's workshops, clothes factories where fabrics for Zegna, Valentino and many other brands are produced.
The basis of local cuisine is meat, so do not think there is a fish here. Instead, you'll find here those types of veal, you would never taste in other Italian regions.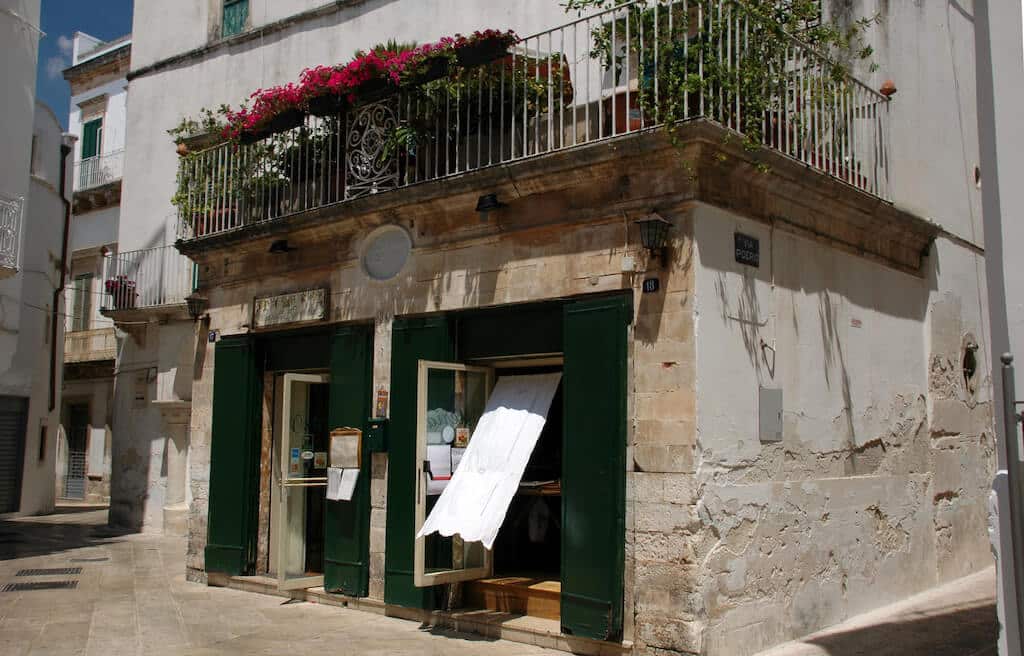 One of our favorite restaurants in Martina Franca is the restaurant I Templari. If we have to stay for a lunch in Martina we don't think of something else.
Ask us to book you a restaurant!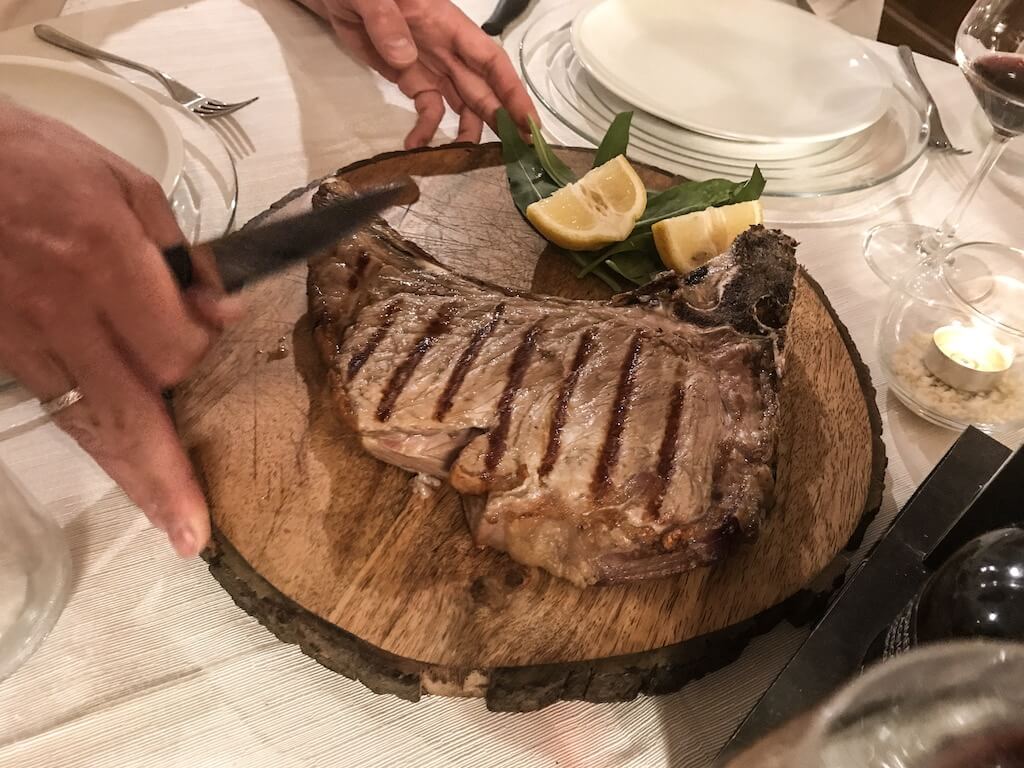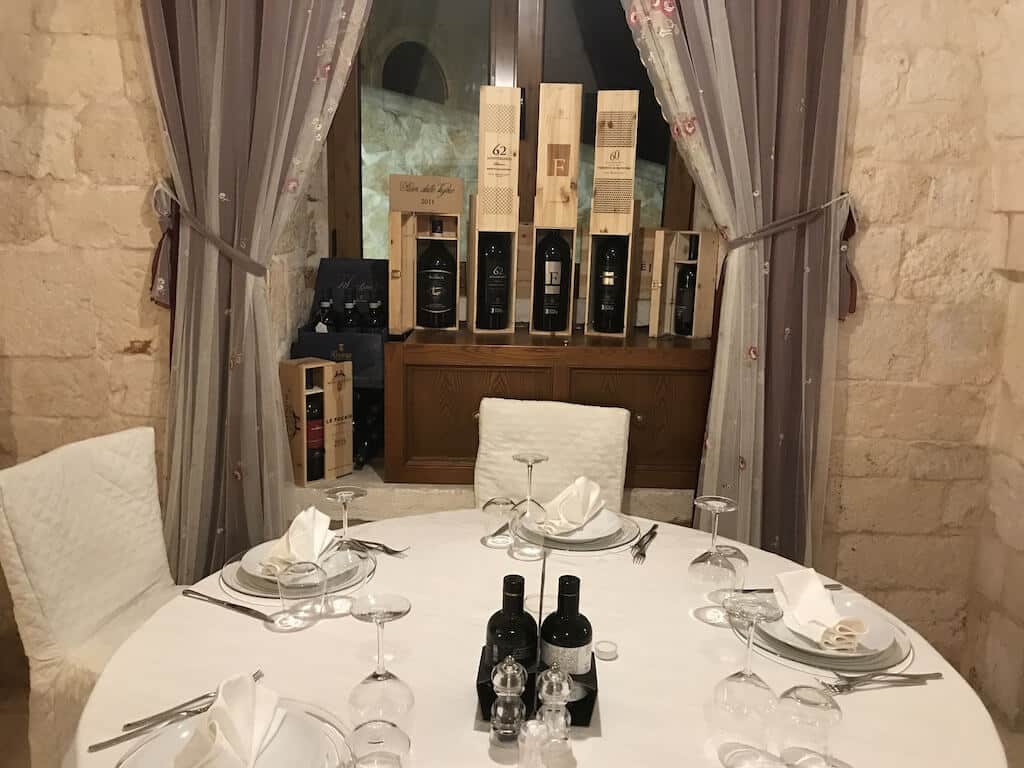 I will not describe you how we ate the antipasti for an hour, which had no ending and then 2 kg of meat for four people, just come here for dinner! Highly recommend this restaurant in Martina Franca.
Day 3. Ostuni or Lecce
Ostuni is a white city on a hill, quite far from the sea. Majestic in the evening when covered with lights it is all faced towards the Adriatic coast.Lecce is my favorite city in Puglia in baroque and light stone.
Lecce is my favorite city in Puglia so artistic, a little bit busy comparing to the others, still very relaxed. Lecce is all build form a characteristic light yellow stone which is present only here and is called "la pietra leccese",  in baroque style.If you get to Lecce, I'll adore you! There, there are plenty of delicacies and the city is plush. But I'll write about Lecce separately. Just remember that this is a must visit.
If you manage to arrive till Lecce, I'll adore you! This city has plenty of everything: restaurants and trattorias for every taste and money, theaters, exhibitions, events dedicated to oil and wine tasting, concerts. In a word, it is very lively. But I'll write about Lecce separately.
A hotel in Lecce? I recommend b&b Palazzo Belsanti
The interesting fact is that accommodation in Lecce costs less than in other parts of Puglia. Maybe because there are so many high-quality b&bs here and the competence is high… I don't know. For example, there is one spectacular b&b Palazzo Belsanti which is situated from another entrance to Lecce historic center. The owner Alessandra is a very gentle and pleasant person who'll take care of you during your stay. The most interesting is a huge terrace on the roof where you'll be heaving a breakfast with the view!
Right behind the main square piazza Sant'Oronzo, called b&b Letterario.It was opened this summer, so it is completely new. Our friends found it on Booking just by chance and were completely satisfied with their staying. The prices vary from 60 to 80 euros.
Day 4. Bari – the biggest city in Puglia
For your las night come back to Bari. Visit everything and leave the next morning.
Bari is a city with a particular atmosphere. It seems to be both beautiful and spacious, but not as cozy as Lecce, as for me. About 5 years ago, the local citizens did not even think of going out to the downtown, to the historical part of Bari because it was an area of criminals. Later the local authorities fixed the situation and today I wouldn't say that it feels uncomfortable to be there even if the historical center seems a little gloomy. It feels more medieval. Actually, the city experienced various invasions, historical epochs and as I've already mentioned in my posts Bari has even been an emirate for a quarter of a century.
At the same time it has a rich cultural life, Being a fourth biggest city of Italy at the beginning of XXc. it had plenty of theaters in the central neighborhood. Till now the main theatre Petruzzelli hosts foreign artists, theaters, etc.
Also Bari is good for shopping.
See what to do in Bari in one day here.
So, after you arrived in Bari, accommodate yourself  in a b&b NOT in the old center, but in the neighborhood Murat, which is on the bordering streetafter a wide avenue. To know more about what to do in Bari see here.
Don't miss to visit the Basilica of St. Nicholas. The cathedral consists of two parts: the ground floor where you enter – the Catholic part; the undeground floor where the relics of a Saint are located is the Orthodox part.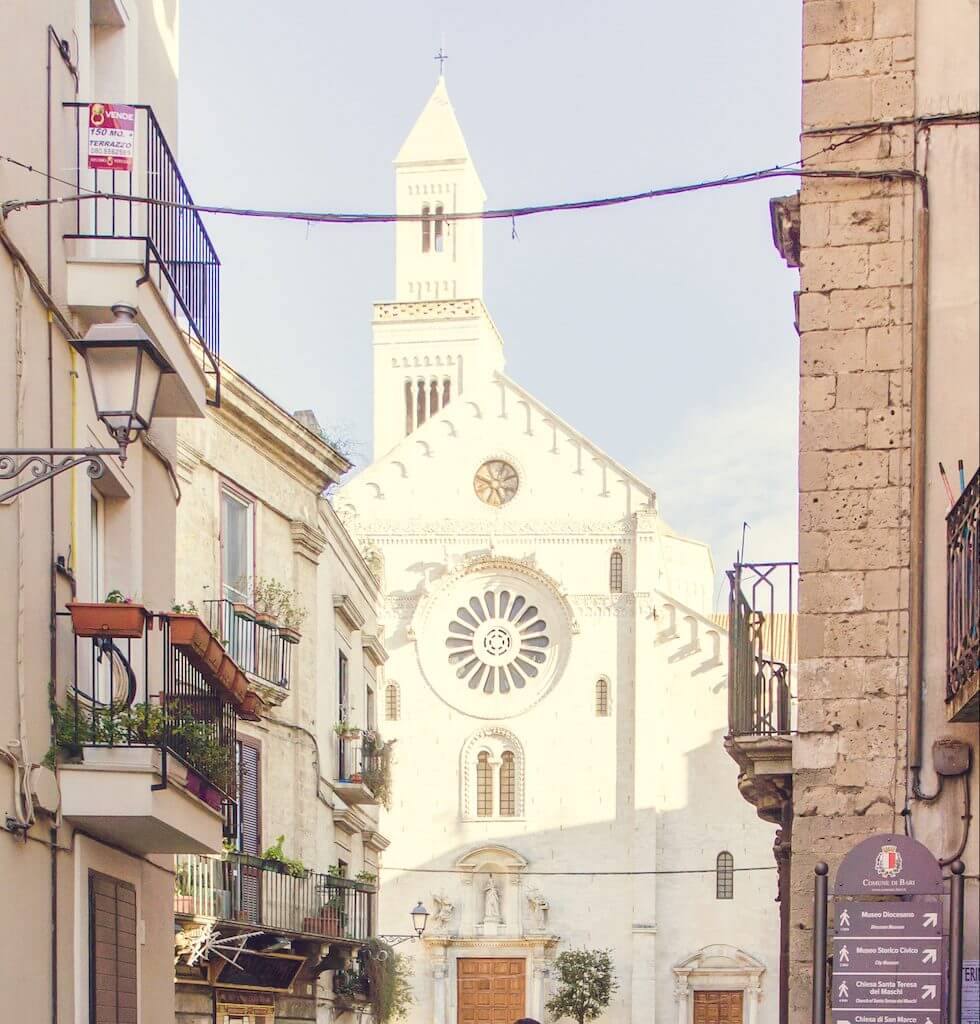 So here we are! Our long weekend is over and we've managed to see something but still so few.
You can always contact me if you decide to come in Puglia! I'll be glad to be your local guide here 🙂
If you like the post, please pin it