Visiting Puglia, especially for the first time, is always an unexpected experience. It has what the rest of Italy doesn't. Consider that till the last more or less 10 years the region of Puglia was "closed" from the outer world as people preferred to preserve that authenticity and their region for themselves.
Today this authenticity is a trademark of the Italian heel. White houses, narrow streets, the smell of fish and "frittura", of the fresh-made pasta with tomato sauce able to blow up your tastebuds… The smell of sea and a careful touch of sun almost 365 days per year. The colors and variety of landscapes will make you feel happier. Be ready to escape from the noise of megapolis and settle your heart in Puglia.
Now you are on the way to discover something totally new, what exists only in Puglia – particular resorts called masserias or luxury farmhouses. Why are they called so, see my previous post about masserias. Be ready to dive into a peaceful atmosphere, be surrounded only by olives, vineyards and the sea…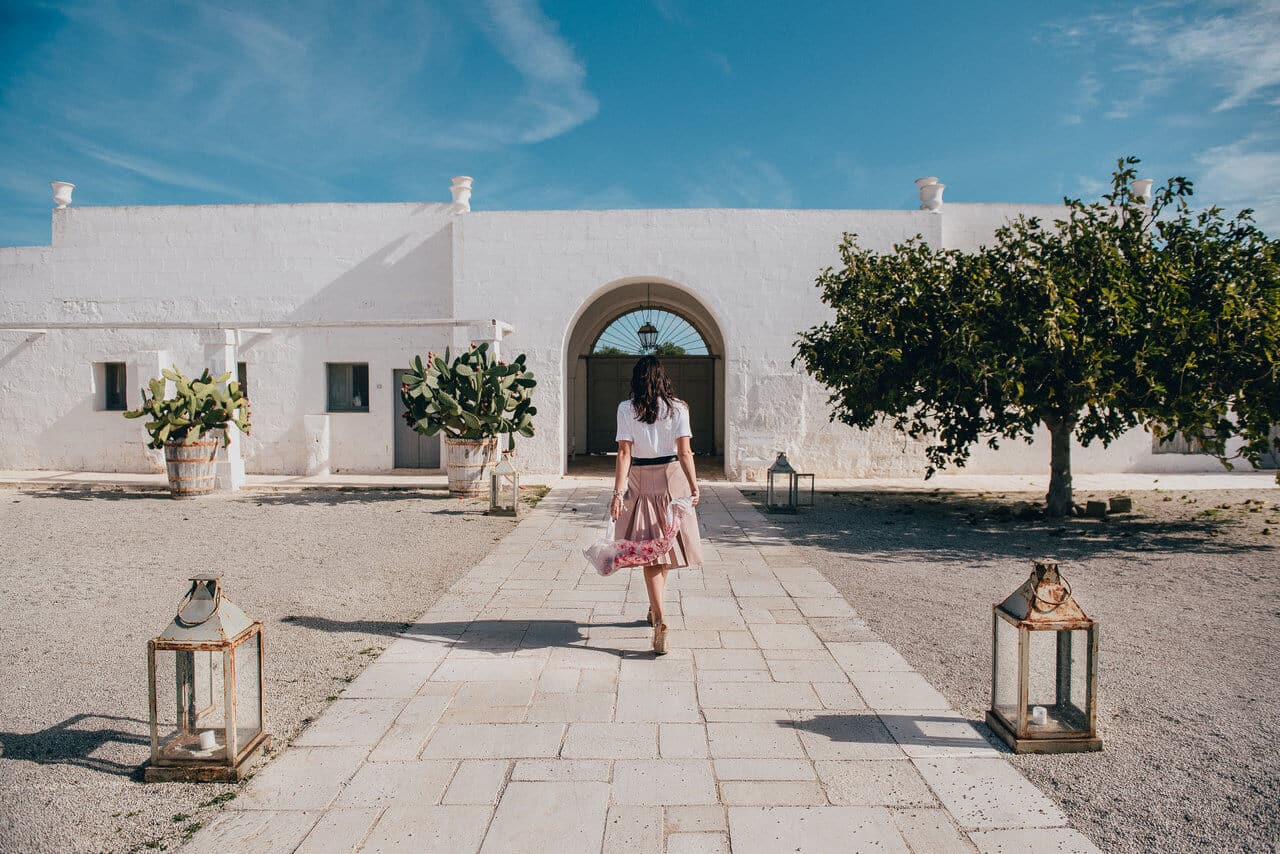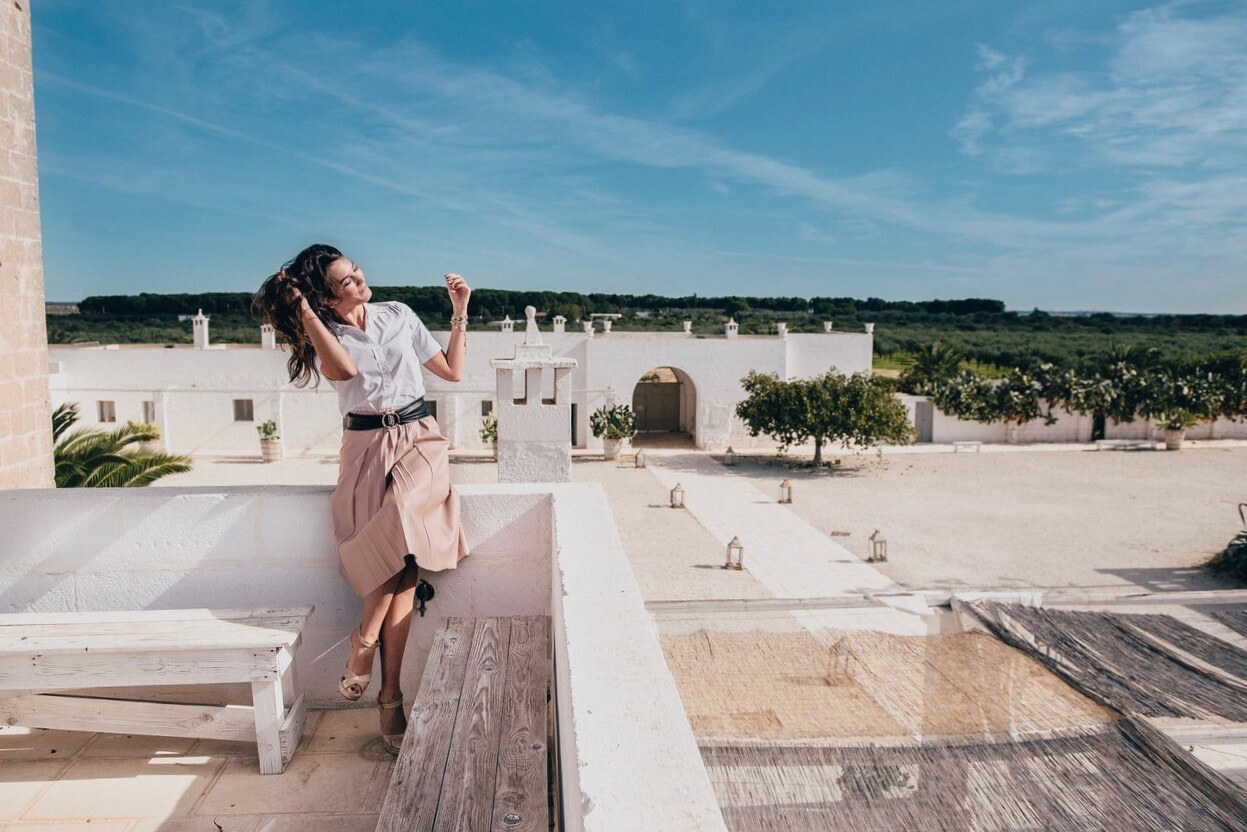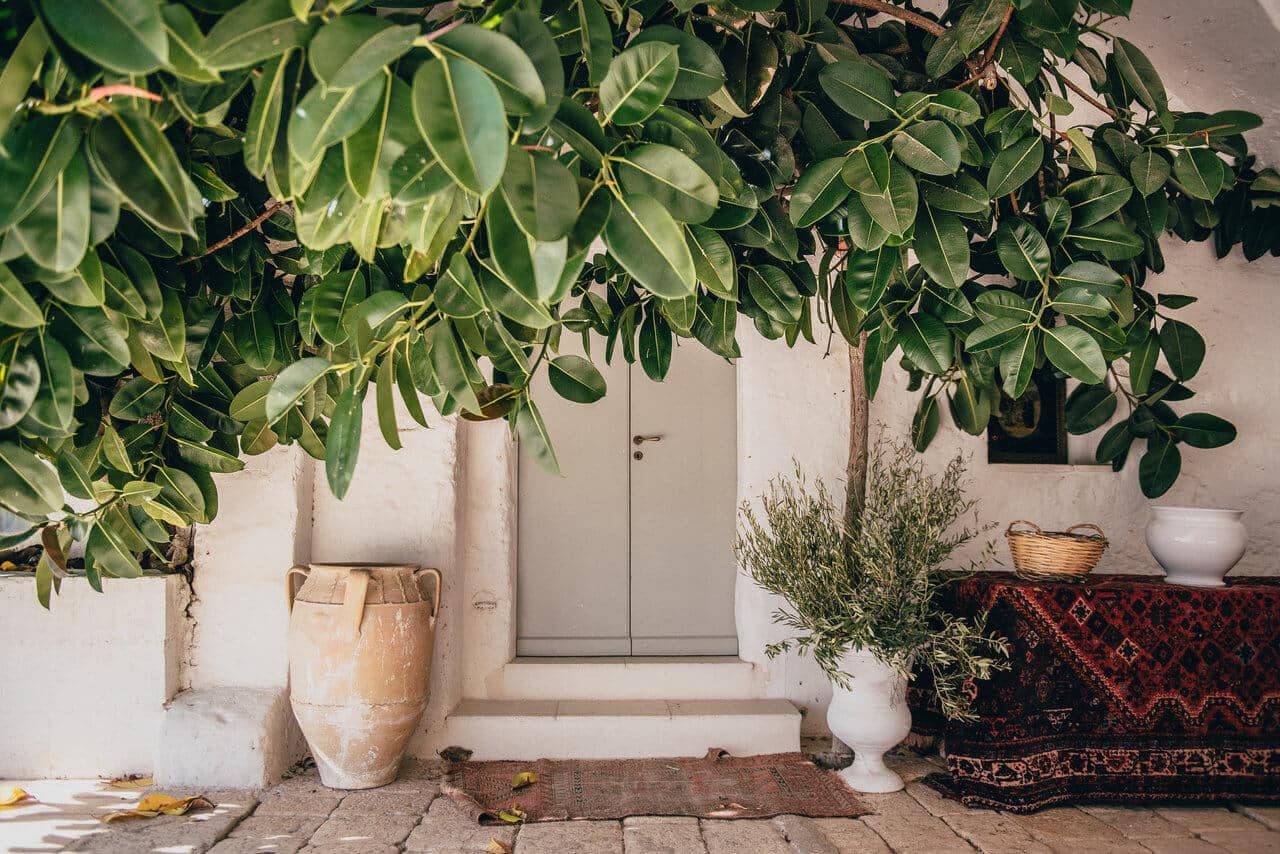 LOCATION
We arrived in Masseria Potenti from Manduria, the native land of the most popular wine in Puglia – Primitivo di Manduria. What we saw first were the hectares of olives trees mixed with the vineyards. It is a common landscape in Puglia and you will not find the best resorts right on the beach, because they are called to take you out to the relaxation.
Masseria is located in Contrada Potenti just out of Manduria center, in few kms from the coast of summer villages San Pietro in Bevagna and Campomarino di Maruggio, where the sand dunes, nature reserves of Puglia's Ionian coast are located. The color of the sea is just breathtaking.
The farmhouse repurposed into a sophisticated 21-suite hotel with the huge territory, excluding the above-mentioned plantations of olives, is ready to receive guests almost the whole year, as the weather totally permits that. Here the owners have everything to show the Pugliese hospitality – wine and food, people and activities. Almost everything you'll find on the table was grown up in masseria: from tomatoes and herbs to oranges and mandarines hidden in inside the rich green carefully treated trees. Masseria has plenty of things to do: food masterclasses run directly by the owners, yoga retreats organized mainly in spring. This is a perfect location for a wedding in rustic style and just a beautiful place to relax in.
Masseria has plenty of things to do: food masterclasses run directly by the owners, yoga retreats organized mainly in spring. This is a perfect location for a wedding in rustic style and just a beautiful place to relax in.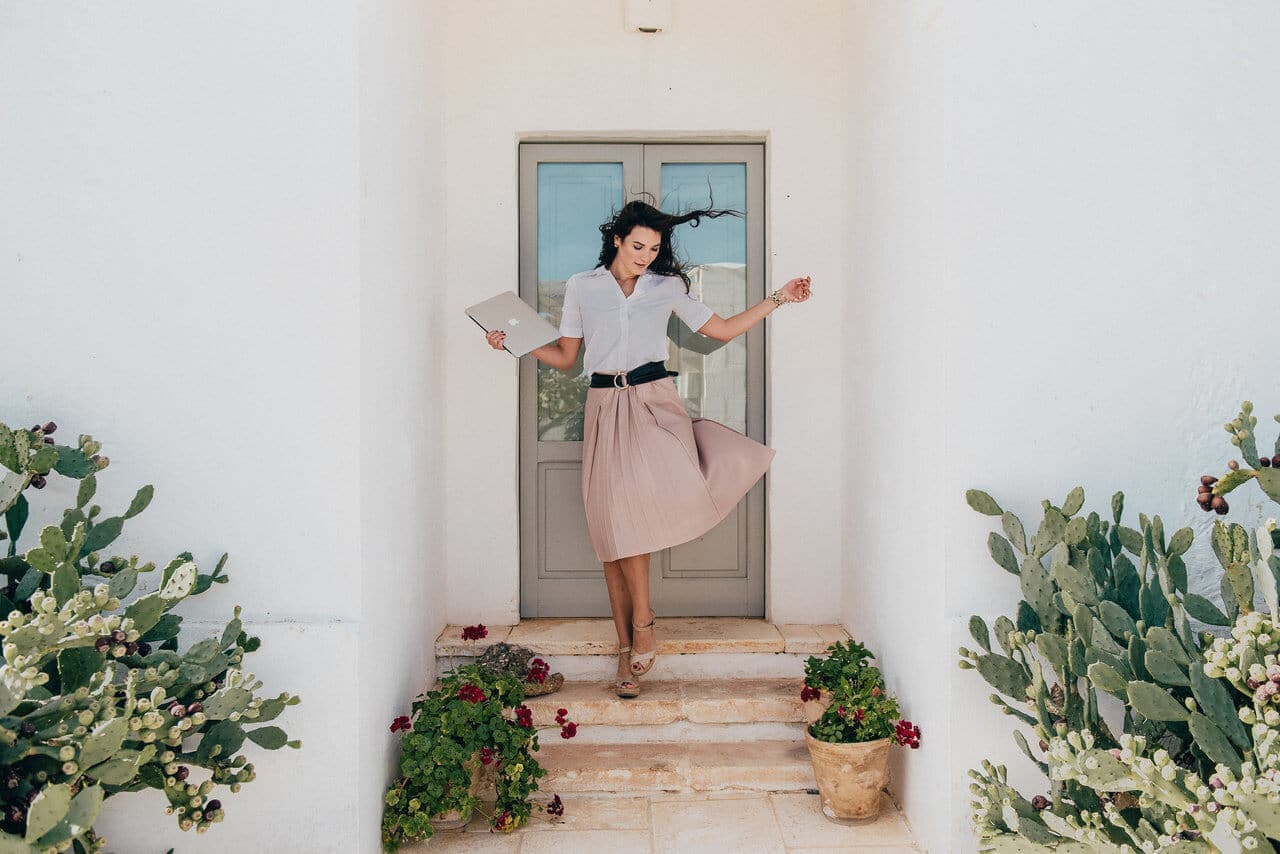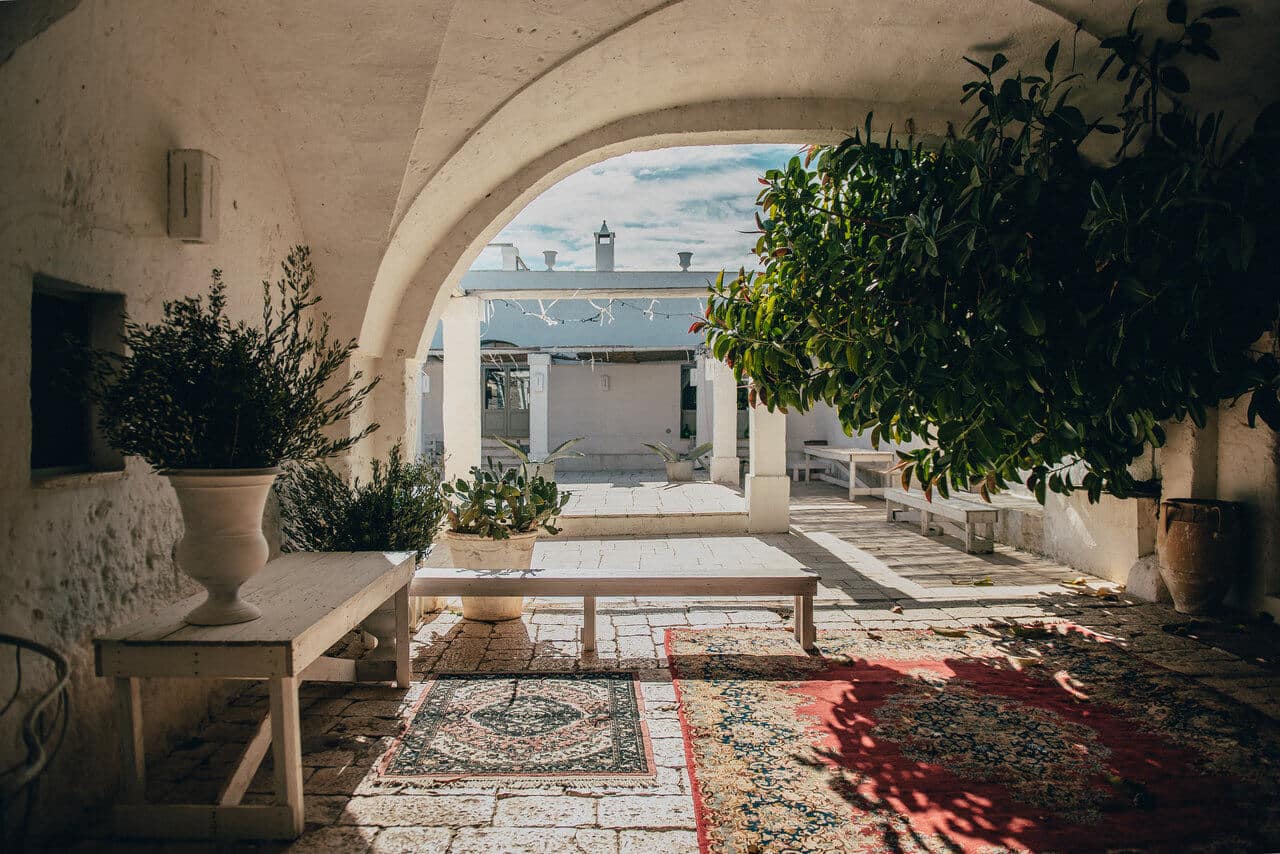 DESIGN
Masseria Potenti is an ancient farmhouse dated around XI century, which composed of the main building which was called "la casa padronale" and other buildings and outdoor spaces, including a swimming pool and yards. In total there are 21 rooms and suites with private gardens.
The main concept on which is based Masseria Potenti is the family, whose aim is to show Puglia in all its beauty and authenticity, to make the guests feel the true Mediterranean spirit. So the overall ambiance incapsulates the mentioned concept. Simple and not excessive. These two words describe the rustic interior. At the same time, such farm styled resort is absolutely comfortable and well equipped.
White walls, traditionally covered with lime, rough edges and incomplete features seem to be perfect, to be on their right place. This is that imperfect perfection which is reflected in every detail. The aim was not to rebuild the old farmhouse ideally, but to leave that spirit and the smell of rooms and cellars (it. "cantina") where the cheese was dried, the wine was kept in wooden barriques.
The old stables and cattle barns are irrecognizable as they might serve today as living zones or bedroom with the most particular interior. The places where the velour grasses were put many centuries ago today serve as shelves or a bed cabinet.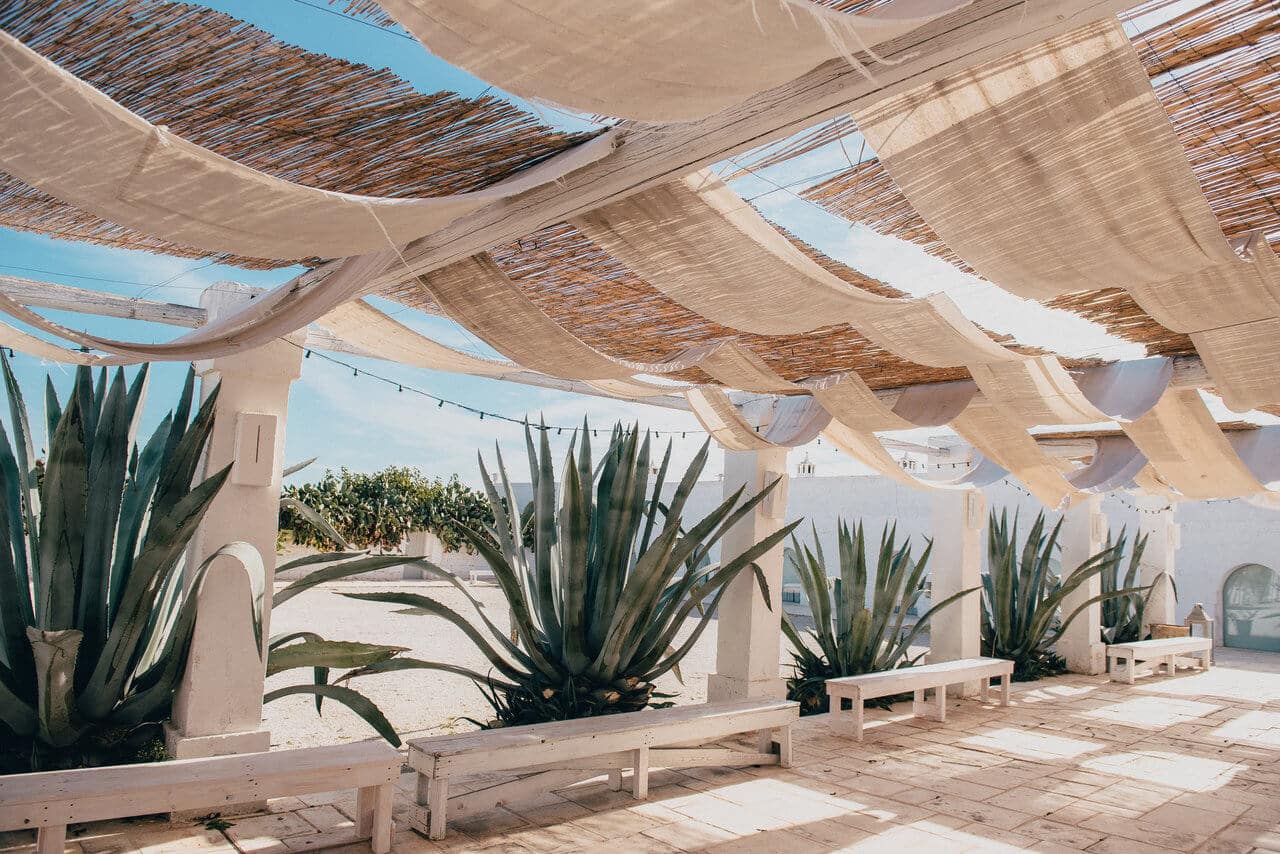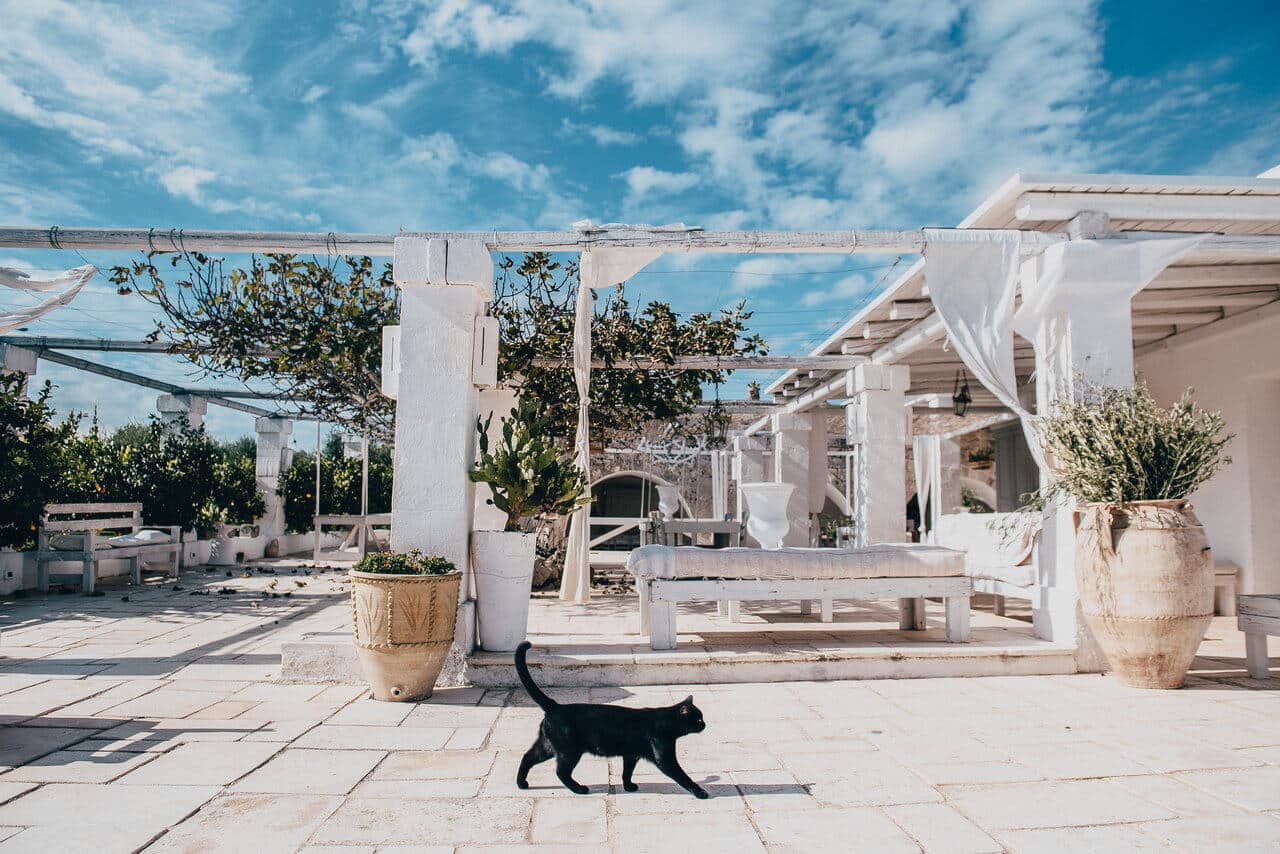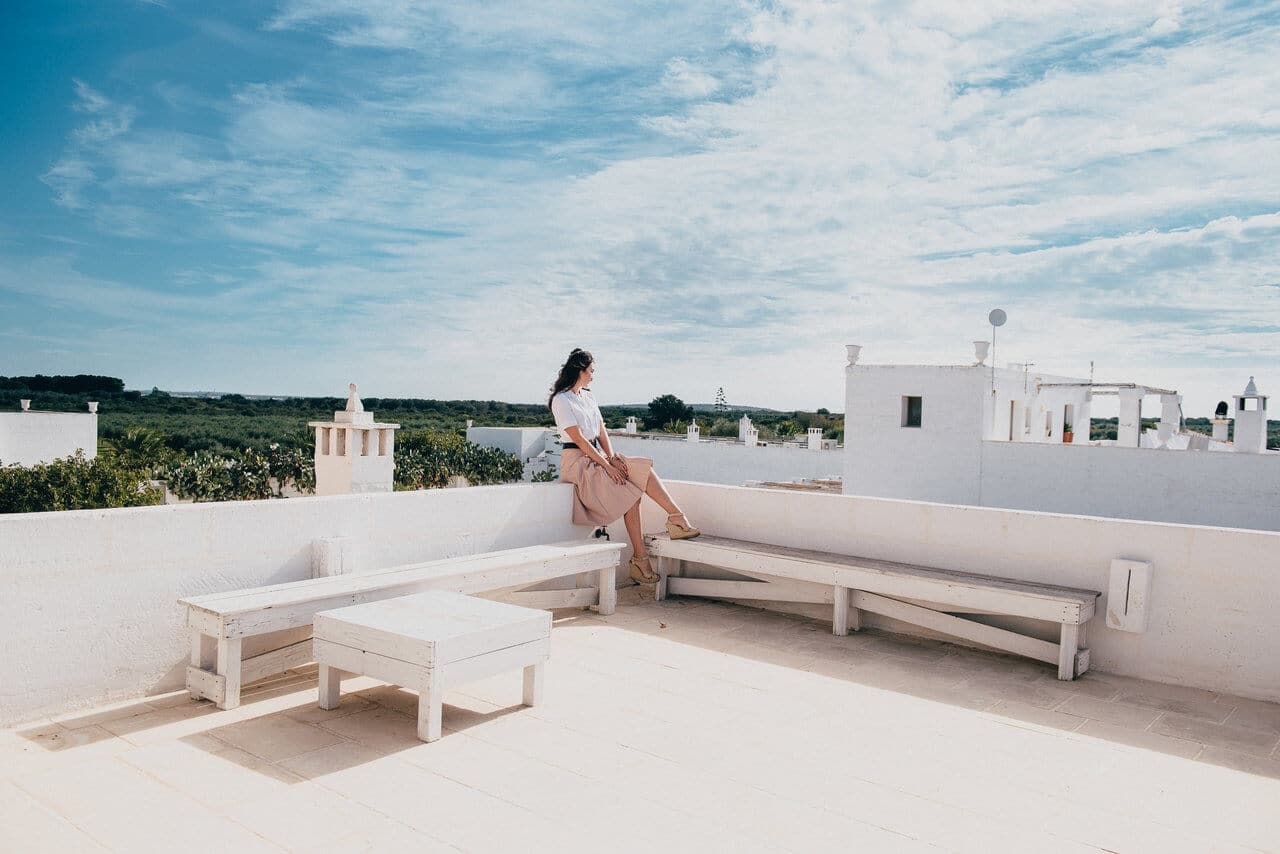 The owners' love to the details is seen in every corner: old vases are combined with washed-out carpets and newly made ceramics from Grottaglie, photos and handmade trinketries, particular refurbished sofas covered with linen sheets, old rustic tables and chairs decorated with dried spicy pepper garland or various fruits. This is their infectious way of sharing love to Puglia.
By the way, Maria Grazia, the main Signora in Masseria and a passionate storyteller, is a collector of the ancient or particular linen. And while we were sitting and talking she showed me one piece from her collection – an embroidered shirt with unknown origins. So each of the objects you'll find in the rooms has its story.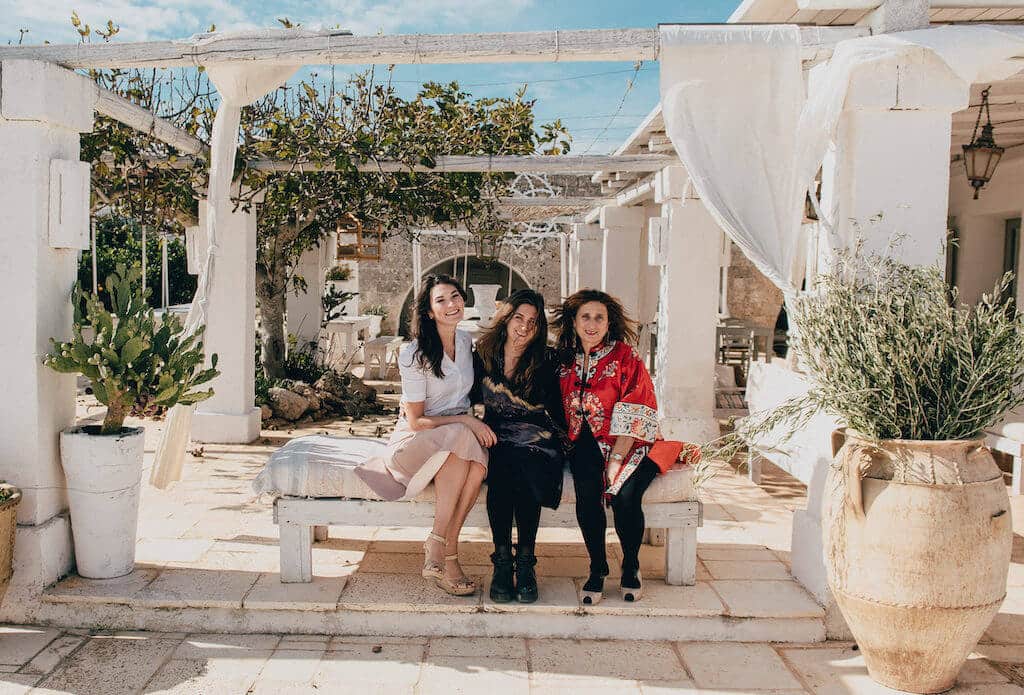 Also, Maria Grazia is always ready to prepare for her guests some fresh bread for the breakfast, teach how to cook homemade Pugliese pasta and as she said:
"Me and Chiara (daughter), we take care of every our guest. It's not just to give a key and say "enjoy", we open the doors of our home. We listen to the guest's necessities and he wants to be alone, we leave him to relax. Otherwise, we involve people".
"Actually we've never thought about masseria through the strategy o business. For us it was a hobby. And from 6 rooms we grew up till 21 and we'are not sure we'll increase the number. Otherwise, we'll not be able to dedicate the attention to every our guest".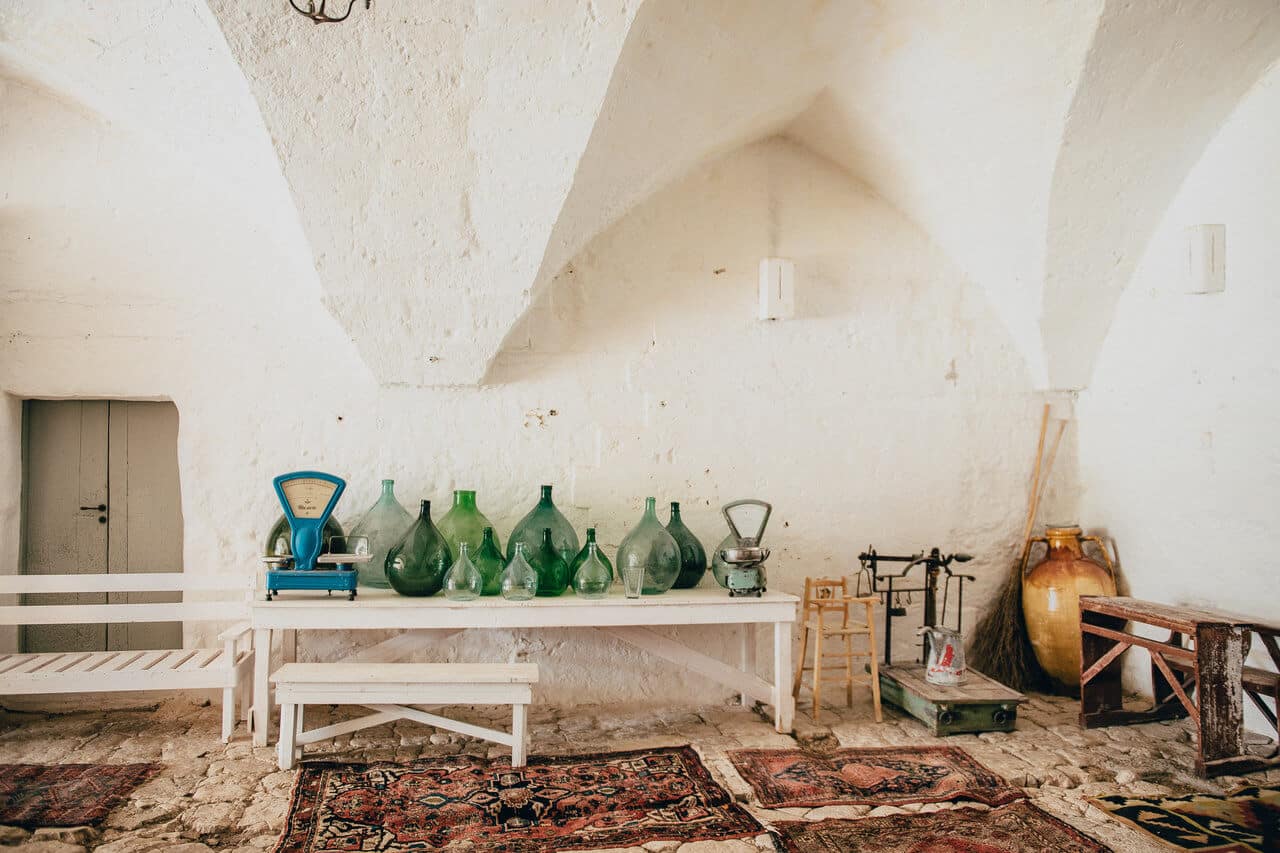 You know what is fascinating? The atmosphere. The serenity that surrounds the area around lets you forget time and space. The entire place gives off a dreamlike ambiance. It is a mix of Greece, something Arab… Morrocan maybe? Those white walls, star-shaped ceilings, which is my total love in Puglia. Even in our house, we have these ceilings and they are adorable!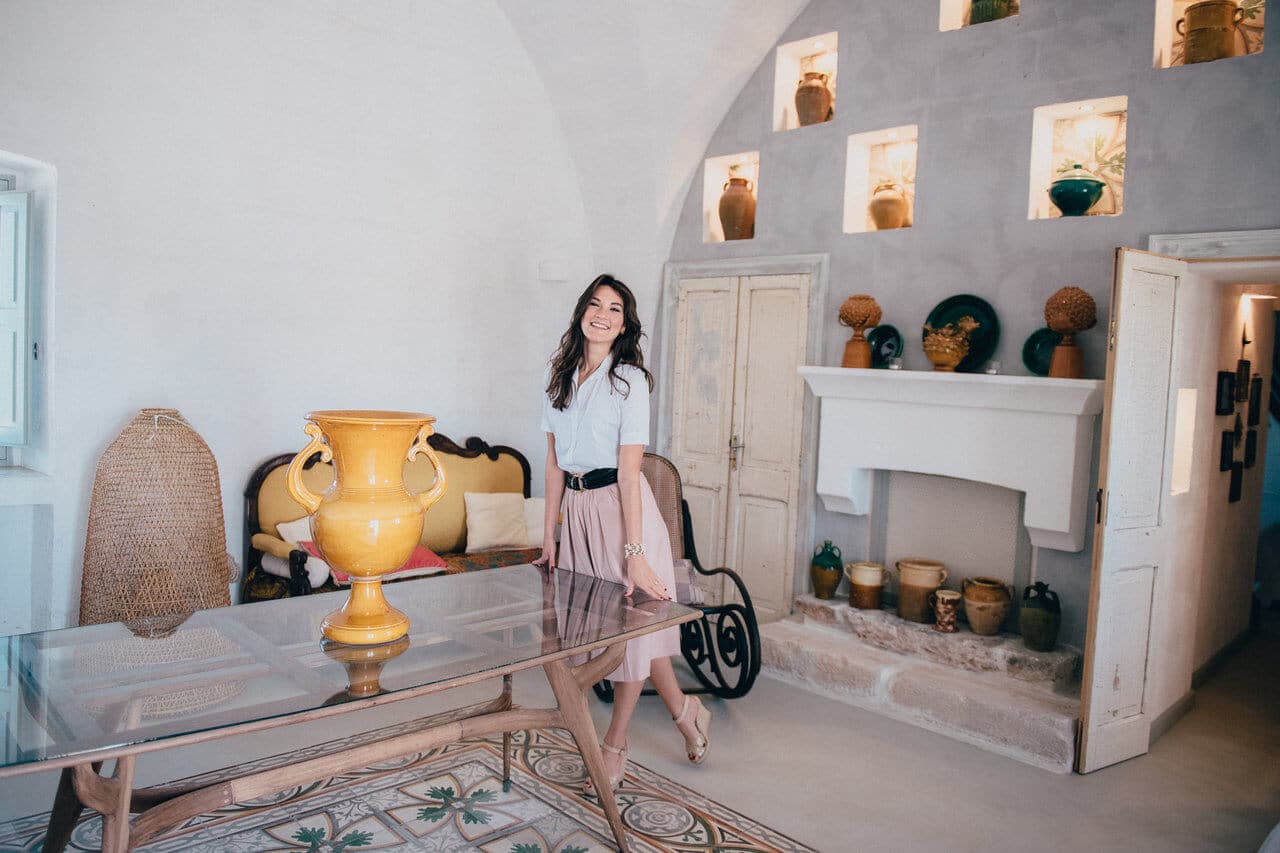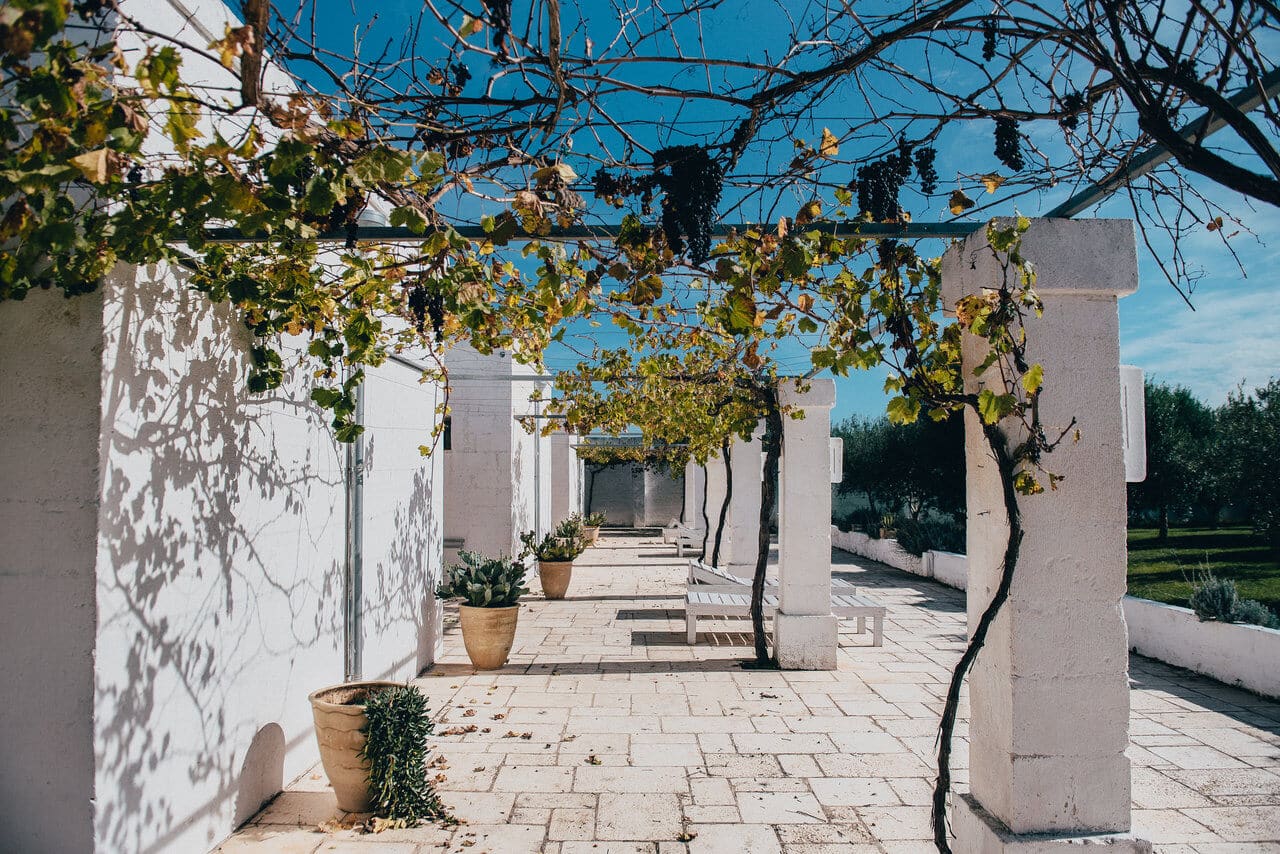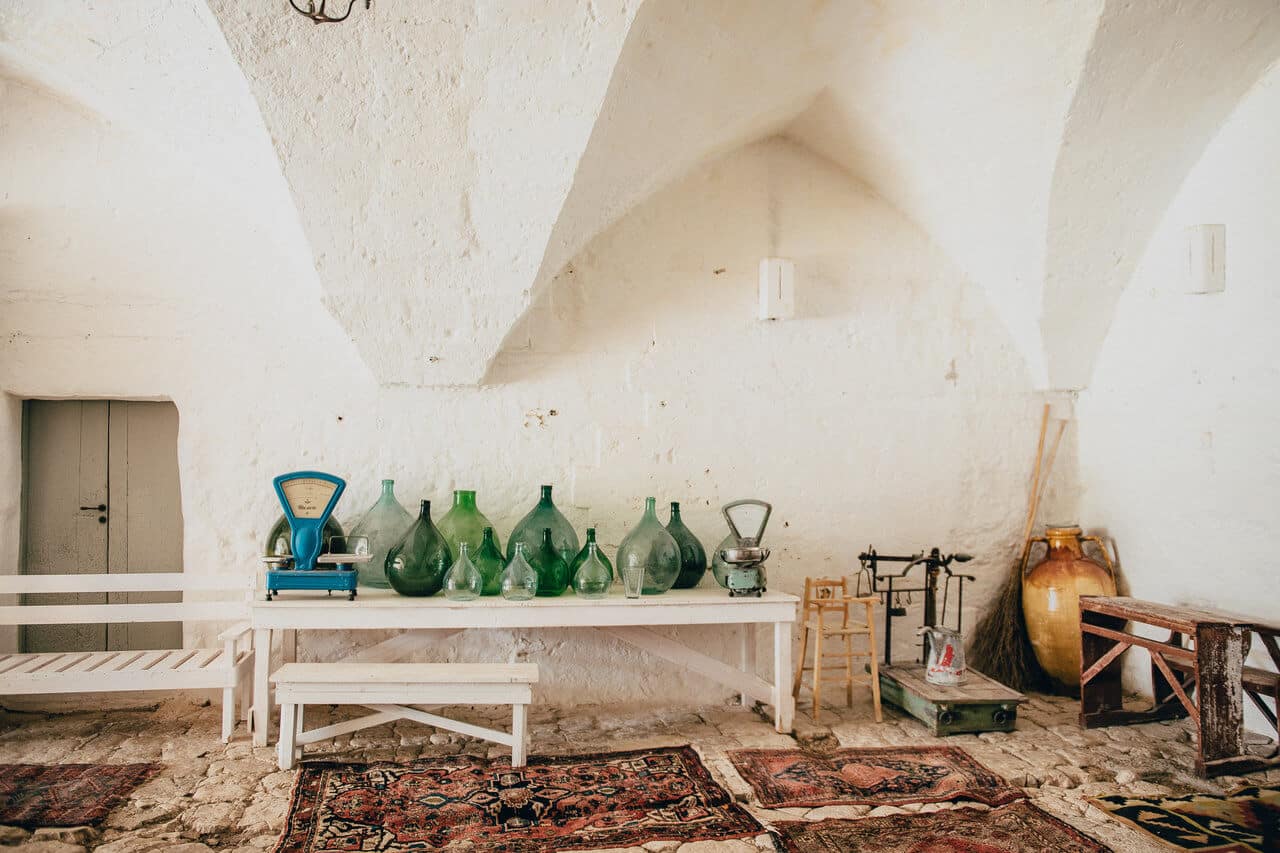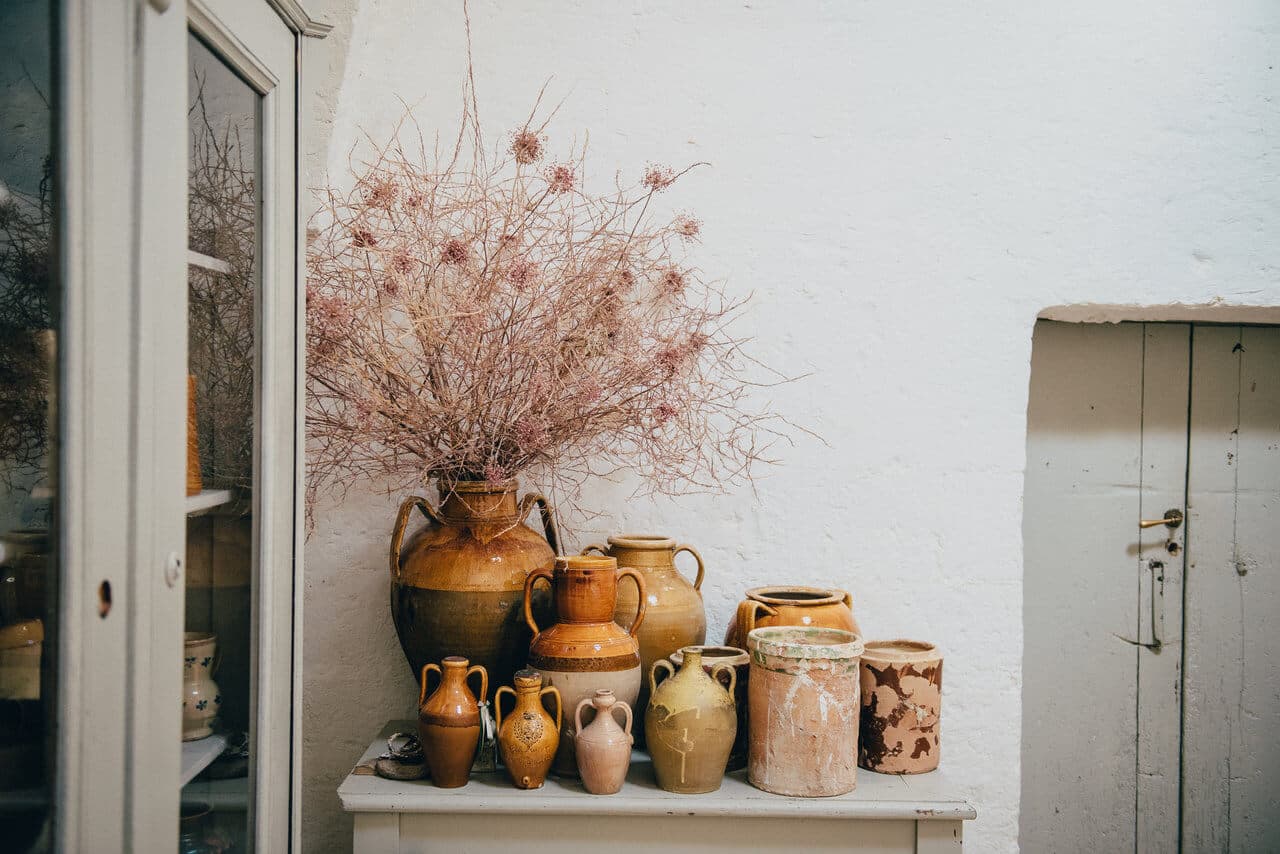 EATS & LEISURE
Staying in Masseria Potenti is a good chance to taste traditional Puglia cuisine. Orecchiette or homemade pasta con sugo di pomodoro formaggio fresco – with tomato sauce (grew under the Apulian sun) and fresh salted cheese. Or the flowers of zucchini stuffed with ricotta, high-quality olive oil made right here, special dolcetti and fruits.
Masseria has got a spa zone and a pool outside. The pool zone and the yards I loved the most. Lots of sunshades, blue sky, green plants and fichi d'india which are kinda cactus plants create some magic atmosphere. So peaceful and calm. You hear only how the wind walks back and forth slightly wiggling those sun awnings. This area is widely used as a space for wedding parties.
After a visit and a small talk with Maria Grazia and Chiara, I understood why this place gather bloggers, yoga people from all over the world, lots of tourists, brides and why it is totally full already during the summer time.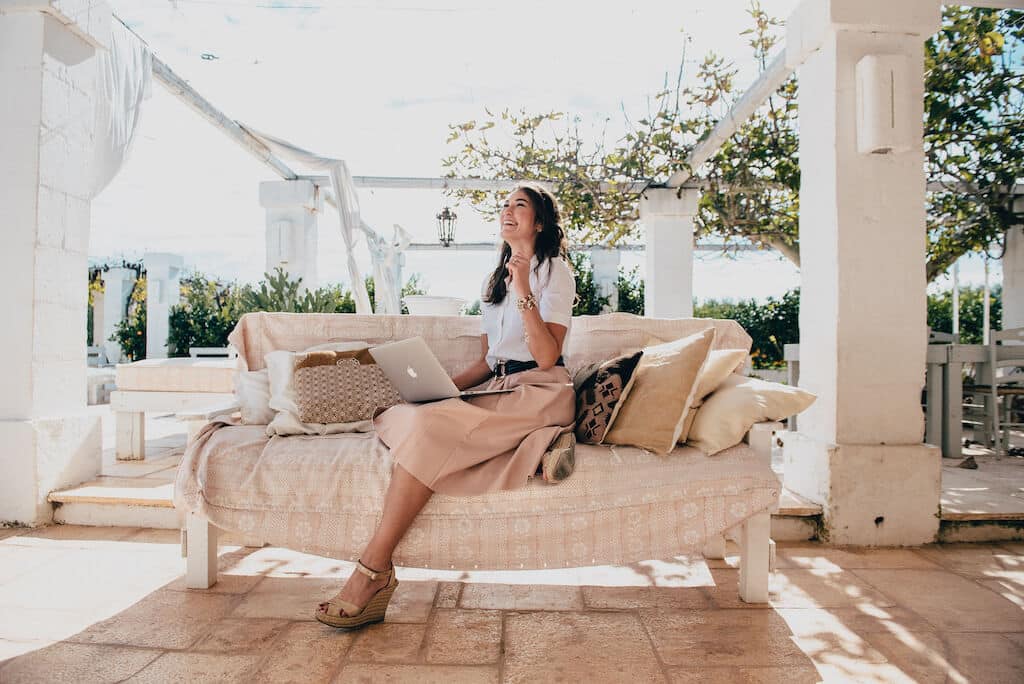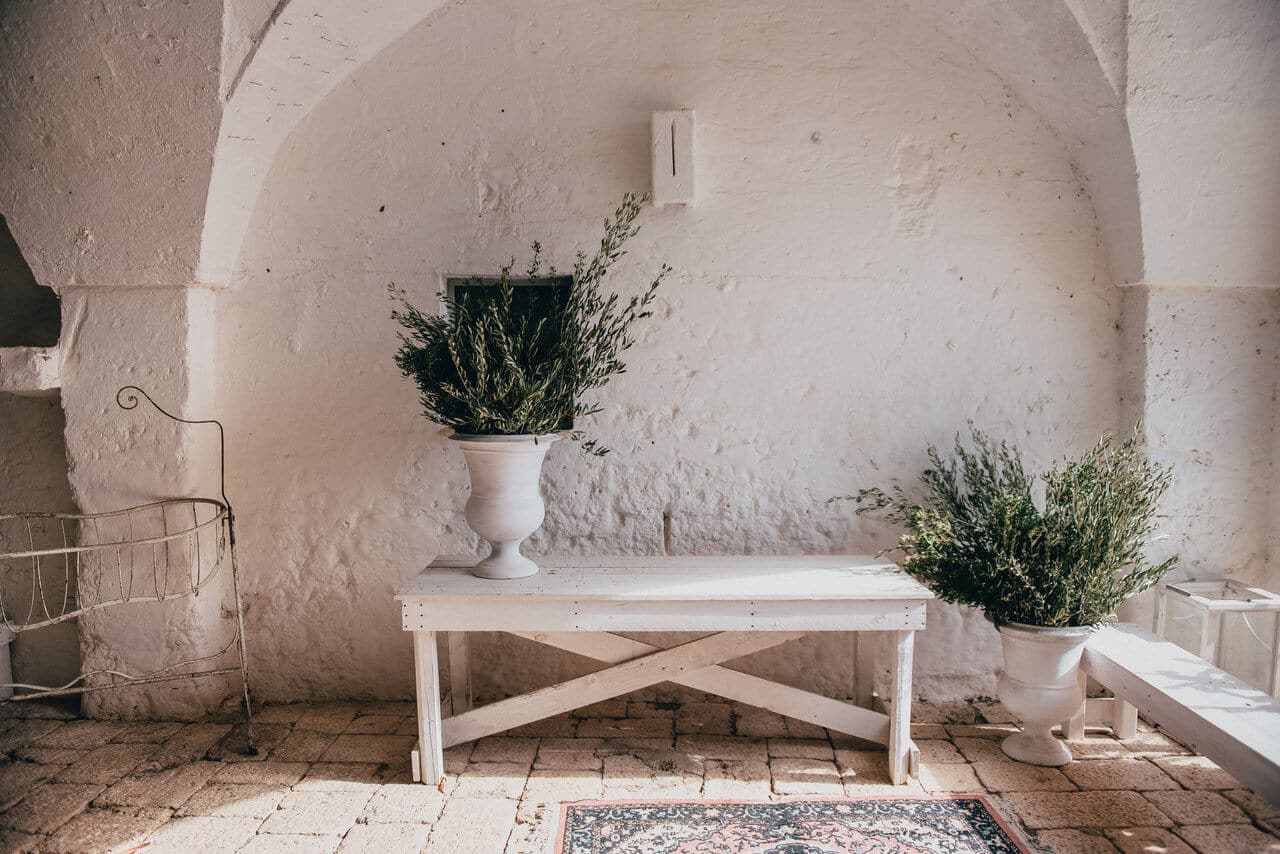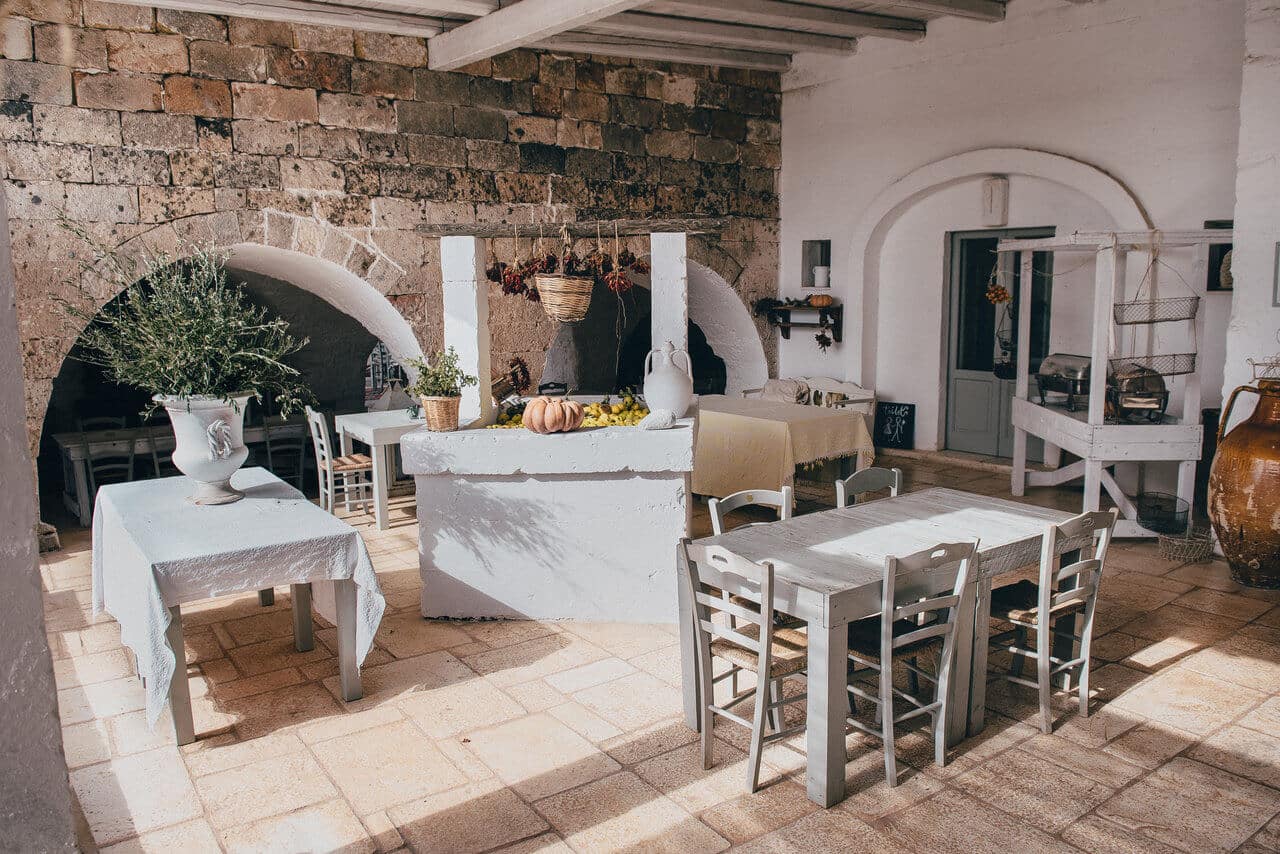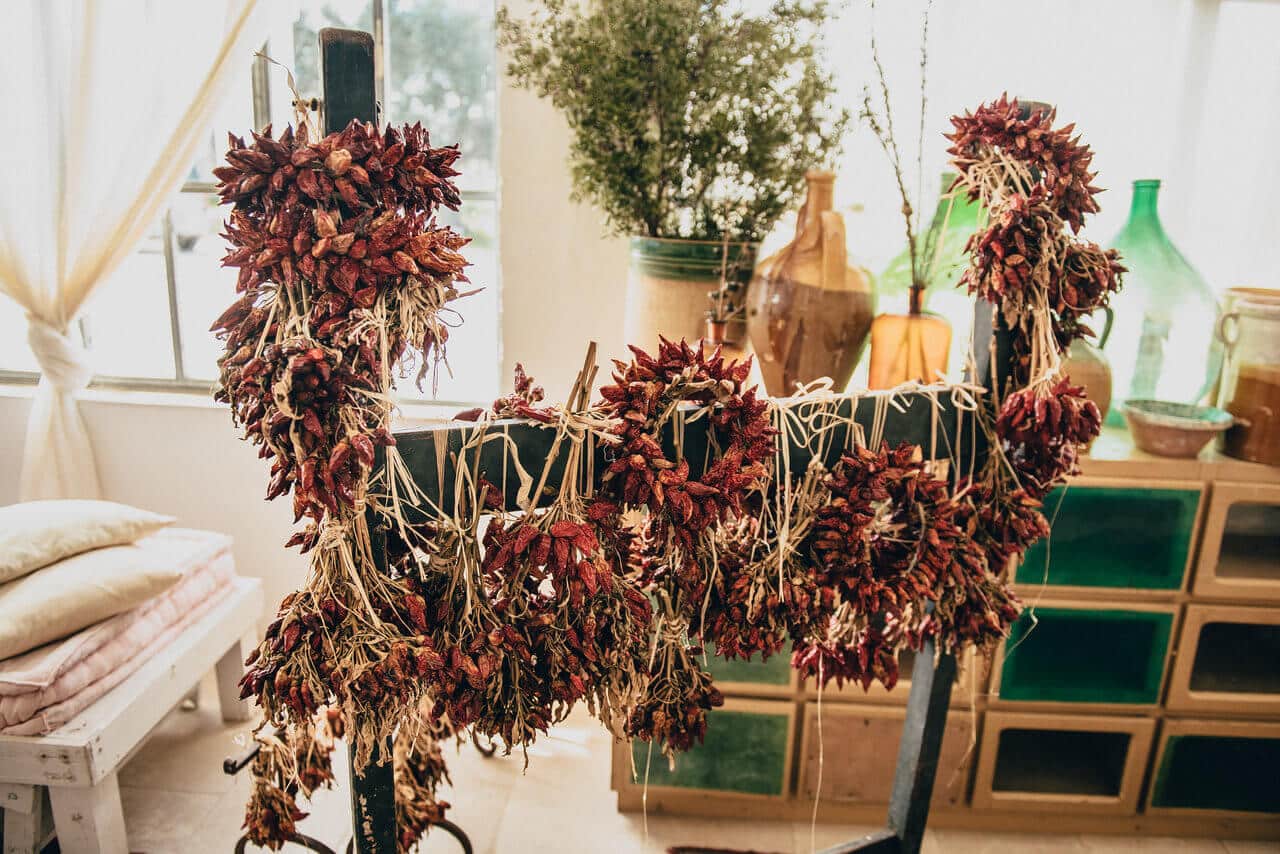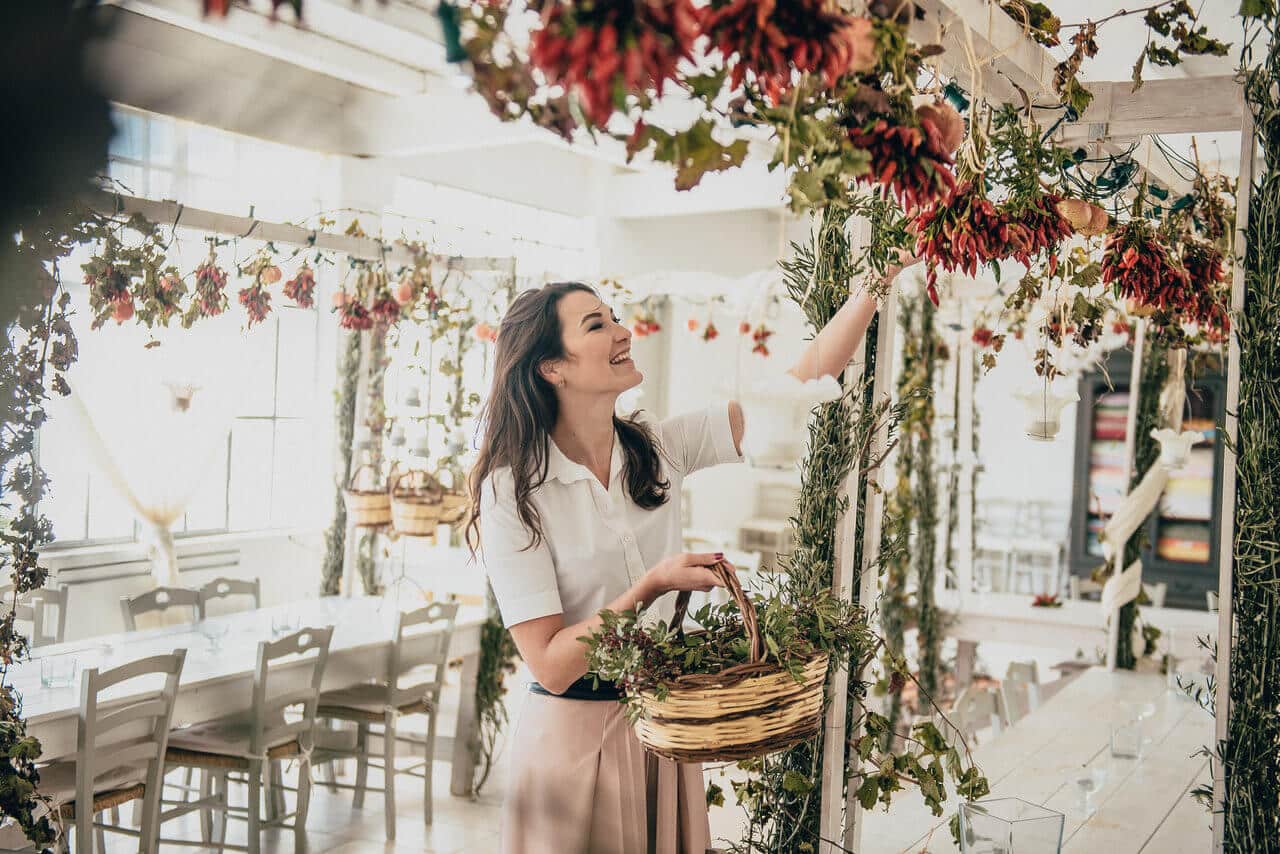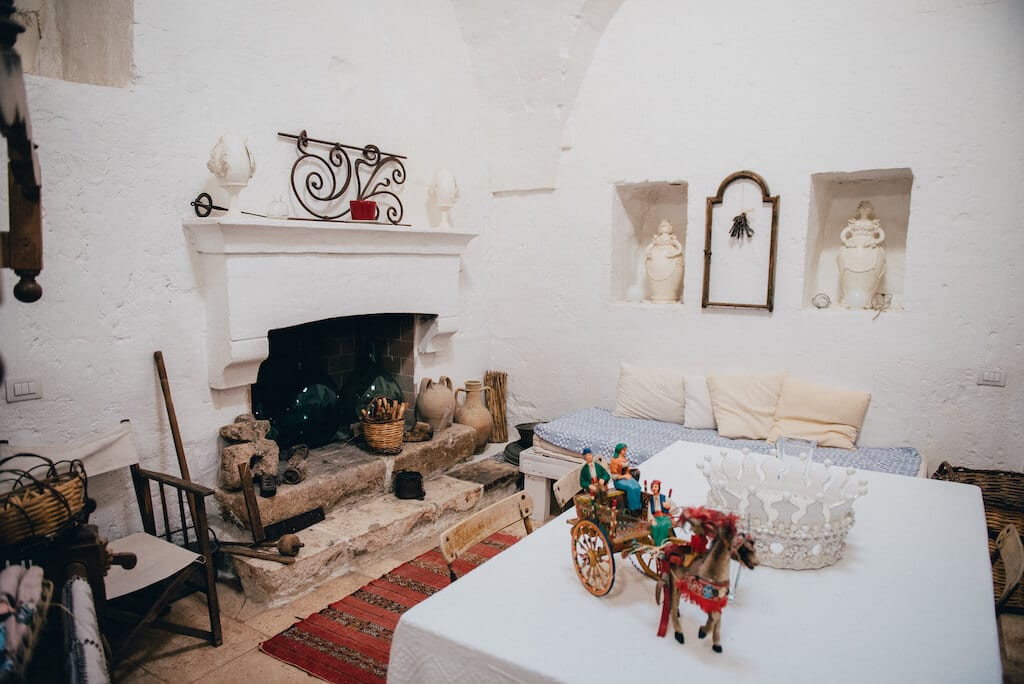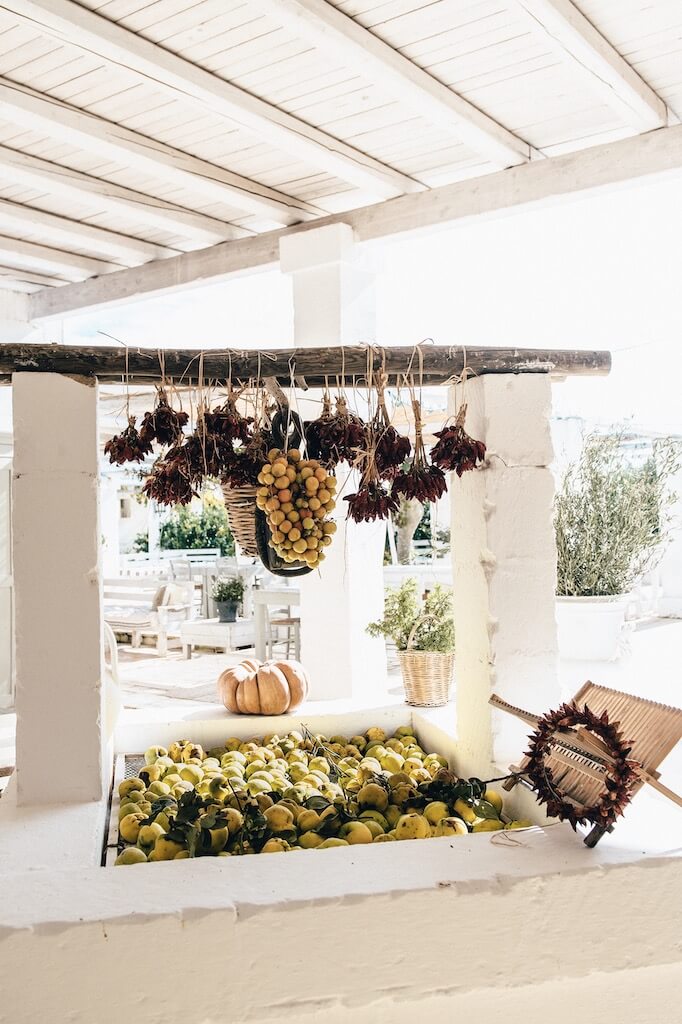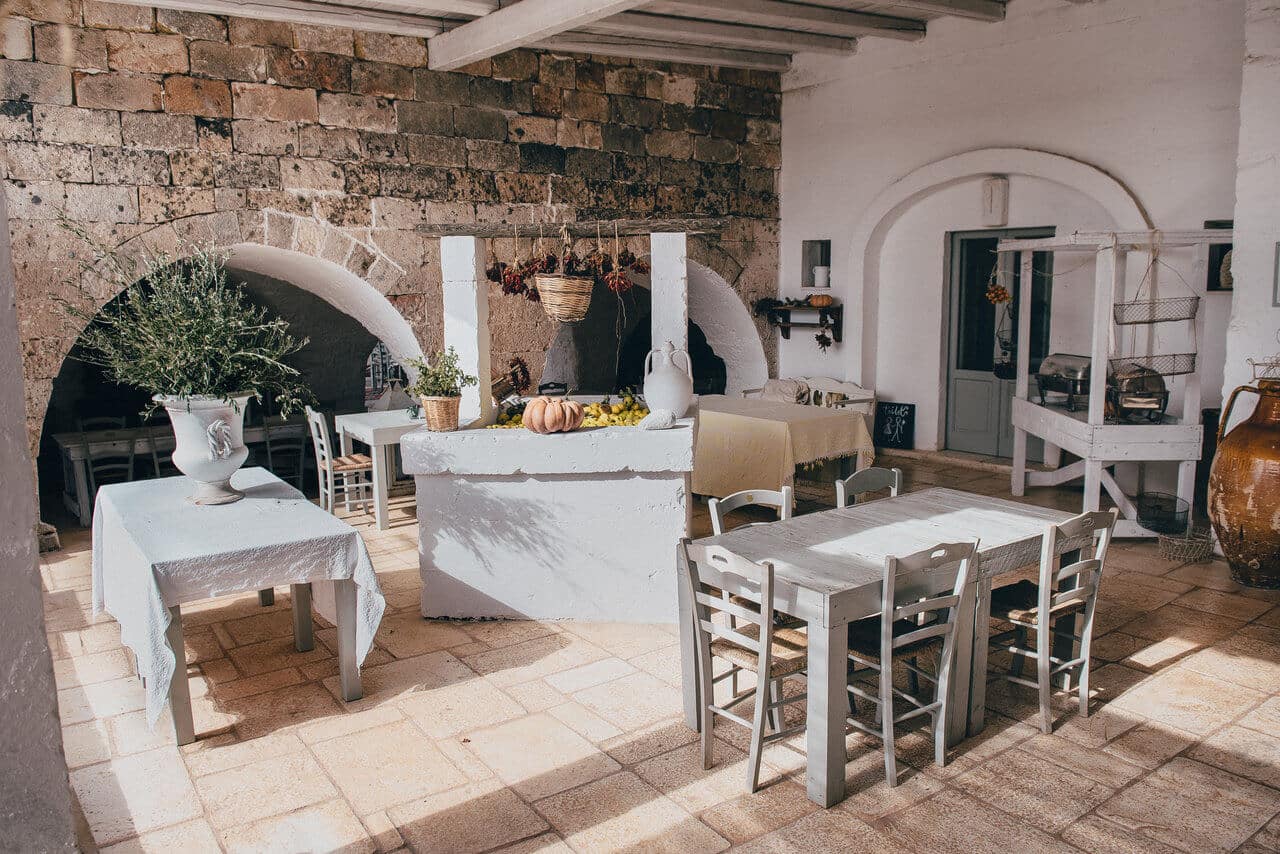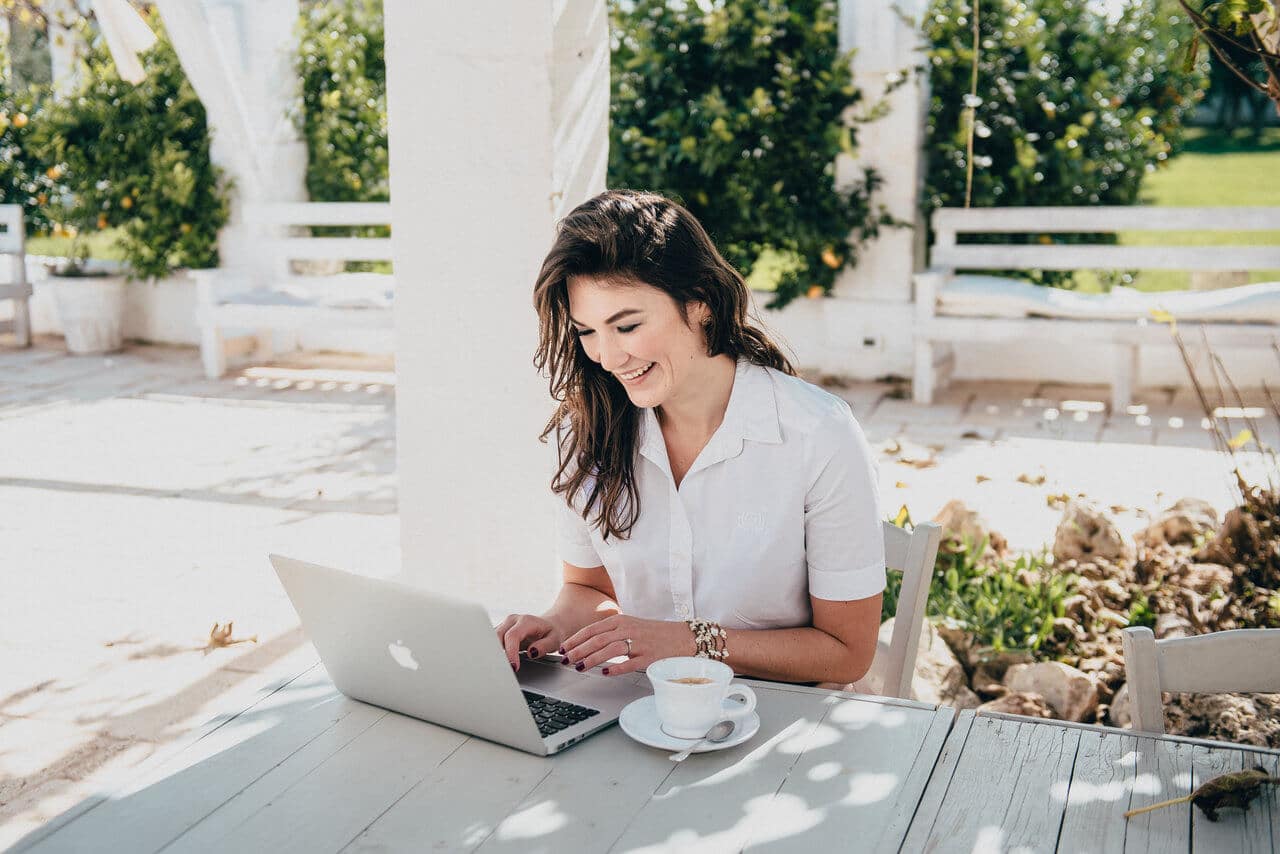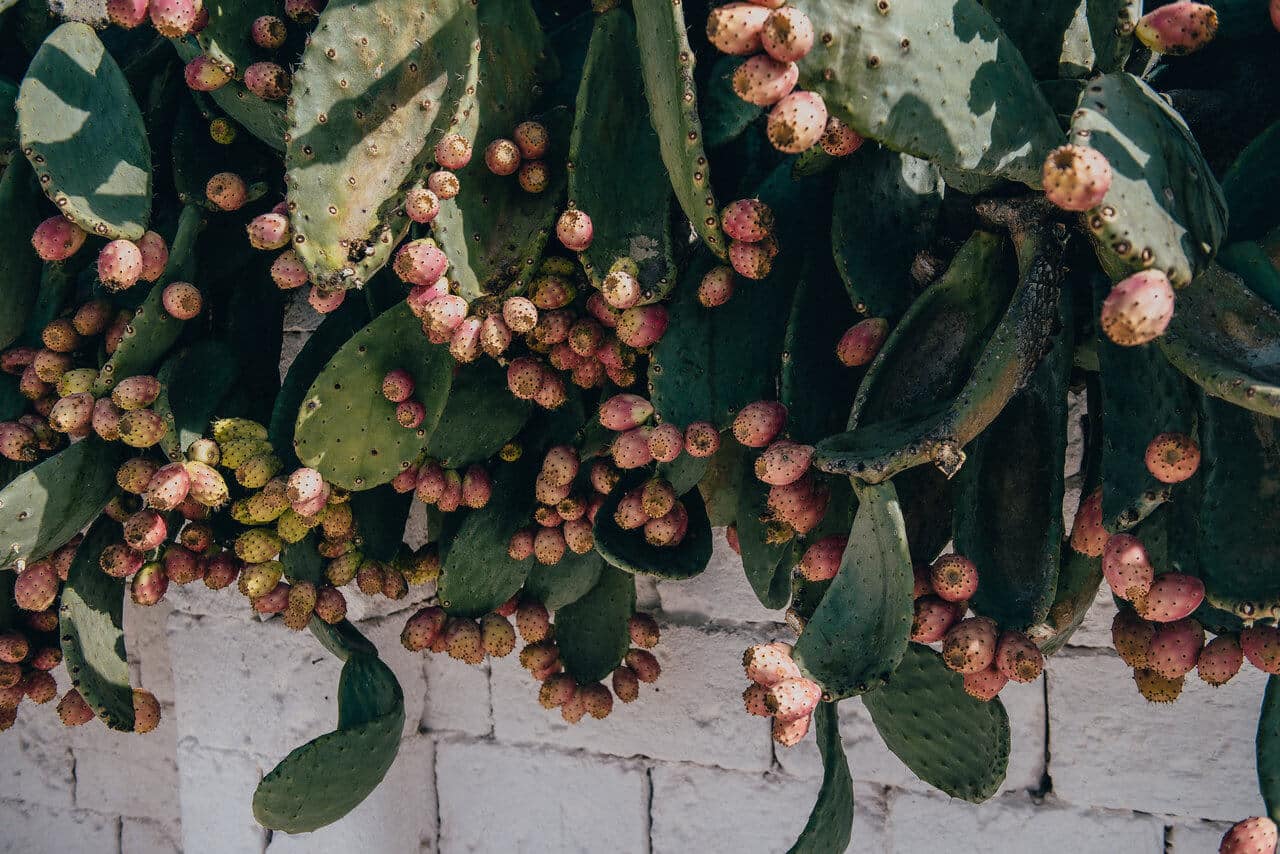 Photo credit: Foto Vision Produzioni
PIN THIS POST