As I've already told you in my previous post about the lifestyle and habits of Southern Italians, people who live in those regions easily move around the neighboring areas. Like we do from a district to another one in a megapolis. For example, for a lunch or a dinner. Or after a dinner for a cocktail.
Being the last time in Puglia friends took us to a fantastic restaurant Masseria del Sale in 10-15 mins from Manduria centro storico. You already know what Italian masseria is. But here it is just a restaurant with a local Pugliese specialities, not a hotel.
The huge territory creates a feeling like you are arriving at a castle.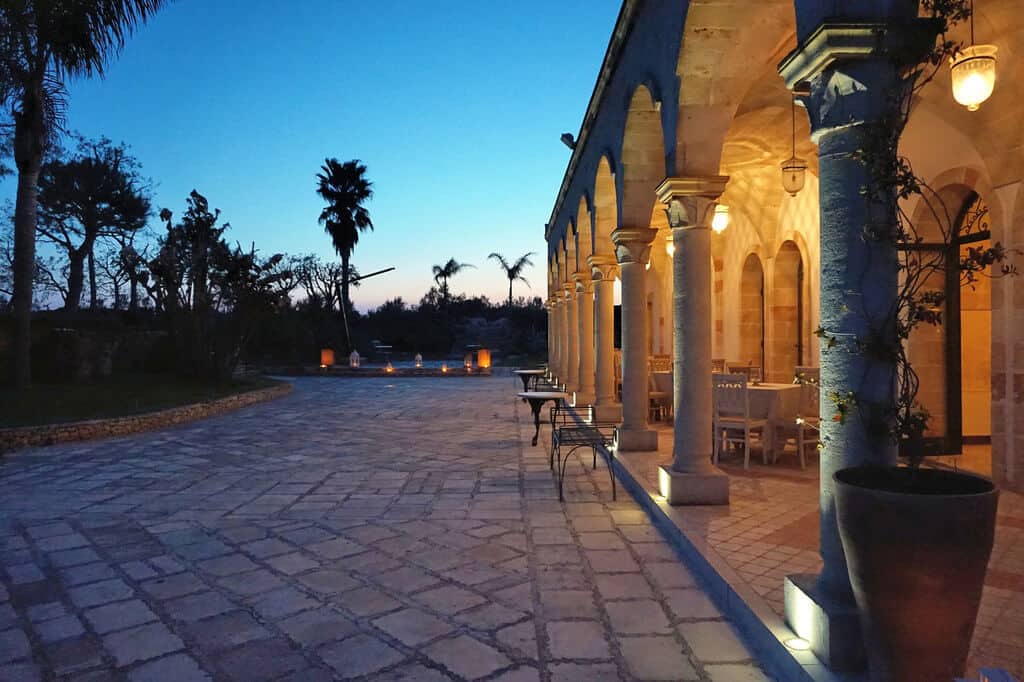 A spacious courtyard, which works as a terrace in summer, lovely garden – all this is ready to receive guests and celebrate any important event of life.
The dinner begins with appetizers: several plates of mozzarella, delicate ricotta, prosciutto crudo, polpette (fried meatballs), carciofi ripieni with cheese and other stuff, small muffins with pieces of fish and meat… I guess this is not the whole list, I definitely forgot something. 🙂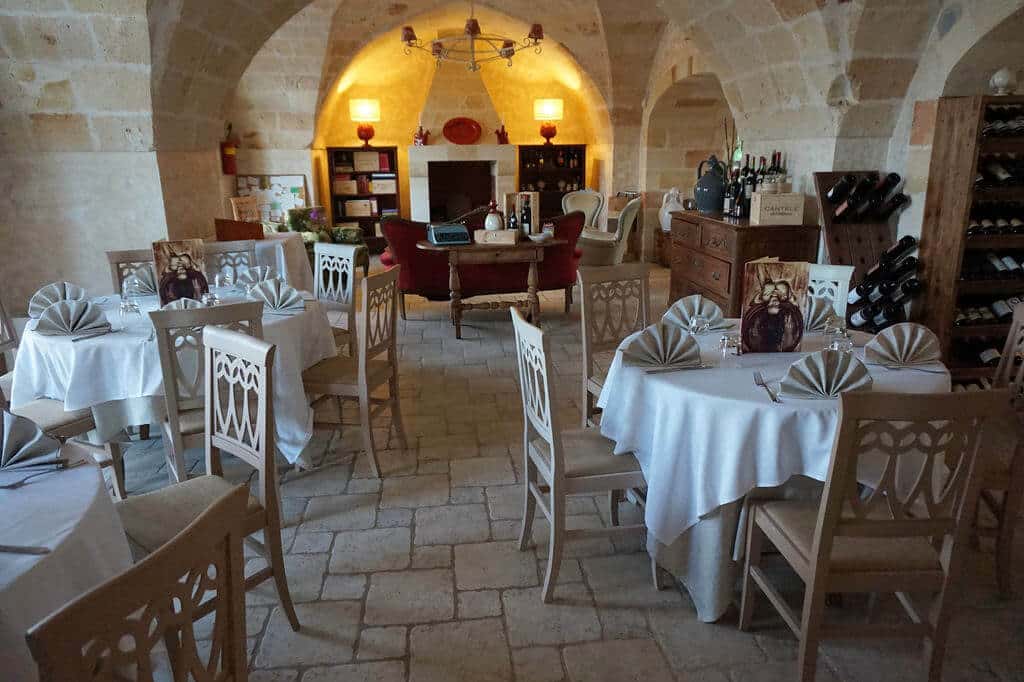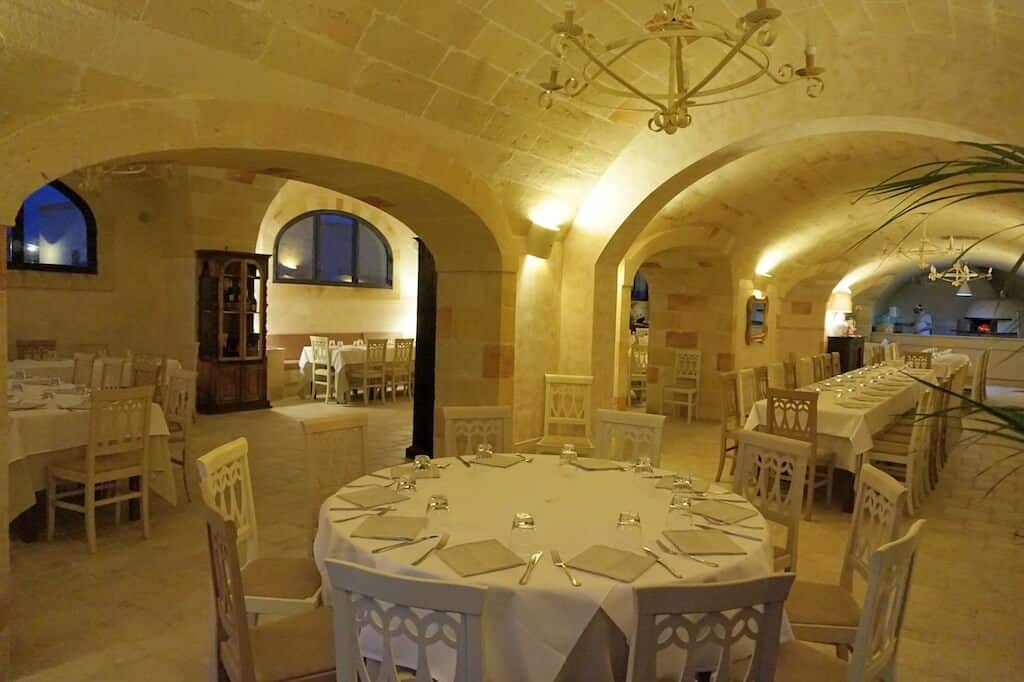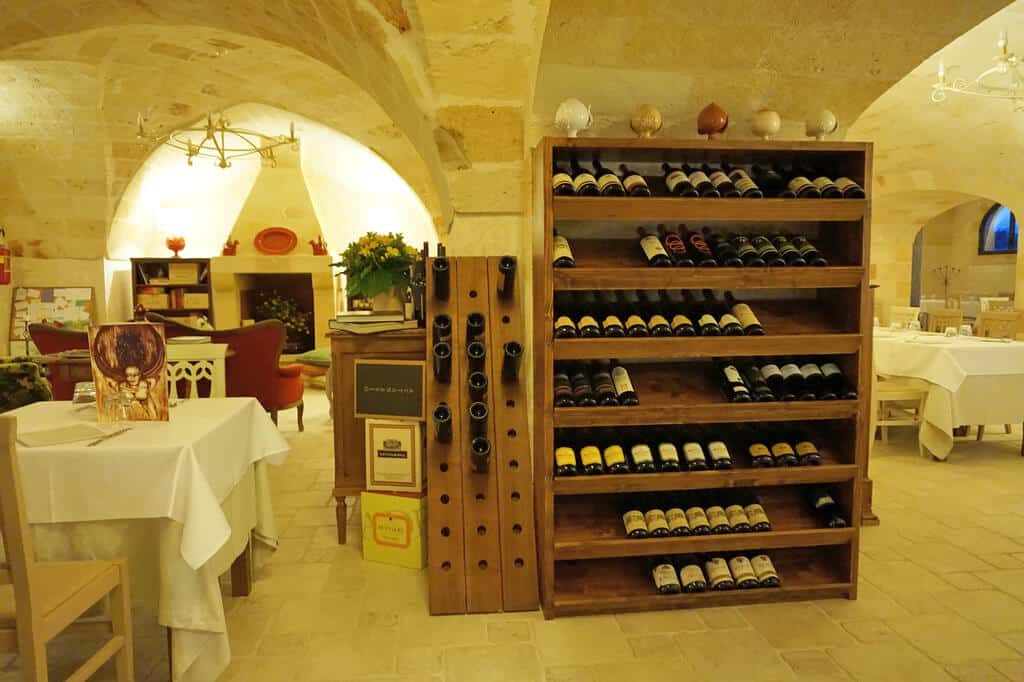 The wine was the main highlight of the dinner – Mjere rosso of Michele Calo' & Figli winery. If you love rich wines you'll appreciate this wine. If you are about light wines, you should take another one. Masseria del Sale has a huge choice of local wines.
When you are completely full, it is time for an extremely delicious second dish! 😀
I think I did a right choice with "Tagliata rape e pomodori arrosto" or a grilled beef with turnip tops and cherry tomatoes. So delicious!
Actually, cooked turnip tops I've seen here in Puglia for the first time. One of the region's traditional dishes is "orecchiette con cime di rapa" –  the local type of pasta with turnip tops. And… It is really tasty! 🙂
By the way, in menu you can find kilocalories for every dish. But here it is not a right place to think about such things. 😉
So let's have a look on desserts. Classy tiramisu comes to the table. 🙂 Don't forget about some digestive – cocktails for girls, grappa for boys.
I do loved this restaurant and I say bravo to chef as well, who also came up to the table. I look forward to coming back here to the terrace when is gets warmer.