Where to go, what to see and places eat up to 10 euros
Bari is the "capital" and a huge sea gate of South Italian region called Puglia. Bari is a Mecca for orthodox people as the relics of St. Nicolas from Myra are kept here. Bari as the whole Puglia is a place where various cultures crossed due to invasions and changing governors.  For about 25 years has even been an independent Arab emirate. Bari is one of the biggest Italian cities with its characteristic 9 neighborhoods and is absolutely different from what you are used to seeing in Central and Nothern Italy, or even Southern Naples and Palermo.
The last I came here in the early March the sea was nasty. The mood of the city was ruled by the mood of the sea.
#1 Feel the story in Bari Vecchia and see Italian ladies making pasta orecchiette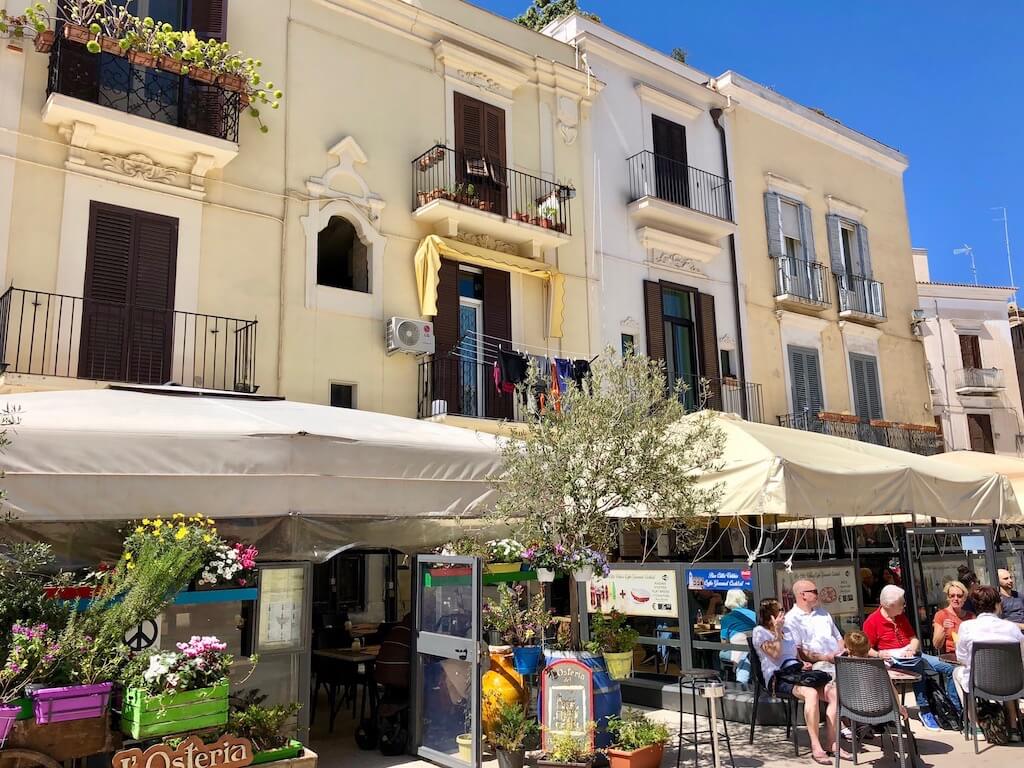 The main 2 neighborhoods you'll see and will walk around will be Bari Vecchia – a classic Southern architecture, a calm atmosphere during the day, and Murat – a newly constructed (XIX century) vivid zone of Bari.
Parking. If you arrive in Bari by car, the nearest and most convenient place to park is Corso Vittorio Emanuele II. At the beginning of Corso (on your back there will be a theatre and sea) look to the right and you'll immediately find a prepaid parking place, near a red building. It is comfortable to park here as you are right between old part and Murat neighborhood, a new part of the downtown. Pay attention to a ZTL sign which means zone with a limited traffic and forbid the entrance.
Accommodation. If you are going to spend a night in Bari, have a look on these cute solutions: Al Pescatore b&b with a very nice interior, San Nicola Old Town Apts, which both are located in the old part of the city center; Hotel Imago or Bed and Breakfast Oz in a new neighborhood Murat (a new part of the downtown).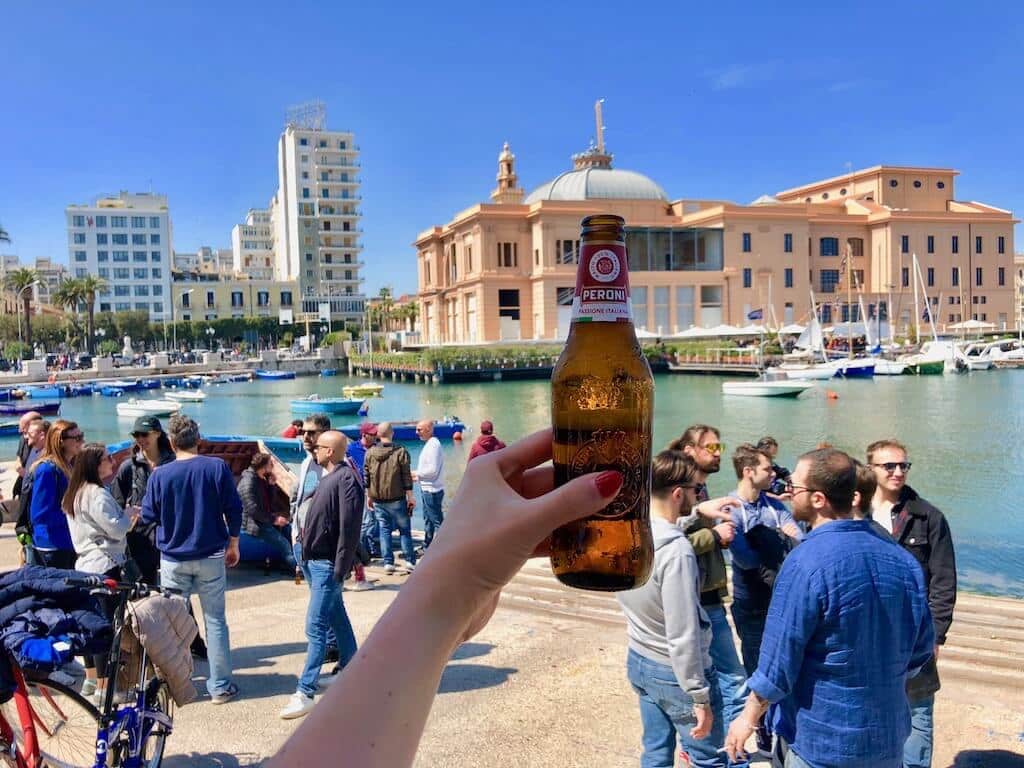 The Old Town is situated on a limestone rock overlooking the sea. Its urban layout, dating back to the Byzantine period, is typically medieval: narrow streets which form an irregular radial pattern, with the two main churches at the center of the square. And having taken a cup of coffee let's go to explore it. I began my day with a traditional Italian espresso in Pasticceria Martinucci at Piazza Mercantile, Bari Vecchia (old town) neighborhood.
From Corso Vittorio Emanuele II walk towards the Piazza del Ferrarese. This place was considered to be the main entrance to the city in the medieval period, built in 1612-13 to facilitate access of goods and men to the nearby market. Since 1840 it was a spot of a huge Fish Market, which nowadays has been done away. Now it is a point to start discovering the ancient part of Bari. During the recent restoration works, which involved not only the square but also the surrounding buildings, a short stretch of the ancient Appian-Trajan road, built by the Romans in the early years of the II century AD, came to light. The monument you can see just on your entrance to the square.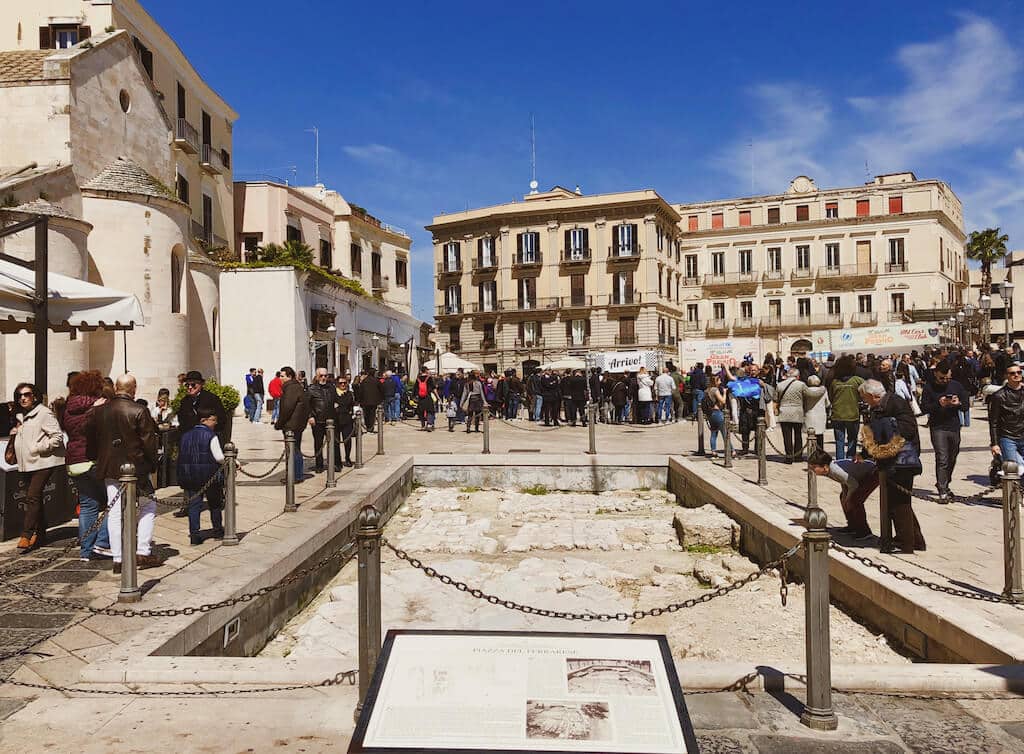 Today, together with piazza Mercantile it represents a destination for local nightlife or "movida barese", especially at night.
For the first time I was in this part of the downtown right in lunch time. And notwithstanding how big Bari is, still everything was closed except souvenir shops. Consider this when you create the itinerary: everything is closed from 13:00 pm till 16:30 pm. The restaurants usually work till 15:00.
So I went to the Basilica di San Nicola. I was so so lucky to find there only 5 people around and I took all my time to stay there in a calm atmosphere.
Considering the role of Saint Nicolas in Christianity and that Bari is honored to guard the relics of the Saint, everything important was named after him – from the stadium and the airport to squares, pizzerias, whatever you want.
So a good opportunity to participate in Bari local movement is to come here on the annual celebration of Saint Nicholas on May 8th and 9th. From the early morning, the movement is incredible! Lot's of people are waiting to the fireworks start, which with their picturesque colors illuminate the sea in front of a thousand lights. The statue of the saint slowly, arriving on a boat from the sea, walks towards Piazza del Ferrarese and the fighters make a show with the Italian tricolor in the sky.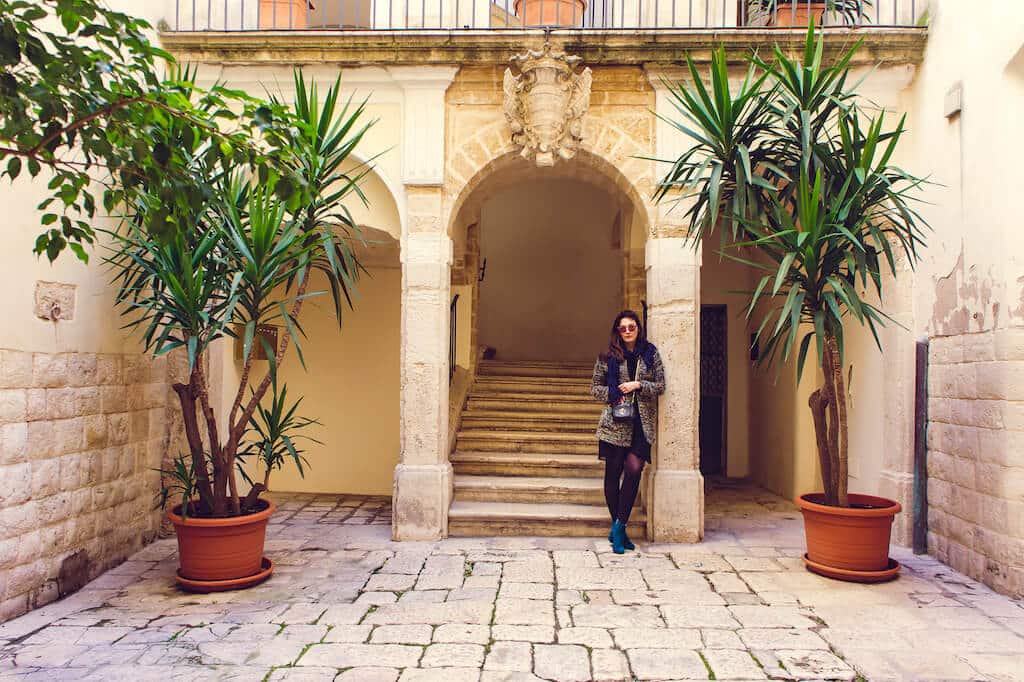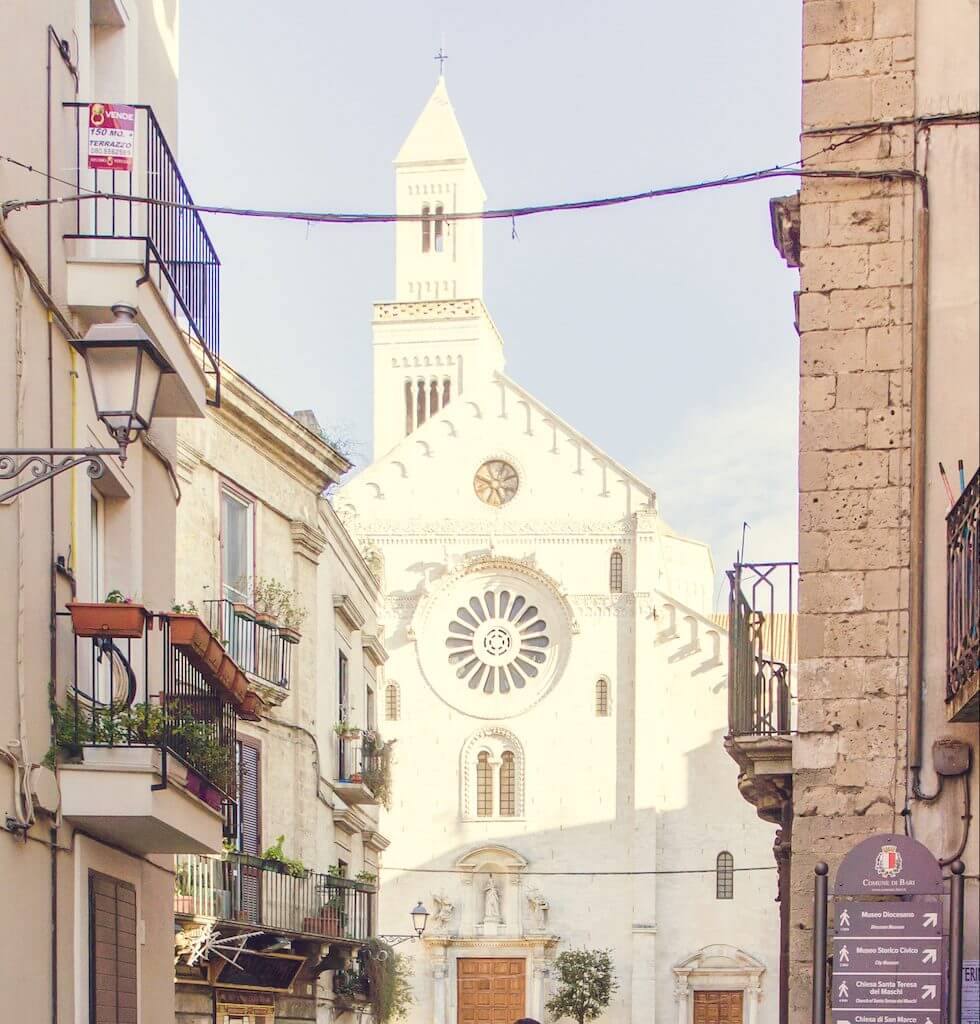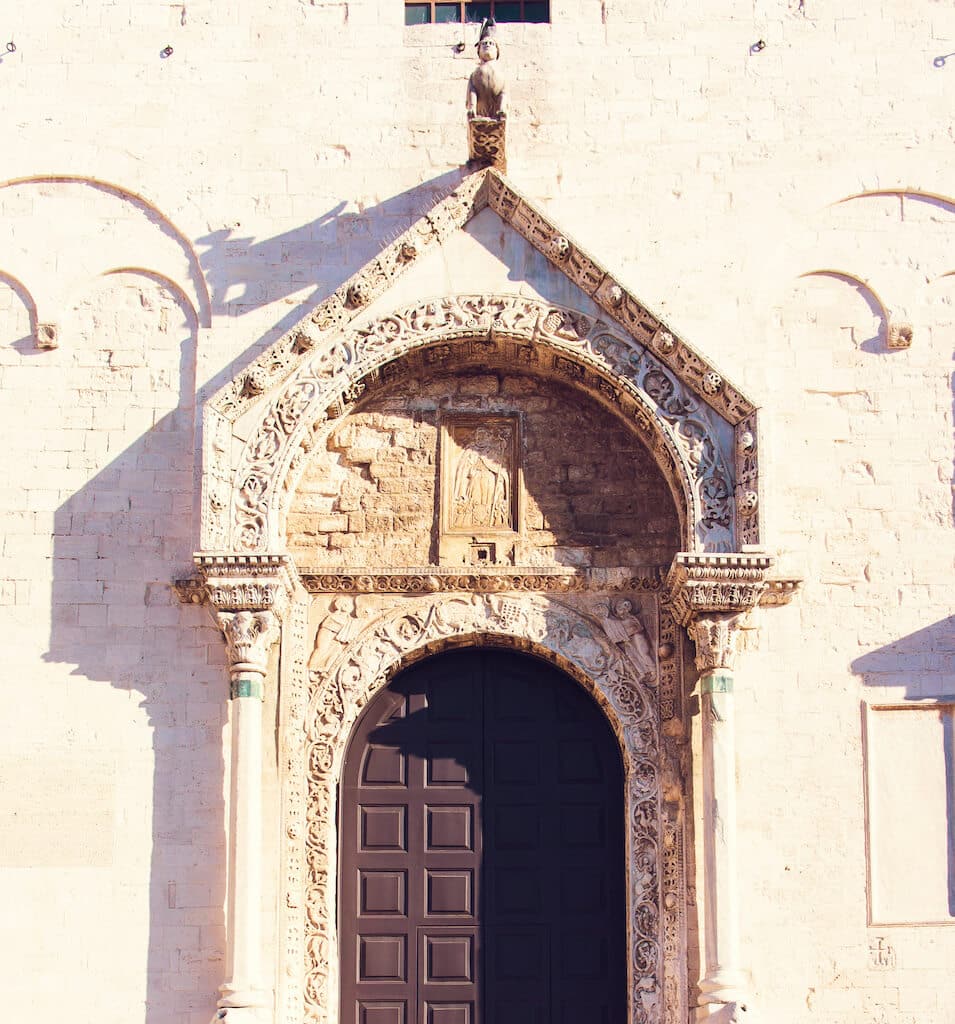 Via delle orecchiette in Bari
One of the most famous attractions in Bari is to see how Italia grandmoms are making a typical Apulian pasta orecchette, which means ears. So go to Arco Basso, 1, which is a part of Bari Vecchia and make some friendship whith such an Apulian mom 🙂 A free lunch ith a local taste is guaranteed!
#2 Move towards an endless waterfront, then grab a focaccia barese per 1 euro!
From old neighborhood let's move towards an endless waterfront which begins from the port end come to the downtown, to Teatro Margherita and fairy-tale-ish blue boats, which I think never move. The Lungomare di Bari was inaugurated during the fascist time in 1927, so on one side you admire the sea, on the other – the buildings of later Liberty style, which serve today as hotels with the most precious view, like Hotel delle Nazioni. So think in advance for some good terrace on a rooftop of one of those hotels.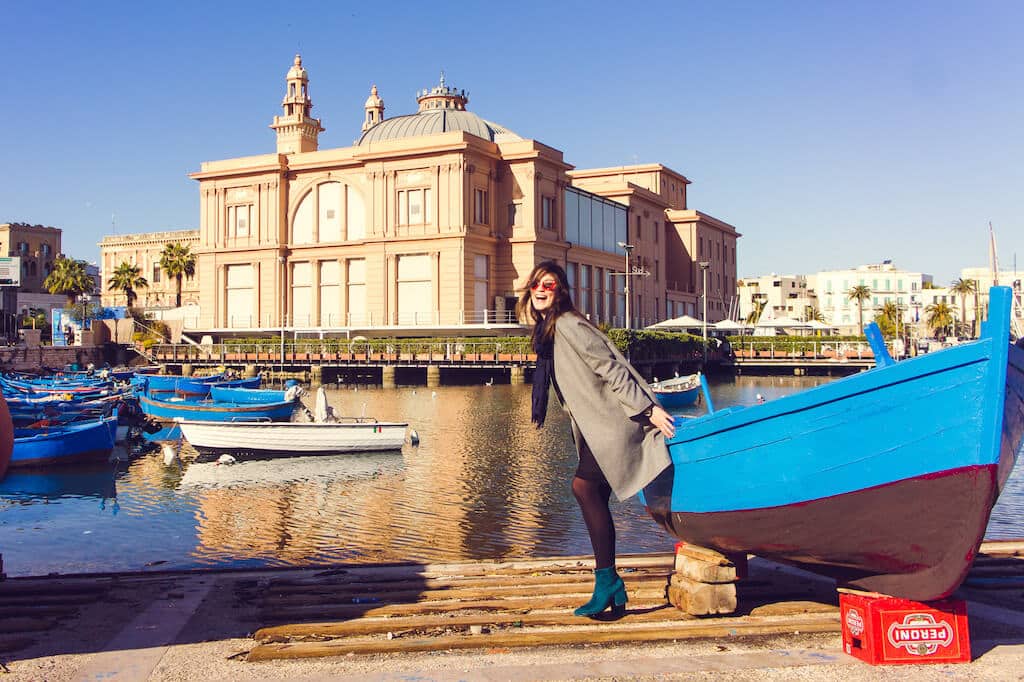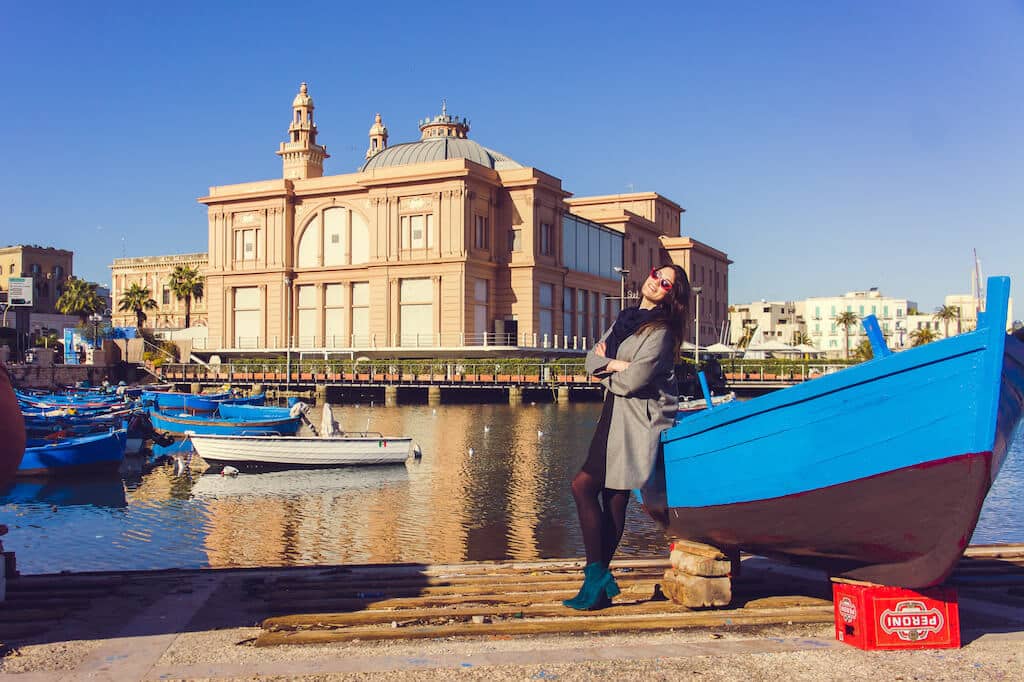 Before continuing your walk, don't forget to have some refreshment. Remeber that the lunch begins at 13 pm and usually ends around 15 pm. Almost all the shops will be closed till 16:30-17:00, except Zara & HM. So use this time to eat.
The most traditional dish which comes from Bari is pasta "orecchiette con cime di rapa" (orechiette with turnip tops). Orecchiette means small ears due to the form of pasta. It is really particular and, I should admit, really tasty! The portion of orecchiette cannot cost a lot, because it is a very simple rustic meal.
By the way, walking around Bari Vecchia you can see Italian Signoras making this kind of pasta right on the street. Don't miss to taste various seafood yummies, like ricci or "hedgehog sea urchin" with bread, swordfish or "orata al forno alla barese" – both prepared in the oven. At this point, I'd suggest you  Dall'Oste Del Convivium seafood restaurant. Fresh and tasty, with a good choice of wines. There are also some kinds of delicious fast food in Puglia, every province has its own culinary particularities. Obviously, we don't speak about burgers, et. everything is local and traditional.
Places to grab some focaccia o panzerotto in Bari for 2 – 7€
Mastro Ciccio (Corso Vittorio Emanuele, 15) – very rich and tasty panini for 5-6€, right behind the pizza Ferrarese. And there are always a lot of people there, because it's delicious! Generous panini you'll find with everything you may like in Italy: with entire mozzarella, a good portion prosciutto crudo, various types of sauces, etc. Mastro Ciccio makes an excellent panzerotto!
Panzerotto is an Apulian traditional street food very popular especially during summertime. A crescent made of pizza dough, filled with mozzarella and tomato, fried in hot oil, can be considered the most popular snack in Apulia. Pantzerrotto appeared accidentally from the remaining piece of dough for pizza and was a simple dish, the dough for which consists of flour, water and a drop of oil. Today it is one of the icon of the local gastronomy.
We took a panzerotto (1.50 €), a panini (5 €) (very, very tasty and generous with a bunch of everything!) and a beer (2 €). The total for 2 people was 17 €.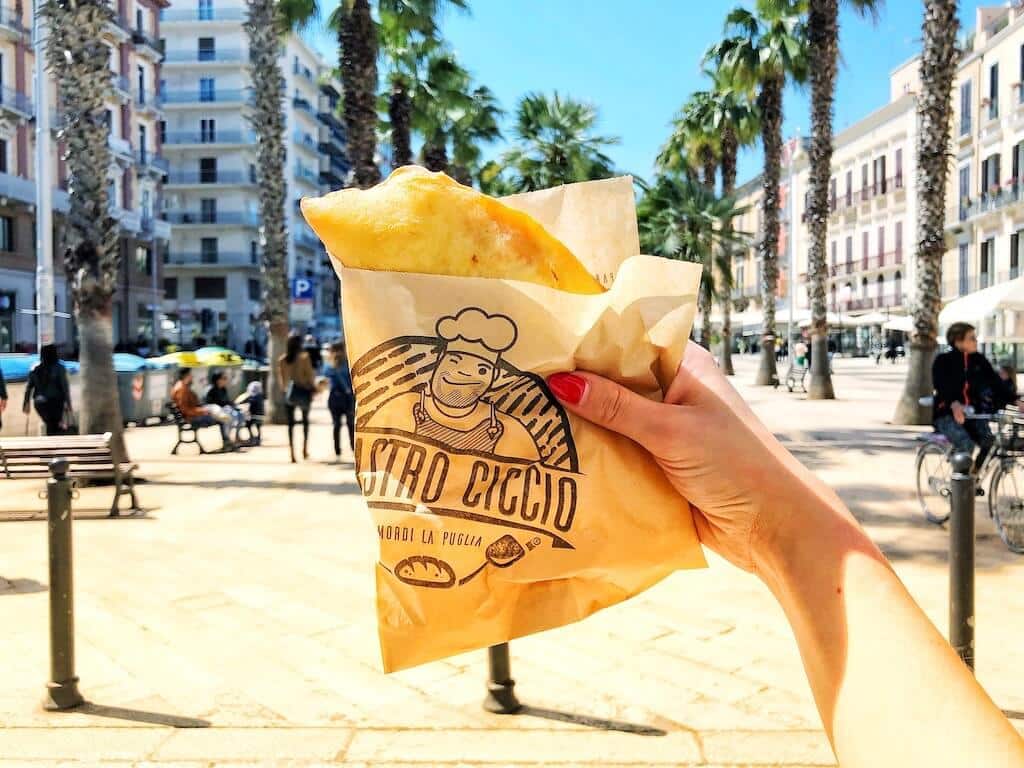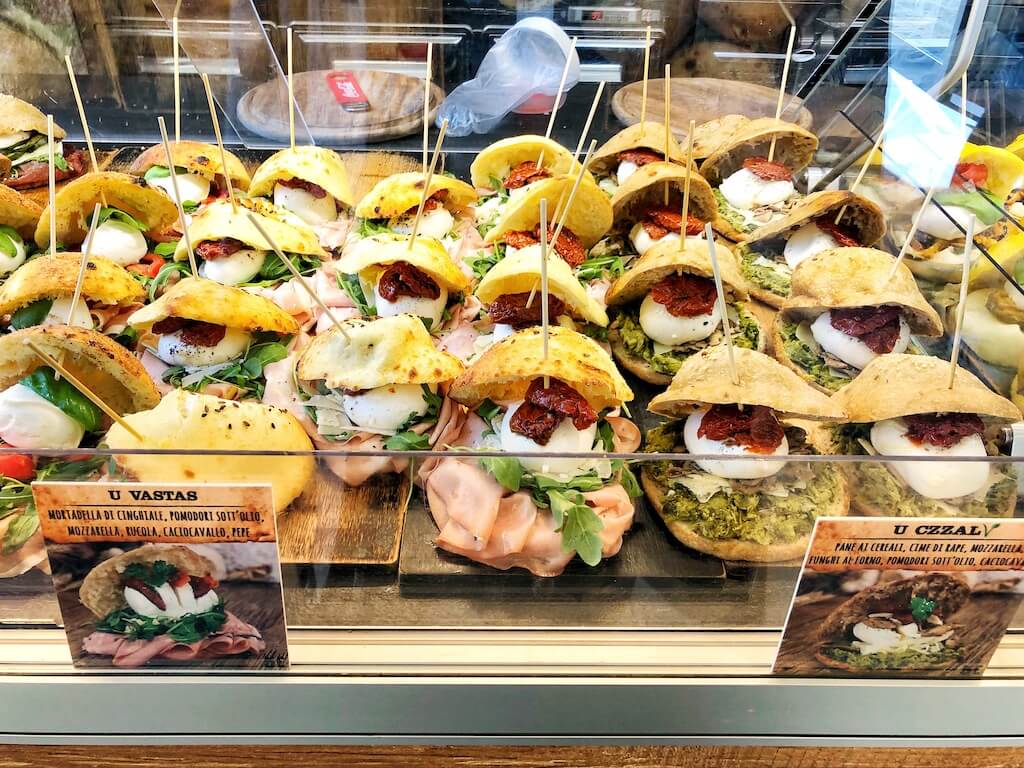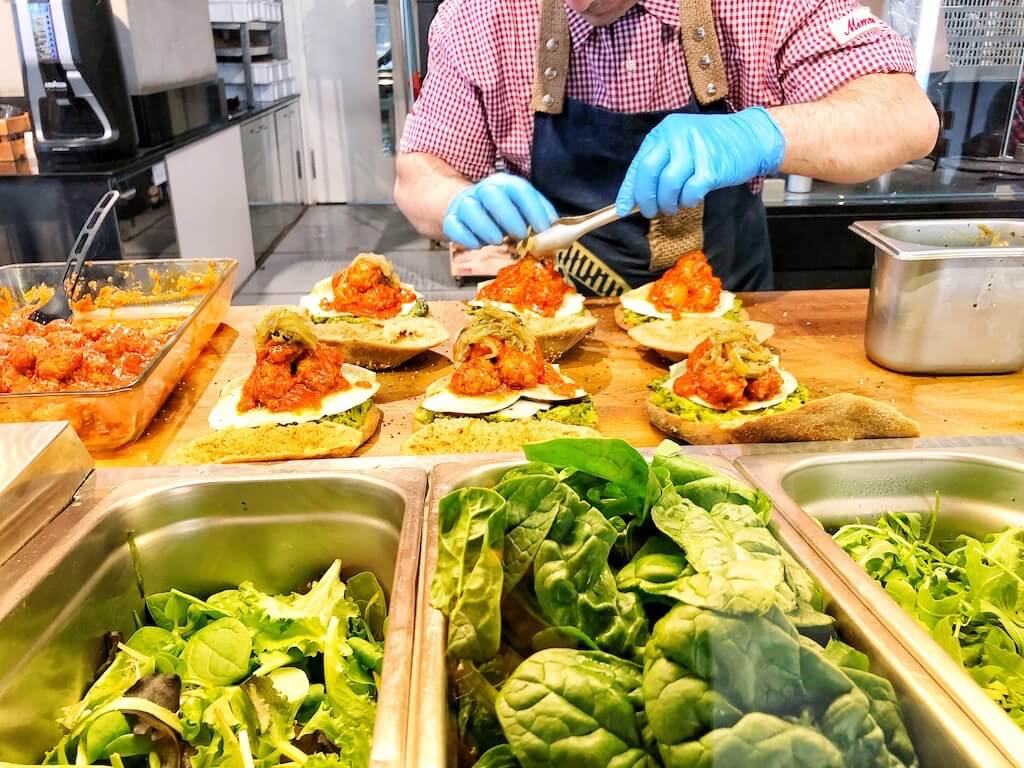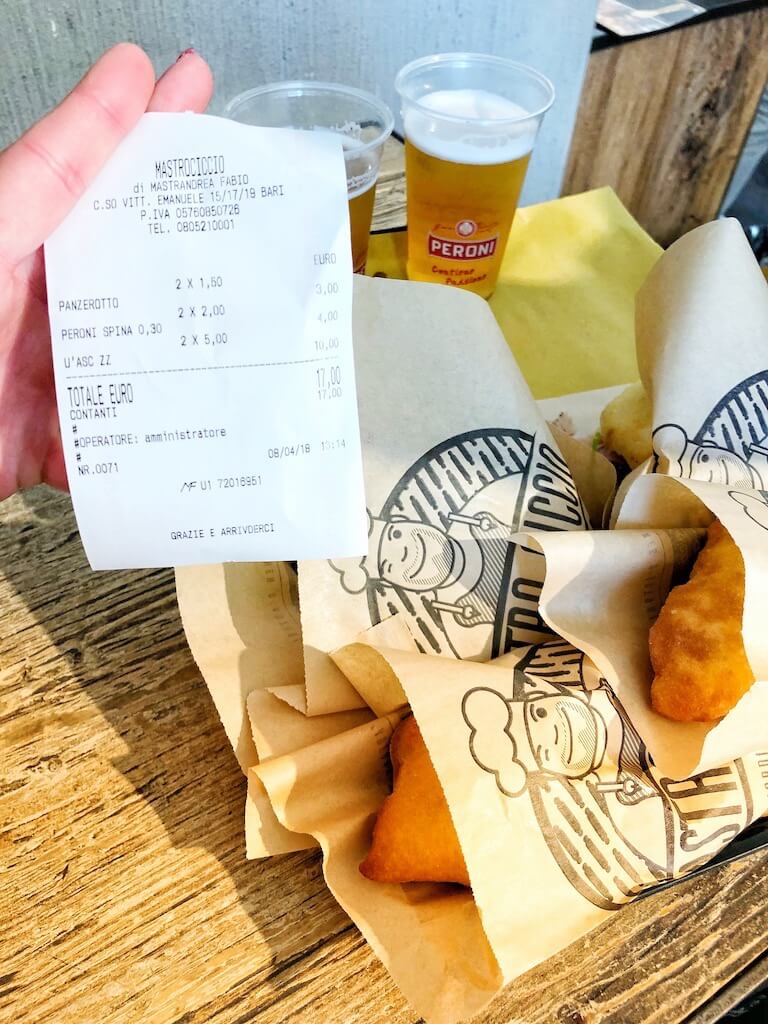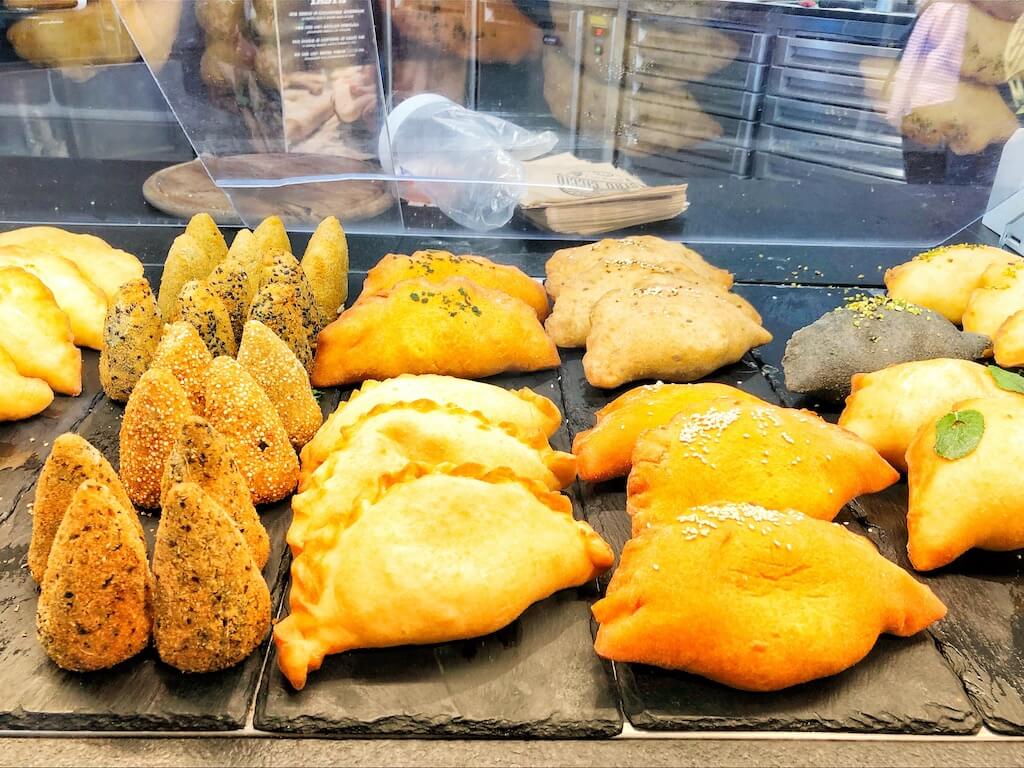 Panificio Fiore (Strada Palazzo di Città 38, Bari Vecchia) – is almost a classical Apulian forno (bakery) right behind Basilica di San Nicola, where you can take away some tasty stuff. This place is a legendary one for a traditional focaccia barese! If you go on TripAdvisor, you'll find lots of local people feedback. So put this panificio into your list.
Panificio la Pupetta (via Benedetto Cairoli) – another tasty focaccia spot in the downtown, but in Murat neighborhood right near Corso Vittorio Emanuele.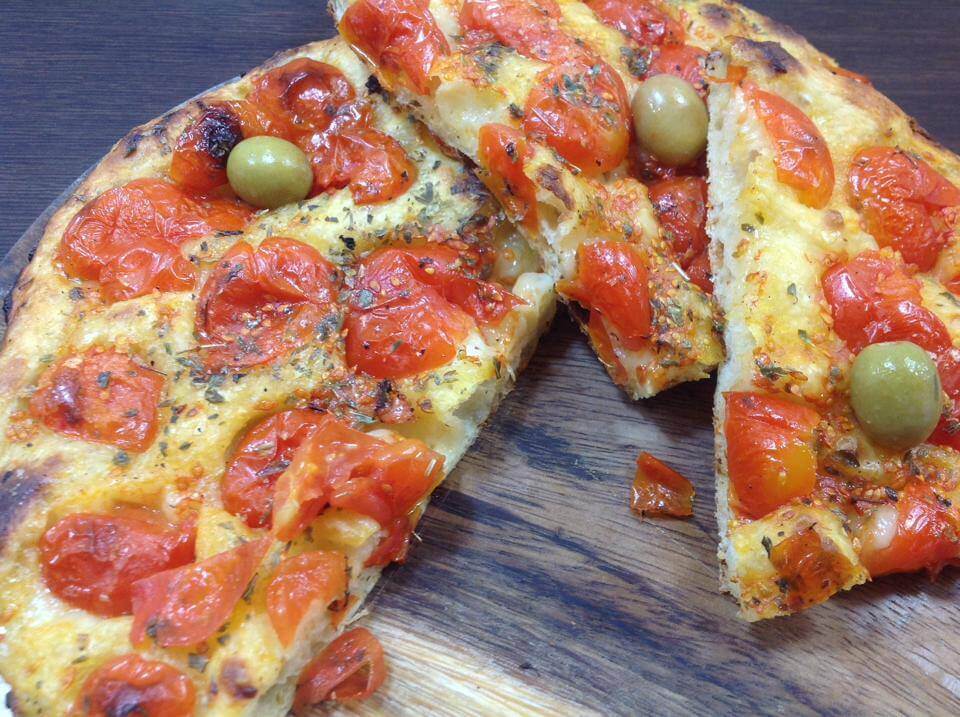 Take into consideration various salumerias (salami, prosciutto and cheese shop), rosticcerias (variously cooked meat), braccerias, etc. All these places are amazing! You can have a substantial lunch, consisting of meat or fish and various snacks for really small money.
Rosticceria Oriente di De Santis Giuliano (Viale Orazio Flacco, 40). From the city center, continuing towards the Policlinico di Bari, there is the home of all fried food in Bari. Panini are super delicious here. Their cost is 3€ !
Other specialties are mozzarella "in carrozza", arancini (Sicily snacks with rice and mozzarella), croquettes with stuffed cheese will be for you a real "drug" 😉 All the prices vary from 1,60 € to 3 €.
La Salumeria Antica (via Bianchi Dottula, 17) will suggest you a rich choice of salumi, prosciutto, baked or grilled pork, sauces and cheeses. You'll get a delicious panini from the ingredients you choose.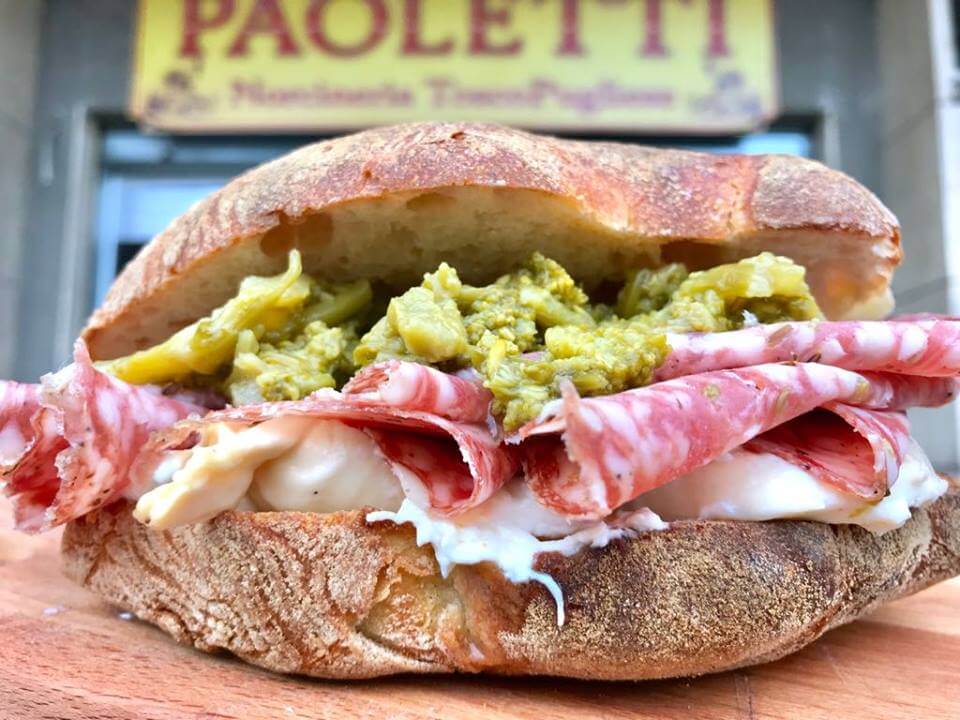 El Chiringuito (Bari waterfront)– a seafood paradise at the waterfront of Bari and the true beating heart of Bari, where the gorgeous blue boats are parked.  You have an opportunity to taste octopus, cuttlefish, ricci literally from the fishermen boats! The scenes you can watch visiting the fish market are more than bright: men playing cards with bottles of beer, fishermen cleaning fish under the burning sun… and in the evening all the world come here to eat, to meet friends and to relax after work. The bar is famous for the only product  – Peroni beer, a trademark of Bari.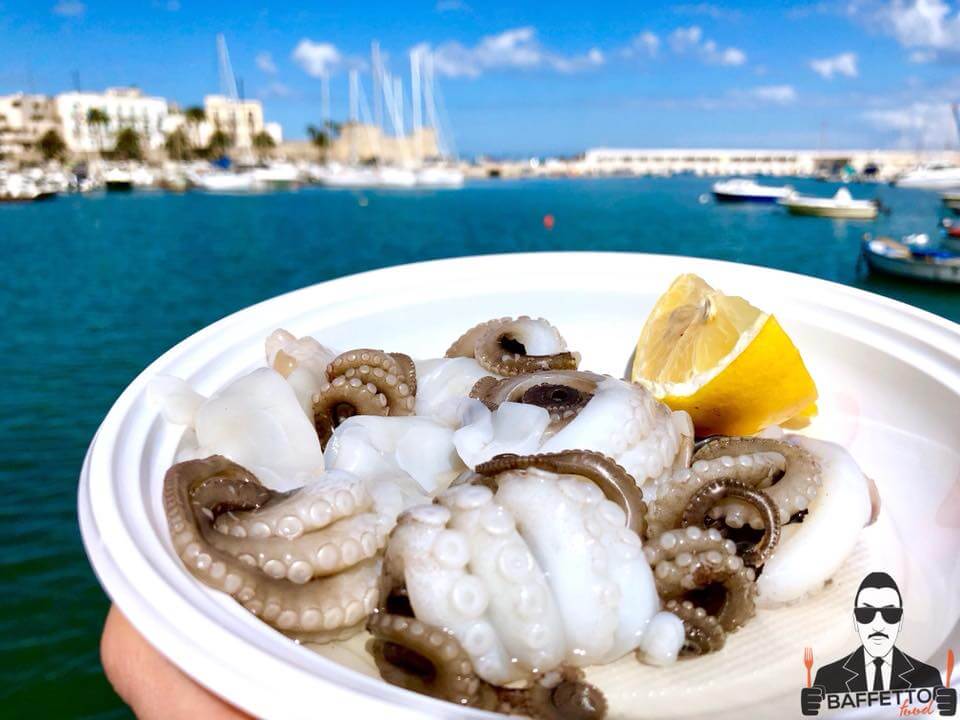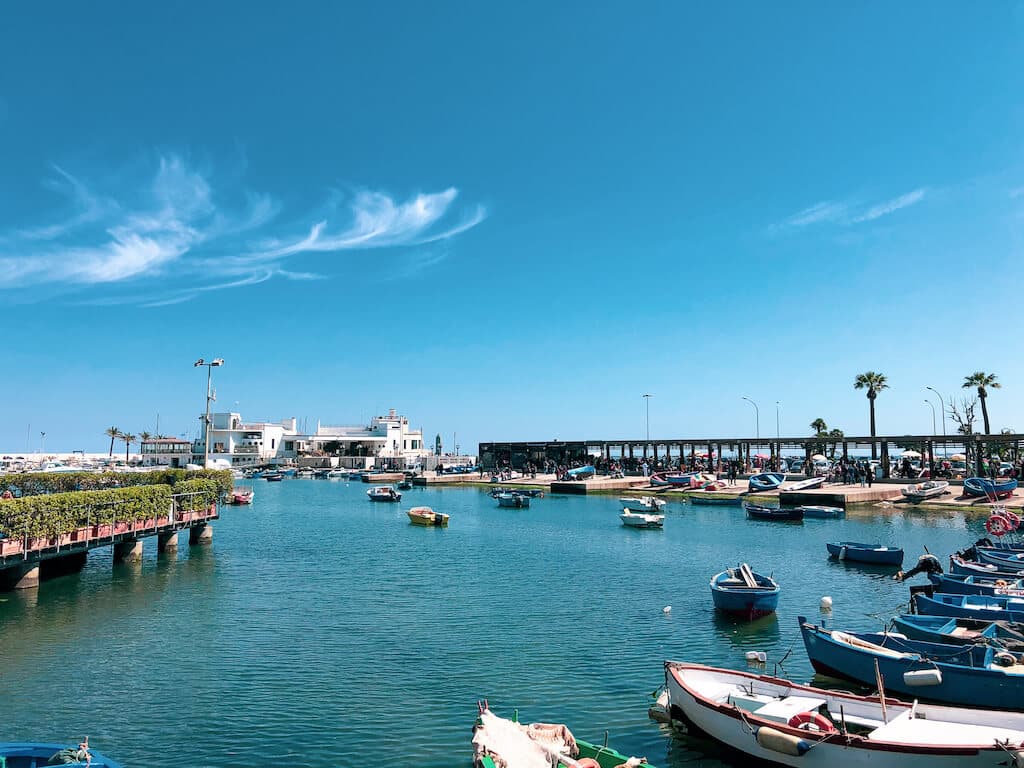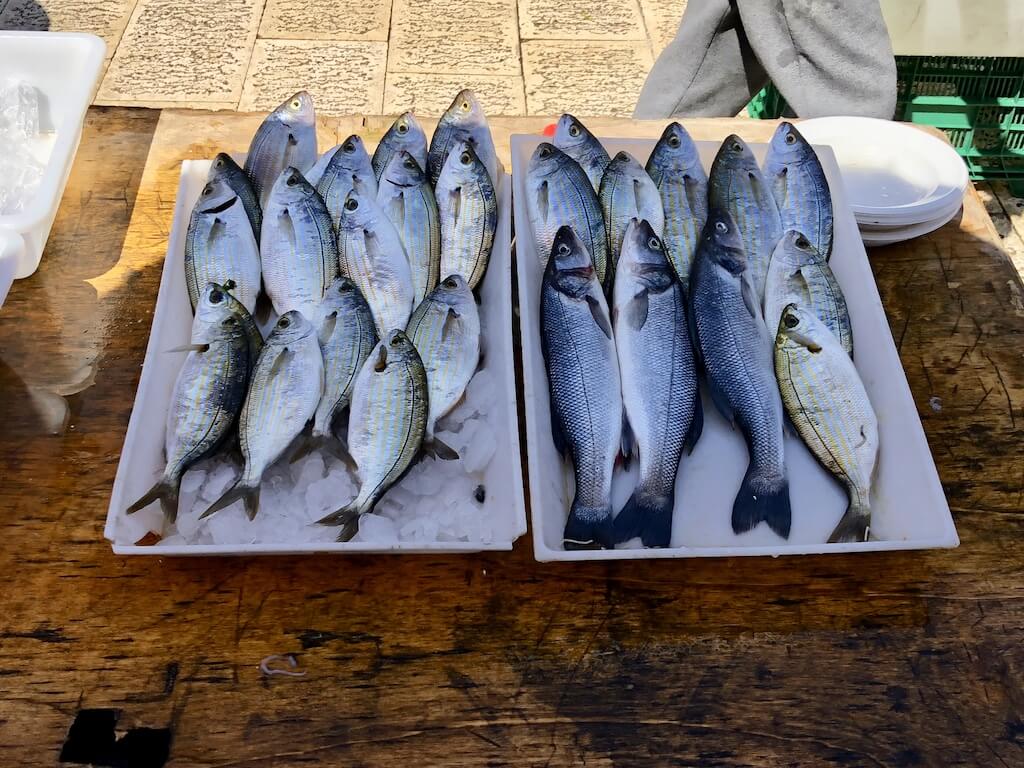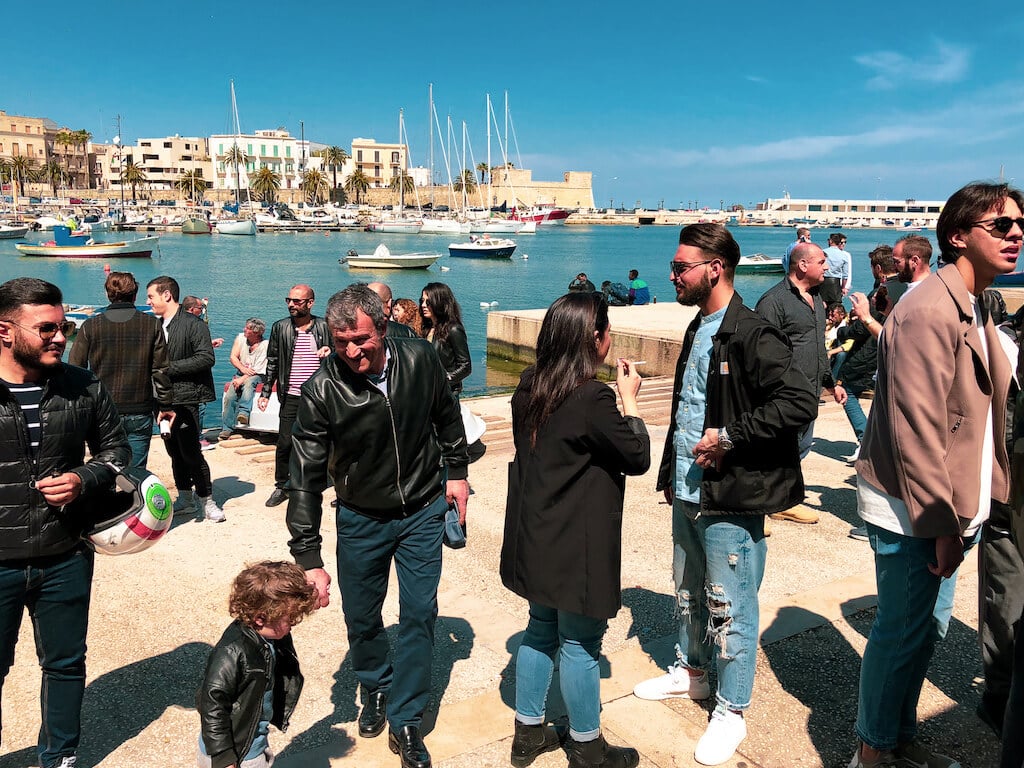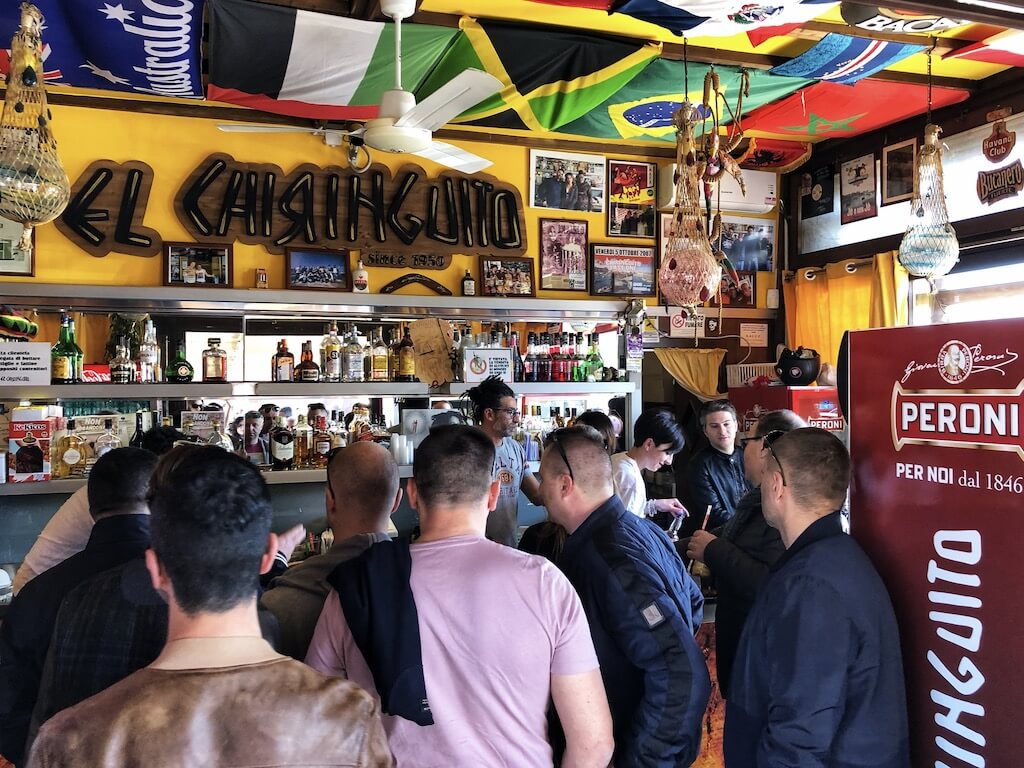 #3 Go for aperitif & shopping in the Murat neighborhood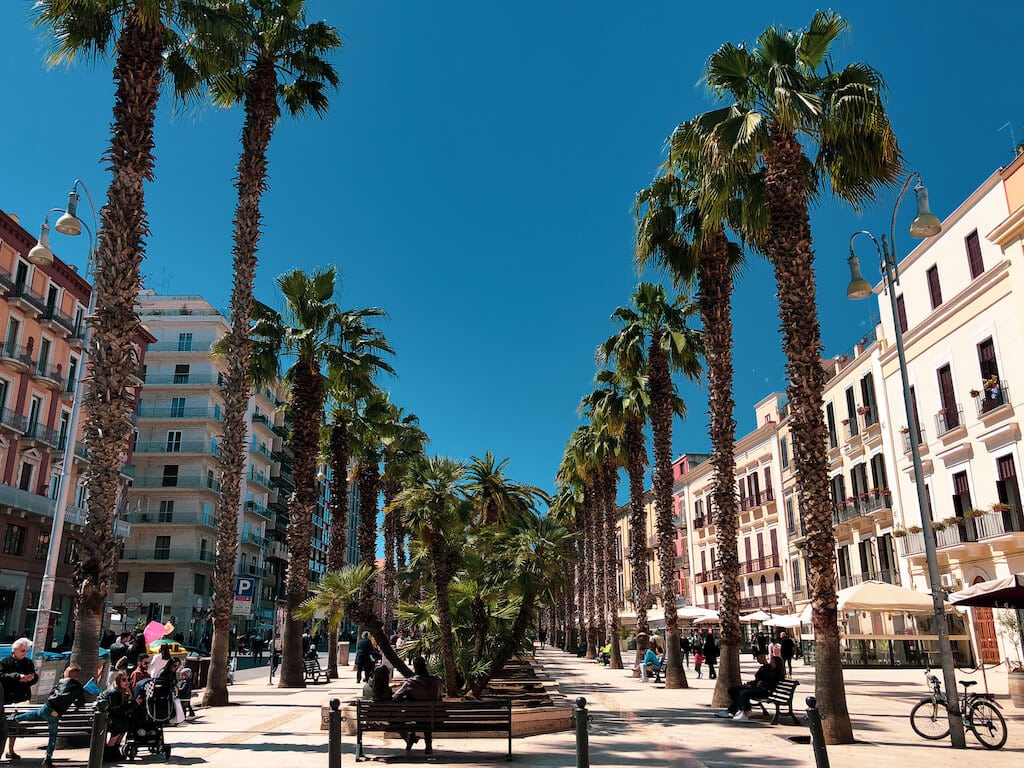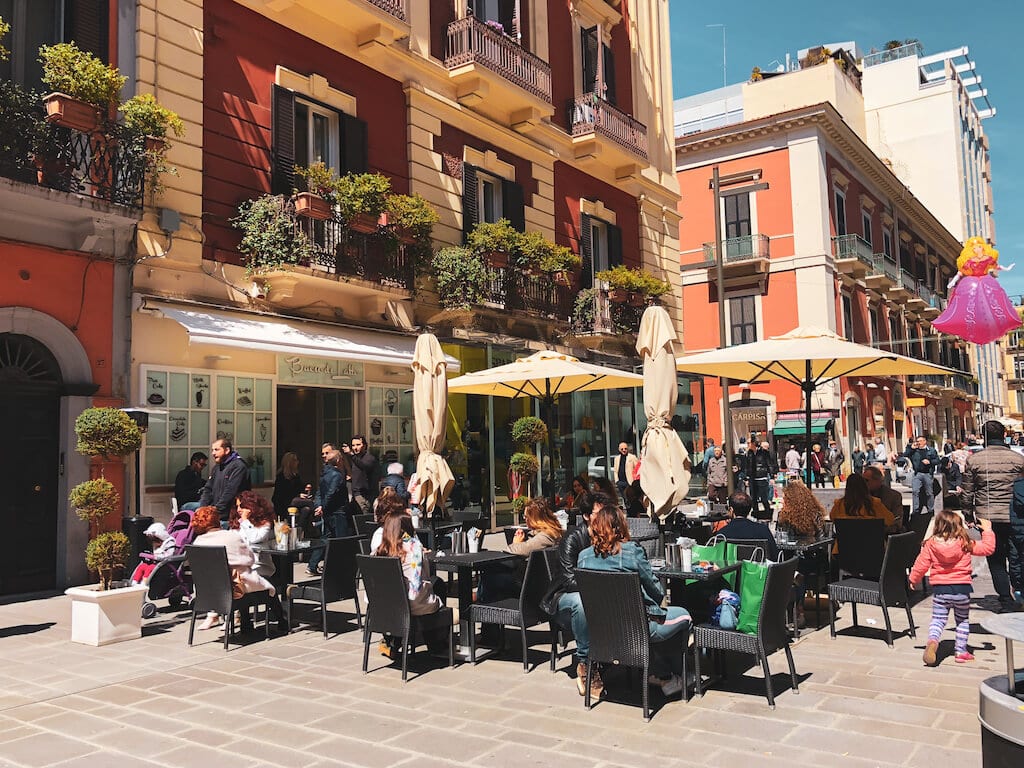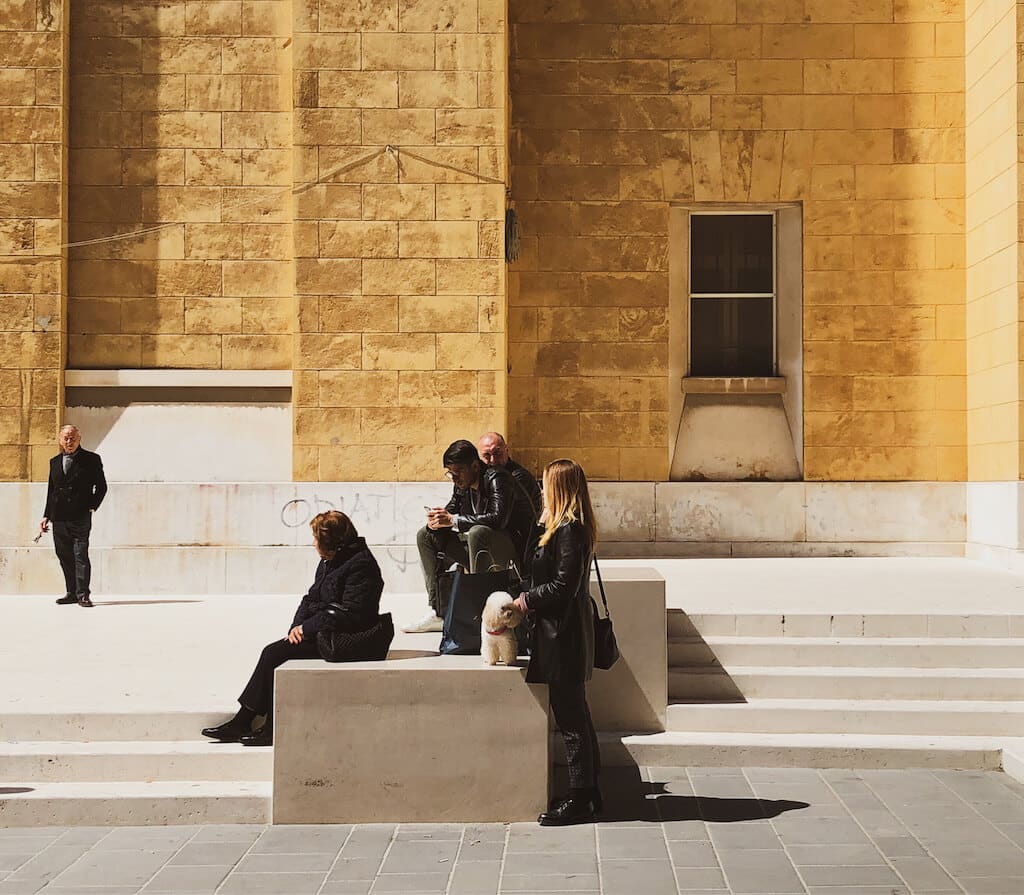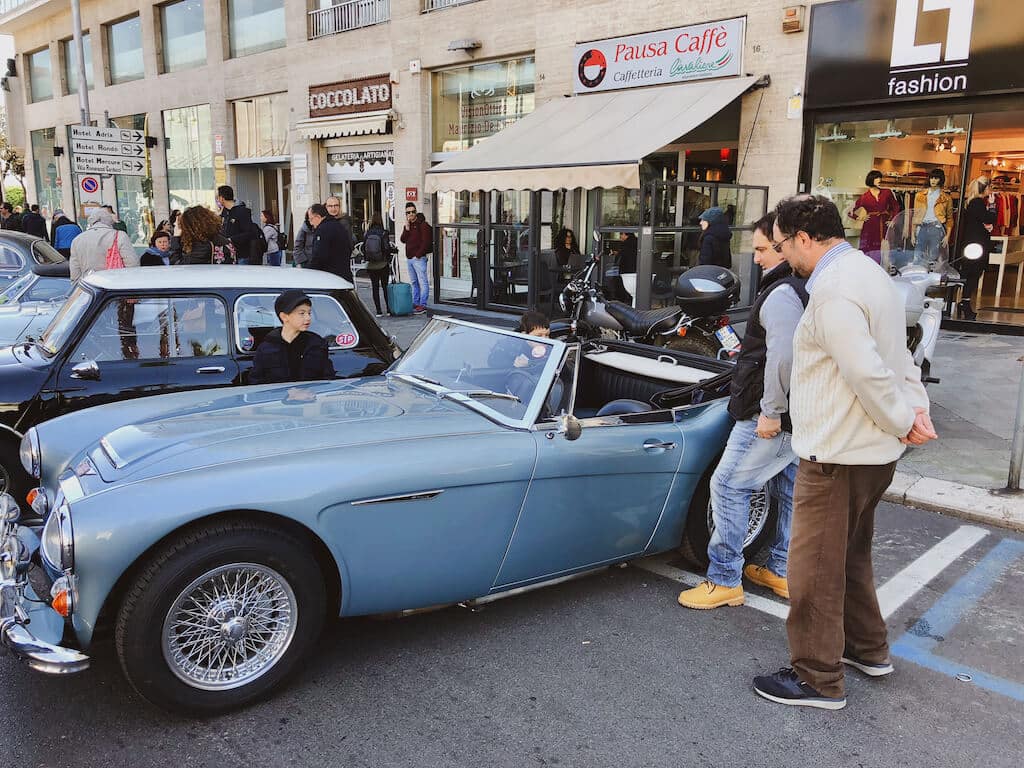 Oh, Bari has what to suggest for sophisticated shoppers! See my post about shopping in Puglia.
Definitely, you've already been in Murat neighborhood. Wide streets in between Corso Vittorio Emanuele II and Piazza Umberto I. If you are a fashion love this is for you: Insight Concept Store right behind a famous Petruzelli theater (which also should be included in the list if you stay here more than a day); Mimma Ninni concept store in via Nicolò Putignani; Dante 5, Via Argiro, 93 . It presents modern Italian brands as well as those world known like MM6 Martin Margiela, Alexandre Wang, Marni, ODEUR, Alberto Premi, Attico, etc. Moreover, the store is a part of Farfetch luxury online boutique. See what's on Farfetch click here. In between these shops, there are lot's of other local, not local various shops. So walk around.
Another point for your shopping is Via Sparano full of what we are used to see and shopping streets. But don't forget that all these is closed during the lunch time 😉 Except Sephora, Cos, HM, Zara.
#4 How about some contemporary art?
Bari is famous for its theaters. For example, the Petruzzelli Theatre is one of the most important opera houses and the fourth largest in Italy after La Scala in Milan and the San Carlo Theatre in Naples. Till the middle of XX century, Bari counted 10 theaters and the city was known in the whole Italy right for its artistic vivid life. There even existed "a mile of Bari theaters" as they were all situated near each other and presented a diversity of art.
But today there is more to visit. For example, Spazio Murat (Murat Space) in Piazza Ferrarese- a contemporary art space, which is aimed to promote the contemporary art in society with the emphasis on visual art and design and present the leading pieces of "made in Puglia" creativeness. It also brings foreign experience for the local audience like World press photo exposition last year, etc.So it can boast of having various expositions, holding workshops. It also has a concept store – Puglia Design Store.
#5 Eat that yummy pizza at Enzo & Ciro Pizzeria
Pizzeria Enzo e Ciro, Via imbriani 79. Oh guys, what should I tell you… You have to skip the lunch to taste all this pizzeria has! 🙂 It was a cold and windy Monday when we came to Bari in the evening. We were so hungry that there was no time to search for a decent place in some app. But we were amazingly lucky and one local told us to go to this place. Attention, it was Monday 7 pm. Everything around was empty. But here we waited for 20 minutes to get a table but it was a worthy and spectacular waiting.
"Due pizze, per favore!"
I will not describe a lot, I'll just say that it was fantastic! Considering the quantity of people (3 rooms totally full) we received our pizza in ONE HOUR! But it was a good chance to taste all their delicious appetizes.
So yes, end up your one day in Bari eating the best pizza.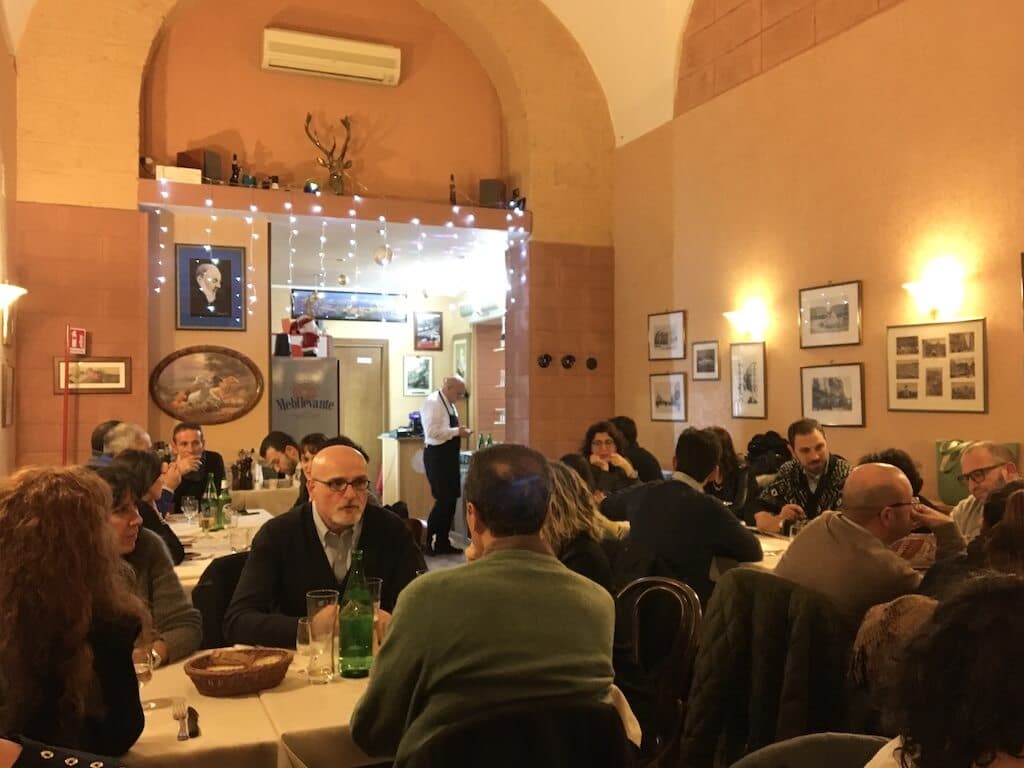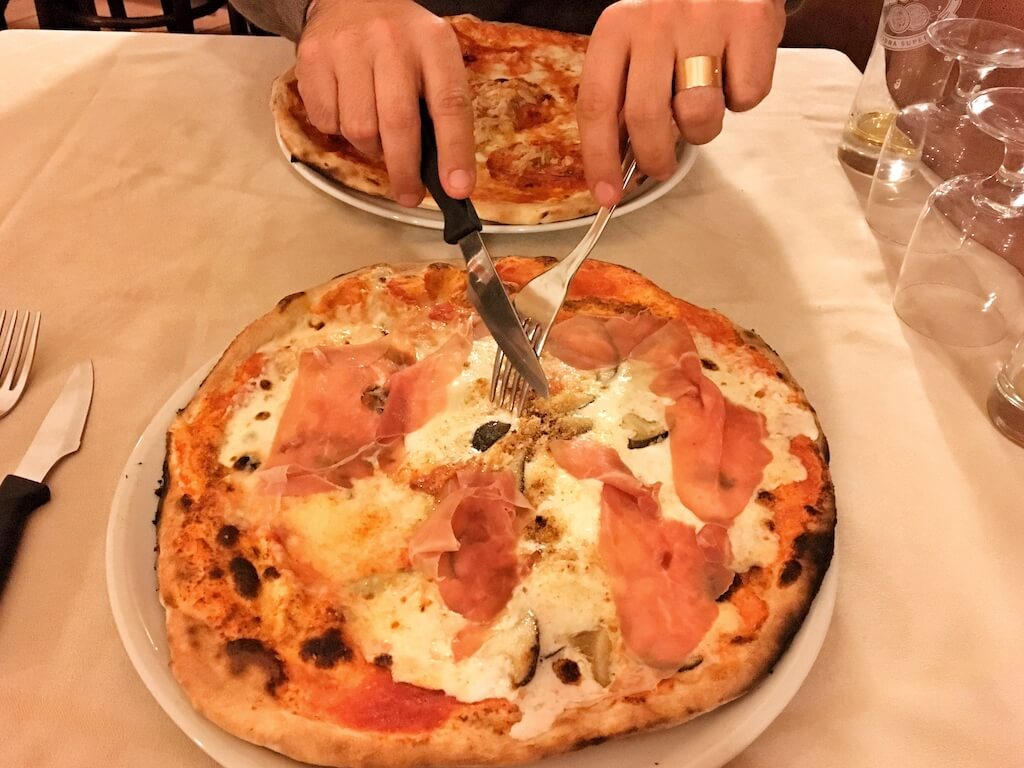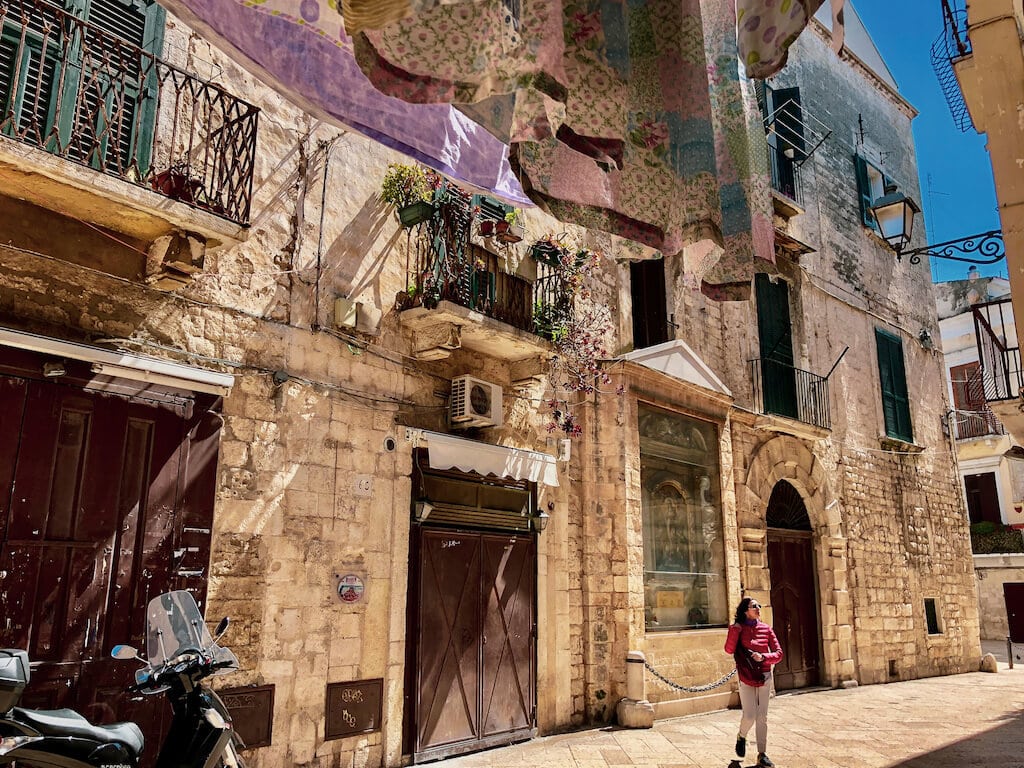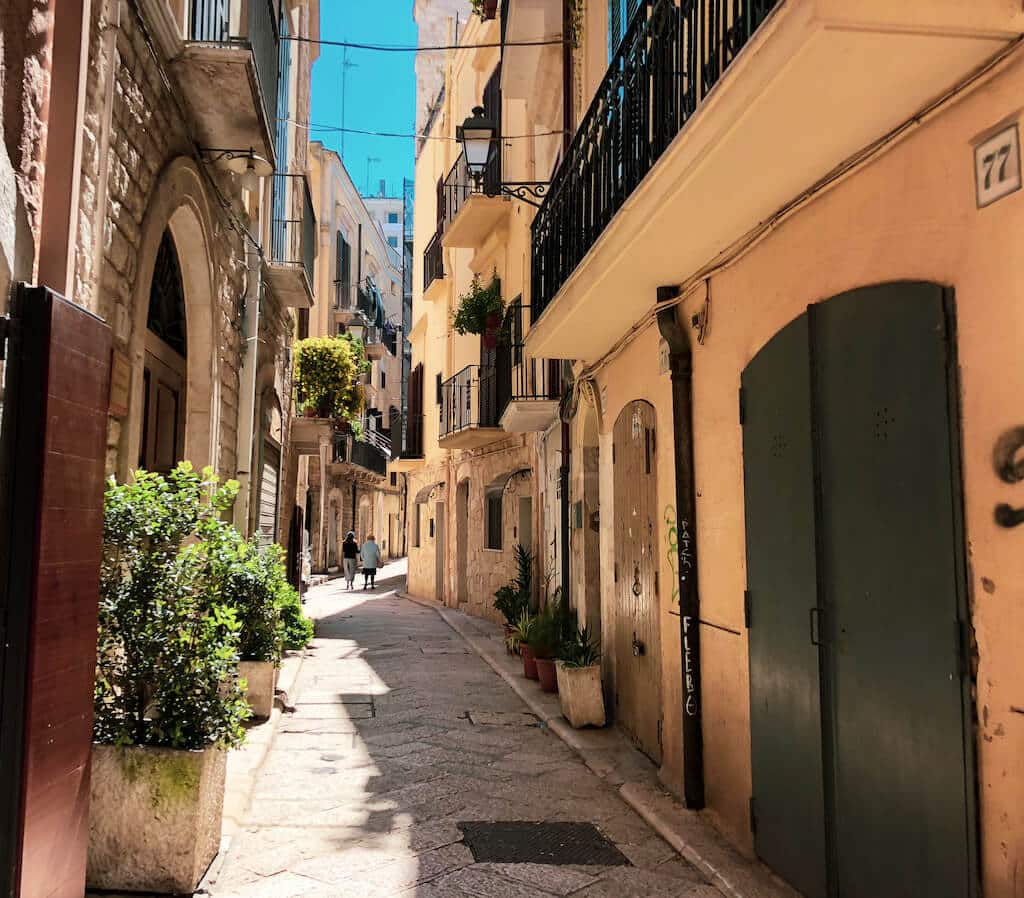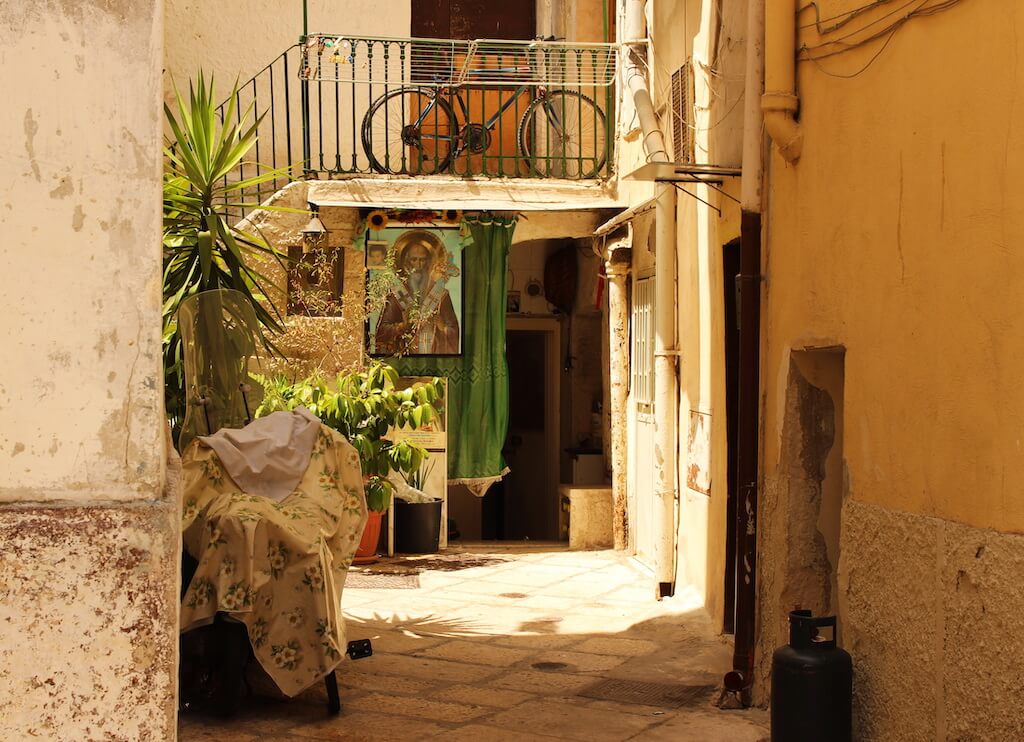 If you like this post, please PIN IT 🙂