After a week of surfing and being far from a noisy city in Algarve I was back to visit Lisbon where I had 5 more days to enjoy the Portuguese capital. And as I was staying with my Portuguese friends I had an amazing opportunity to dive into their local lifestyle and to eat out in true Lisbon local places.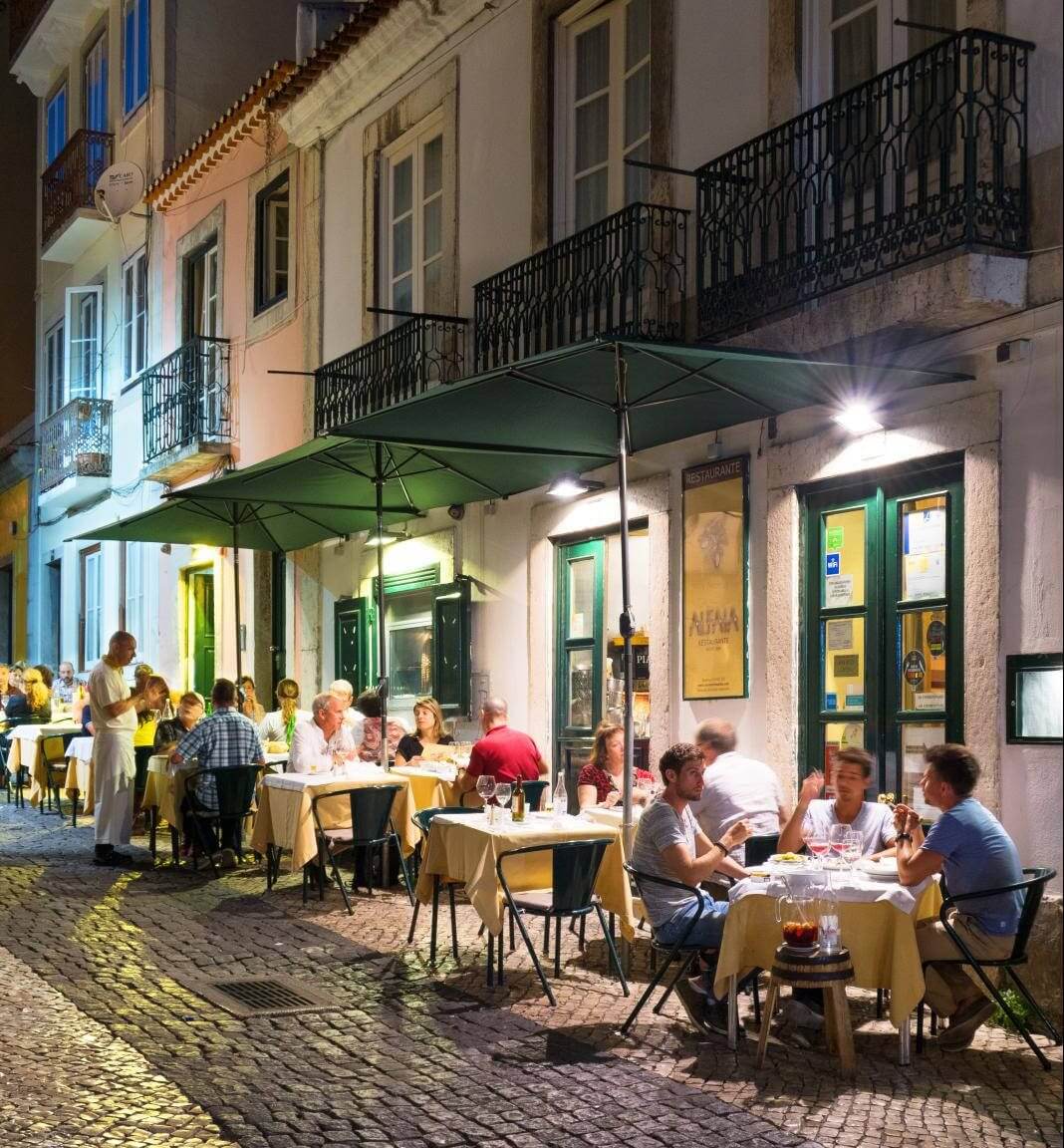 With Lisbon the things are easier actually. Unlike many other European cities it is a very cozy capital, full of distinctive neighborhoods, tiny streets with street art, super small and low doors passages (I do notice such particularities 🙂 ). Here you will find something special and unique with less efforts. Except you'll have to walk up and down all the time searching this special, but walking around Lisbon is only a pleasure. 🙂
But the thing is that only the locals can take you those Lisbon restaurants where you'll be too lazy to go even if any kind of Tripadvisor will recommend you the place. Why?  Or it is or outside of  the downtown and you don't want to find it out or closed or full, or it is not what you've expected and all the rest.
Taste true Portuguese cuisine in simple restaurants
Here is my own top Lisbon restaurants list of really Portuguese and very simple like all Portugal, and very tasty like everything in South, places to visit during your next trip to this great country.
#1 Tasquinha do Lagarto
Tasquinha do Lagarto, Rua de Campolide, Nº 258 – was the place for a second day dinner, as the first one I spent at the stadium 🙂 . As the next day was a football match as well and the majority were the boys in the company, obviously we couldn't miss the game.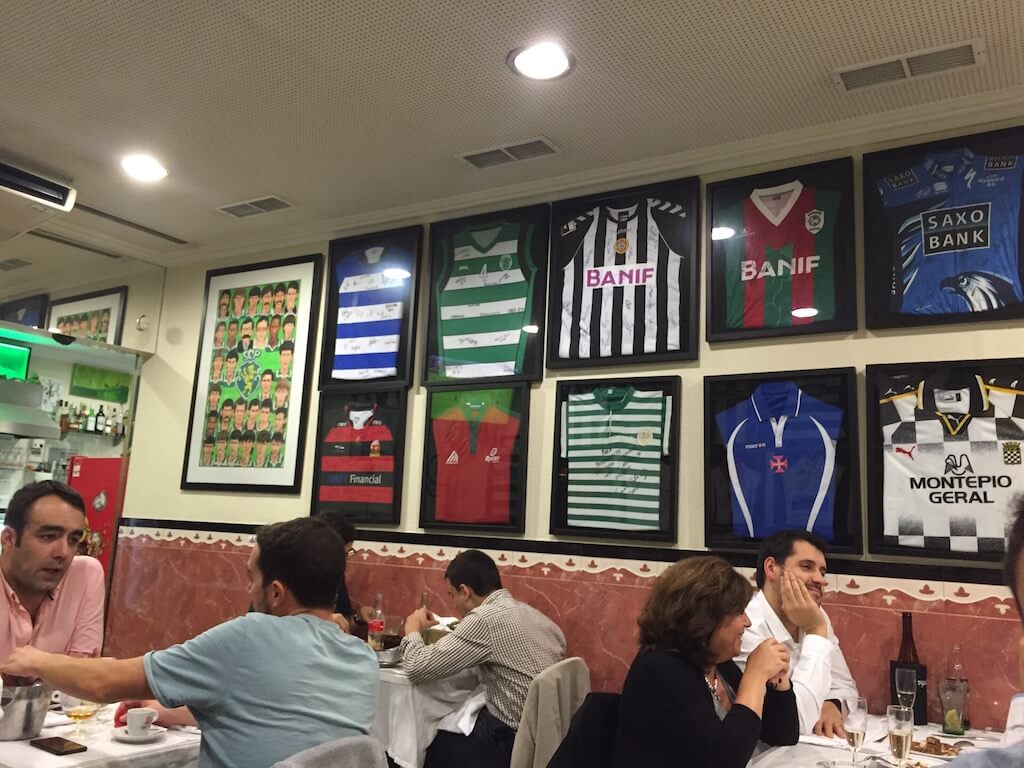 So we went to a "football fan" tasquinha (something like trattoria in Italy or kafana in Serbia) to eat and watch. The place is situated very outside of the downtown and welcomes with such a tasty food and local wine! Big plates of meat, fish, potatoes followed by wine (even if we were watching football, not many people were drinking beer actually). The main decoration of this simple restaurant are the T-shirts of various world-known players. So all the walls are covered with them. Next time I promised to bring one from Shakhtar Donetsk or Dynamo Kyiv!
After a lusty meal when you are hardly breath… You can't ask for a bill! No no no. One thing remains  – a desert, a chocolate mousse with a coffee powder. 🙂 A must after all the meal! Now we are done. 🙂
Seafood in Lisbon
#2 O Palacio
O Palacio, Rua Prior do Crato, 142, Alcântara. Sounds royal, ah? One more place situated a bit outside of walking zones. Be ready for every kind of a seafood, or even to try something that maybe you haven't tried yet! What else to be ready for? Totally packed restaurant and buzz of every kind of noise. The locals adore this place, so be ready to wait in a line especially if you are around 7-8 people. So, what to taste?
Appetizers: oysters, prawns, some vegetable spreads, a very tasty bread and something which I even can't remember a name. 🙂 Tastes like oyster a bit, this is a stuff picked from corals. Main dishes  – lobsters, crabs, mashed crabs served in a crab shell, fish. All this you can see in an aquarium at the entrance. So the speciality of "O Palacio" is that it is a place that can be hardly named a restaurant. 🙂 Simplicity is the right food here. All eyes on food.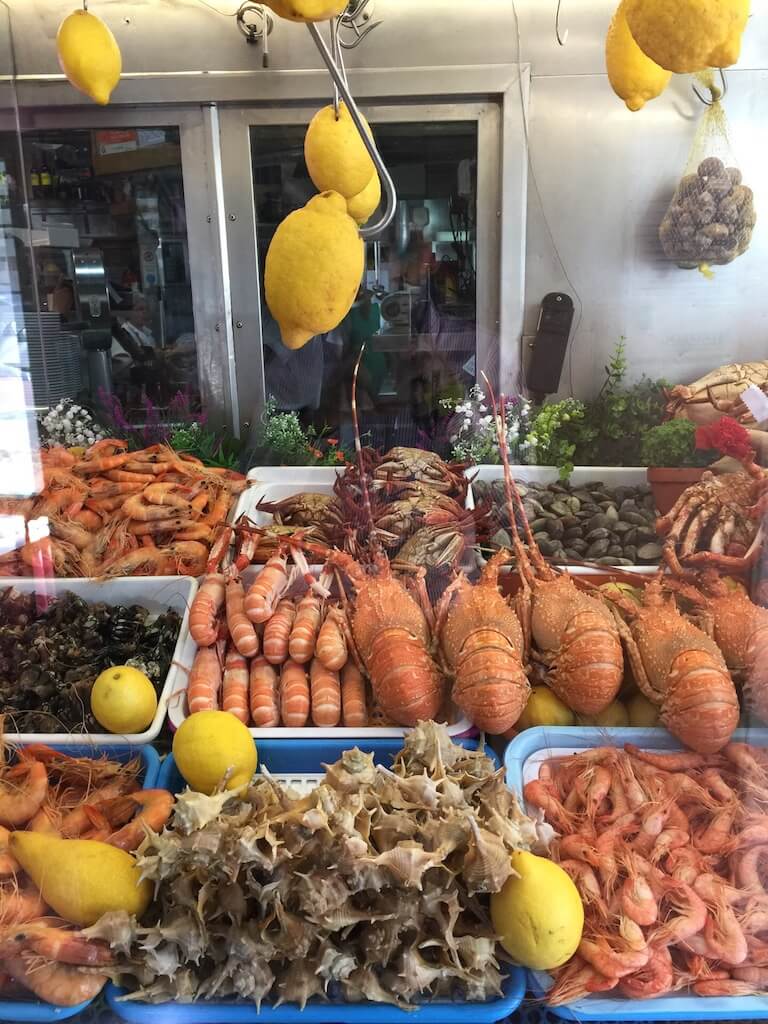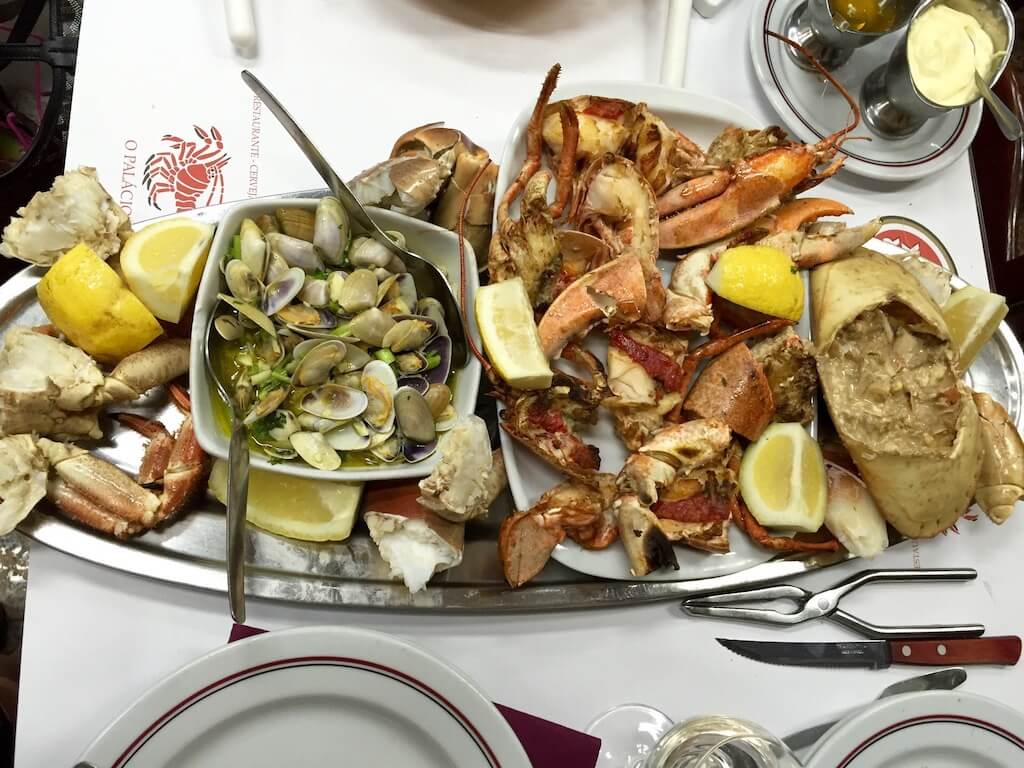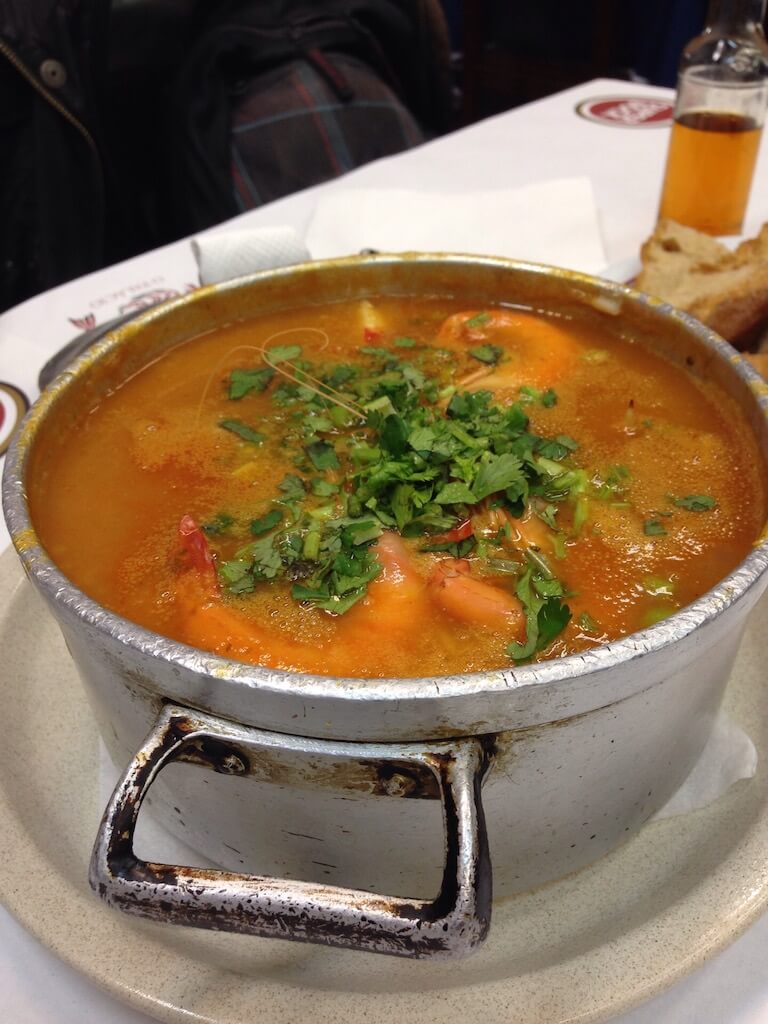 #3 O Caramelo (Sesimbra)
Restaurante O Caramelo, Estrada moinho de Baixo, Aldeia do Meco 2970 Sesimbra. This restaurant is located in a nearby to Lisbon town called Sesimbra and is a perfect escape for the locals on Saturday for a 4-hours lunch near the ocean. The beach near this restaurant is just wow! Limitless cost and wild waves! So yes, we stuck there for over 4 hours on the terrace to enjoy the seafood. The menu is similar to "O Palacio" restaurant. Simple and tasty.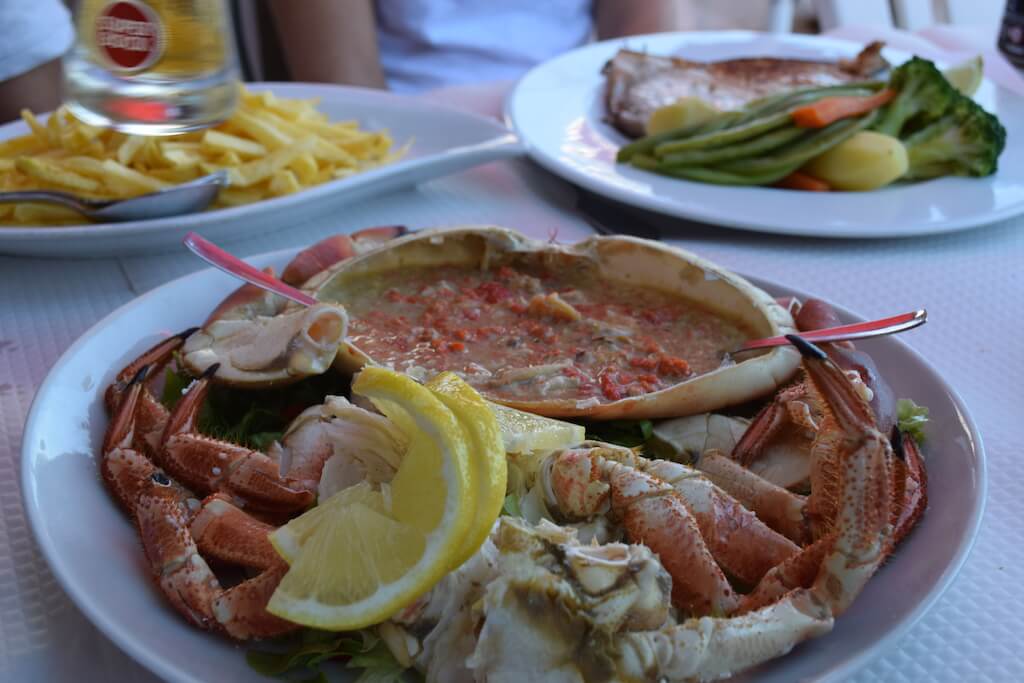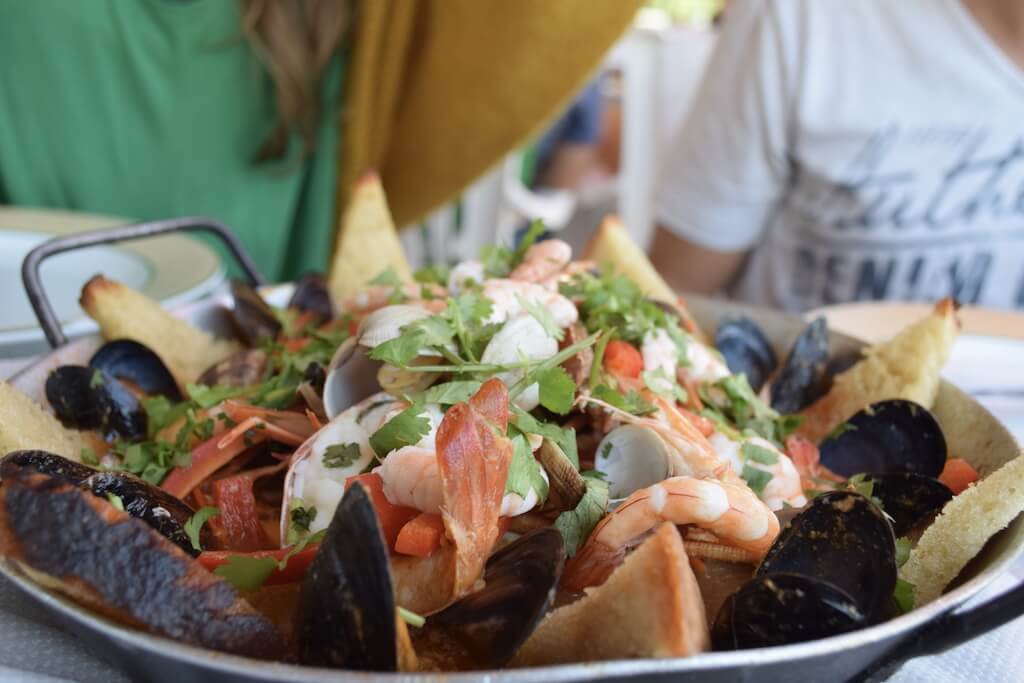 #4 LX Factory, Sushi Factory
LX Factory is a huge space of a former factory full of shops, artistic stuff, cafes, restaurants, tatoo and beauty salons, exclusive jewellery boutiques. It has a flea market, a disco hall, a DJ "counter". So in two words it is a nice and creative space. So there is a Sushi Factory with an excellent sushi choice and taste. It has delicious sets for a company which is great, becuase you can share it between everyone. It also describes a Portuguese tradition to share everything.  The place is absolutely recommended!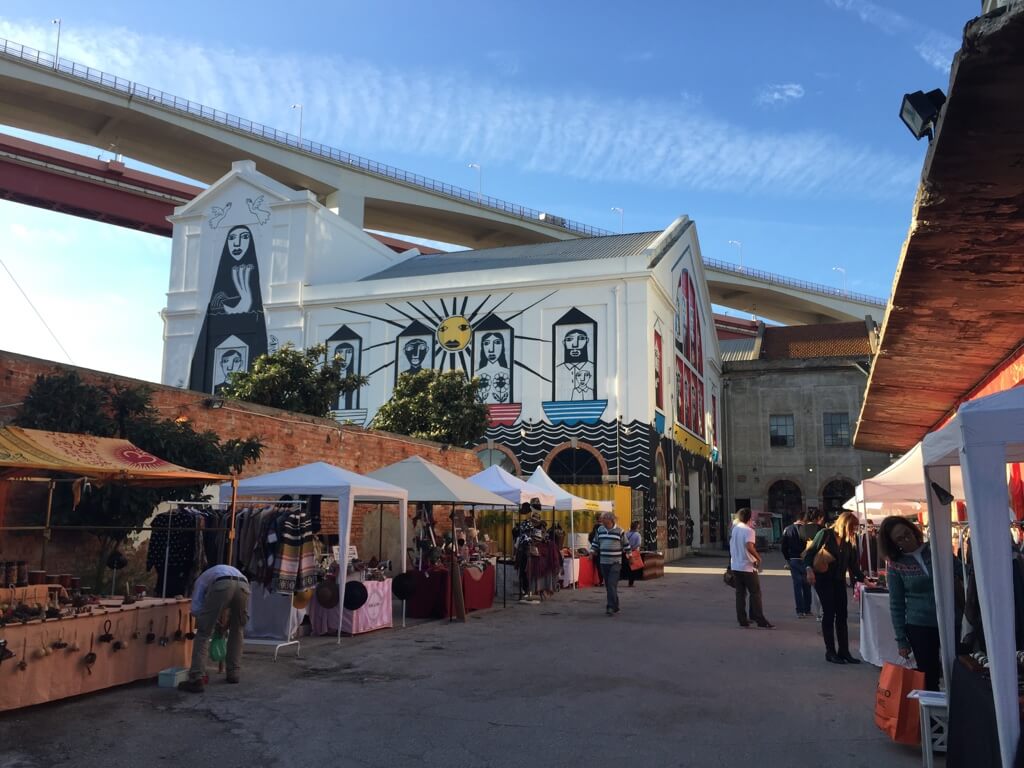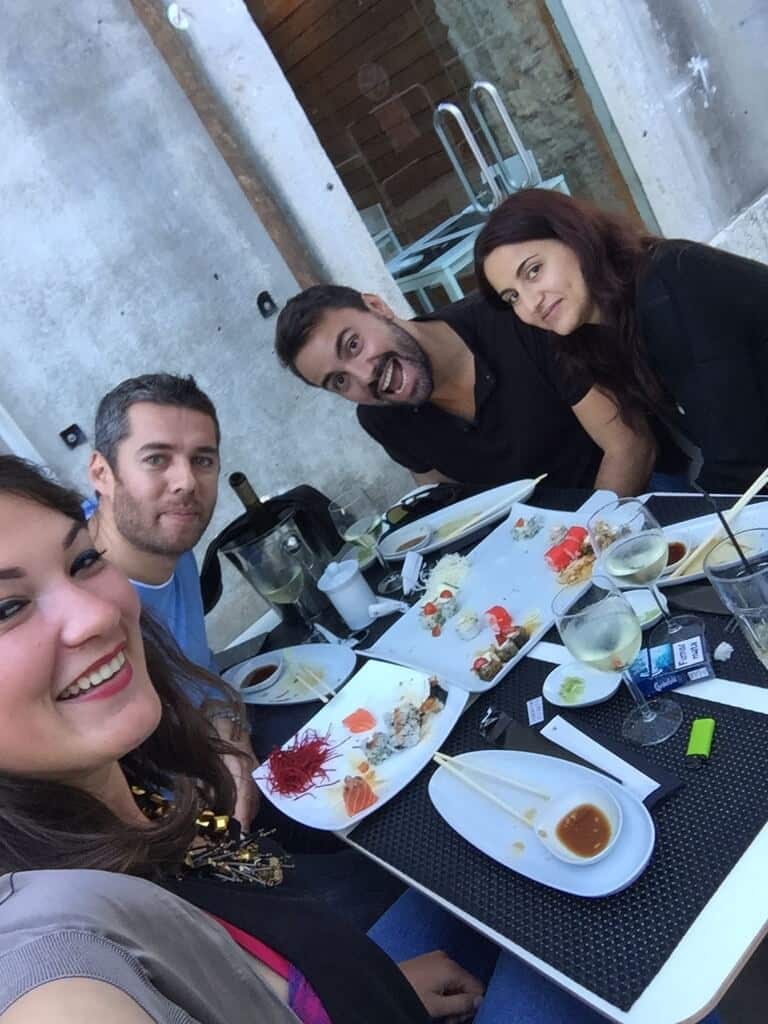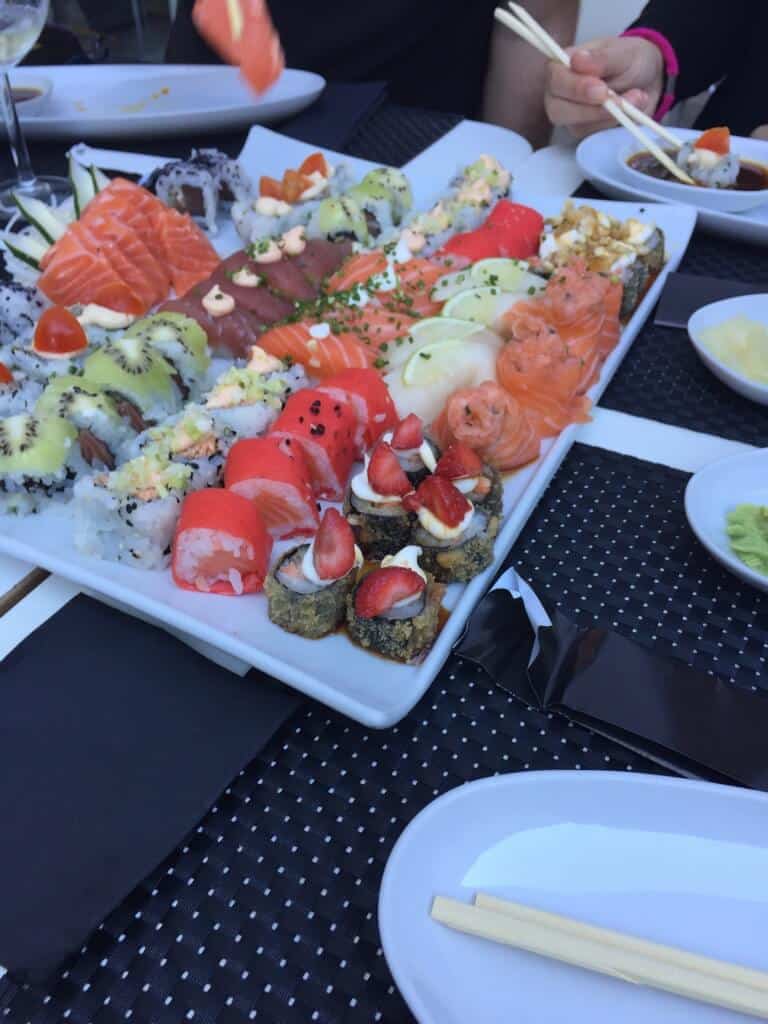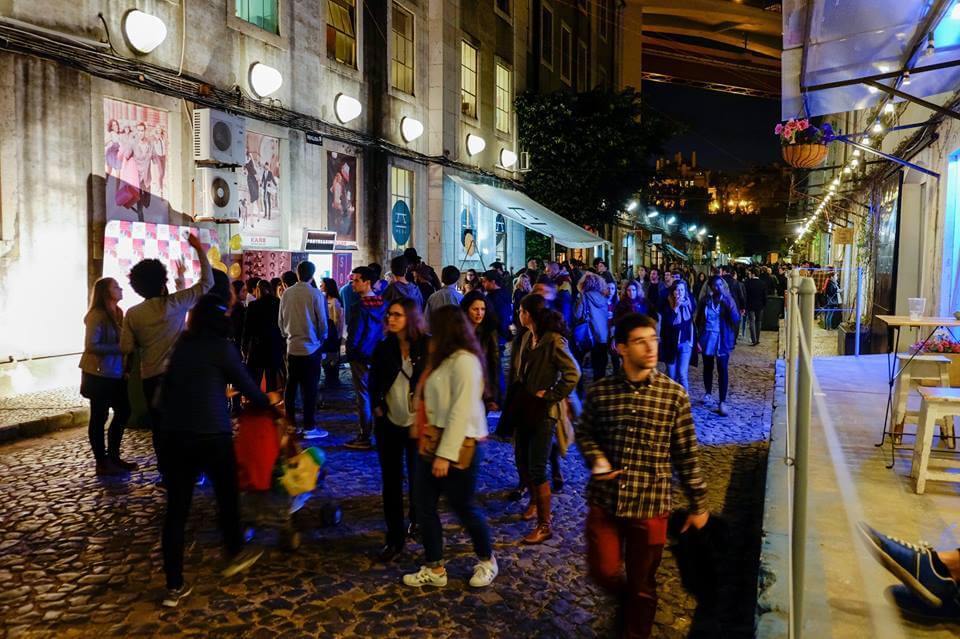 #5 Tapa Bucho
Tapa Bucho is a tiny tapas bar right in Bairro Alto central district. It has a quite interesting choice of dishes like fried potato jacket, or an omelette with pork cracklings. This was the most surprising to me as we can cook eggs like this in Ukraine and not only eggs. Cracklings may be a part of various dishes. Actually I did like it!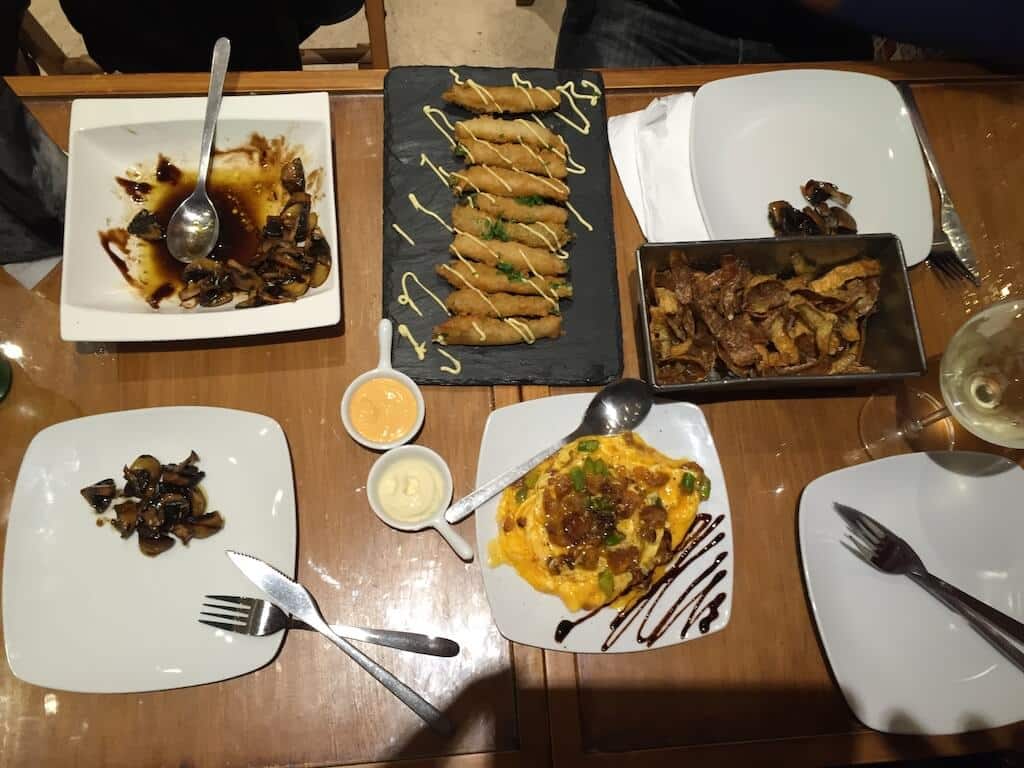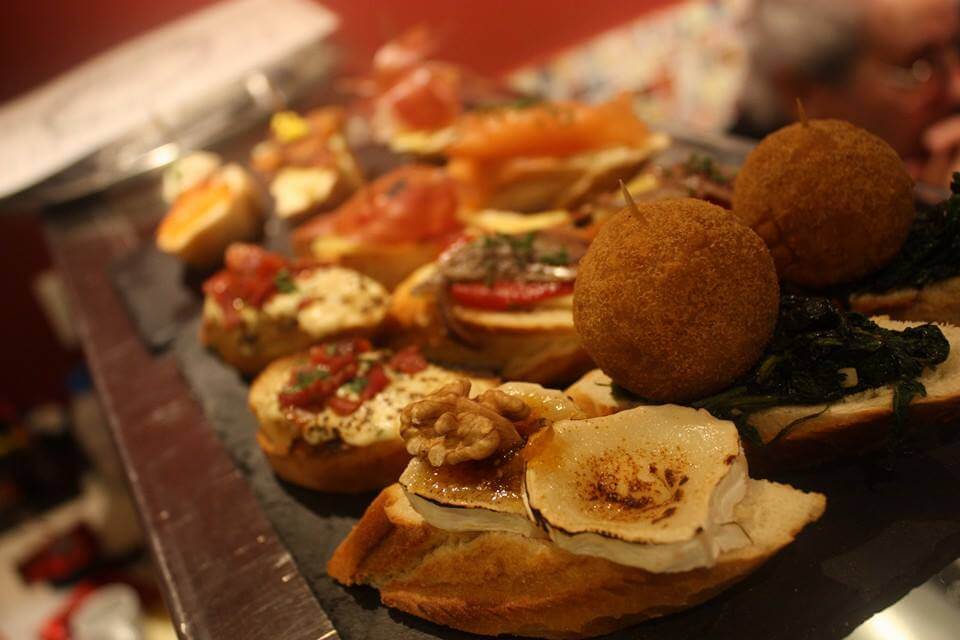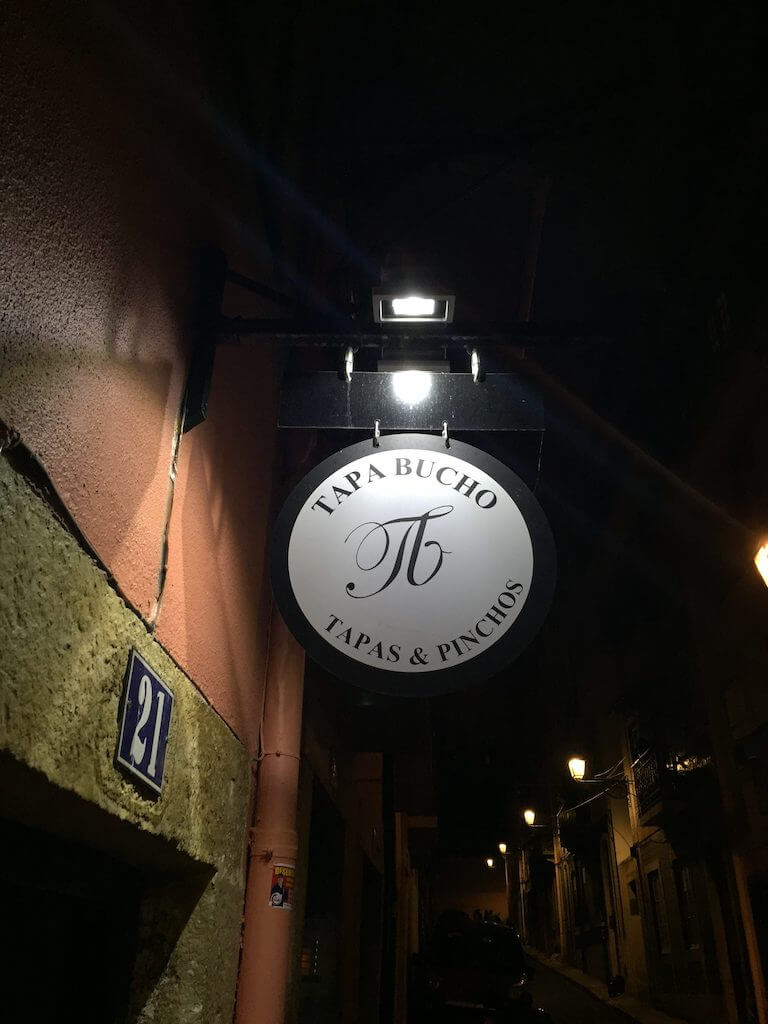 #6 O Eurico
O Eurico is another restaurant in the downtown of Lisbon, towards Alfama. Here you will find much more tourists, but still the place is very authentic and the cuisine is decent. It is run by an old couple who manages everything here. Here you'll find both fish and meat, but the speciality is fish.
After a bottle of vinho verde, Portuguese "young" wine, all the people around know you and where you are from! Small space and a friendly atmosphere!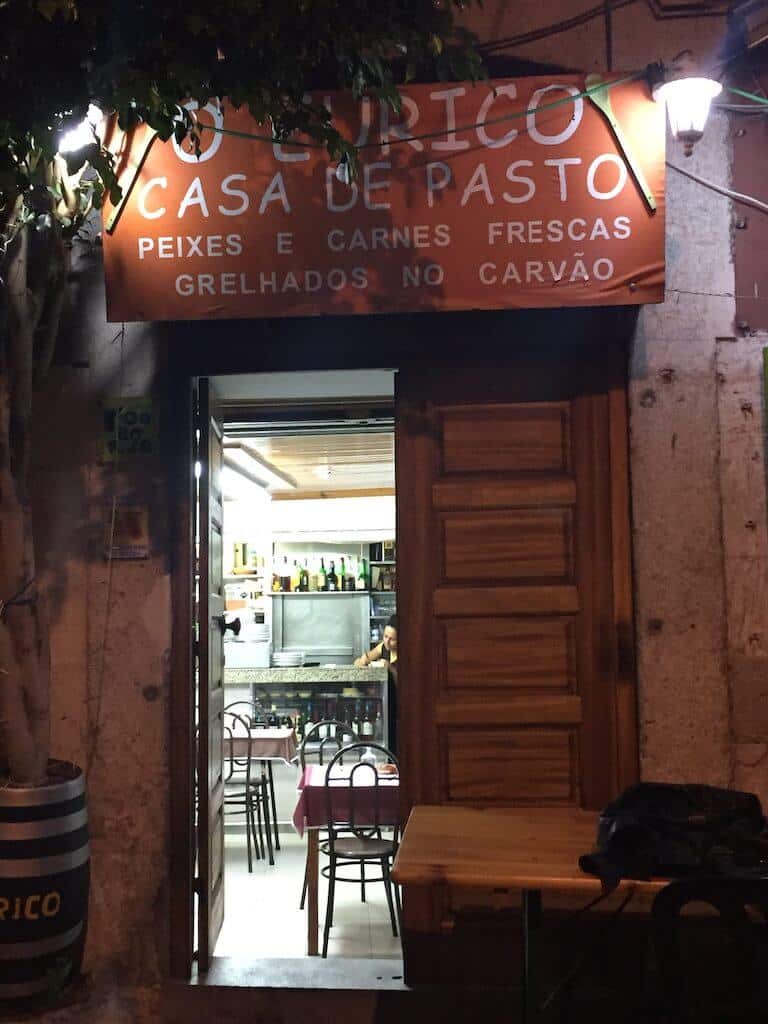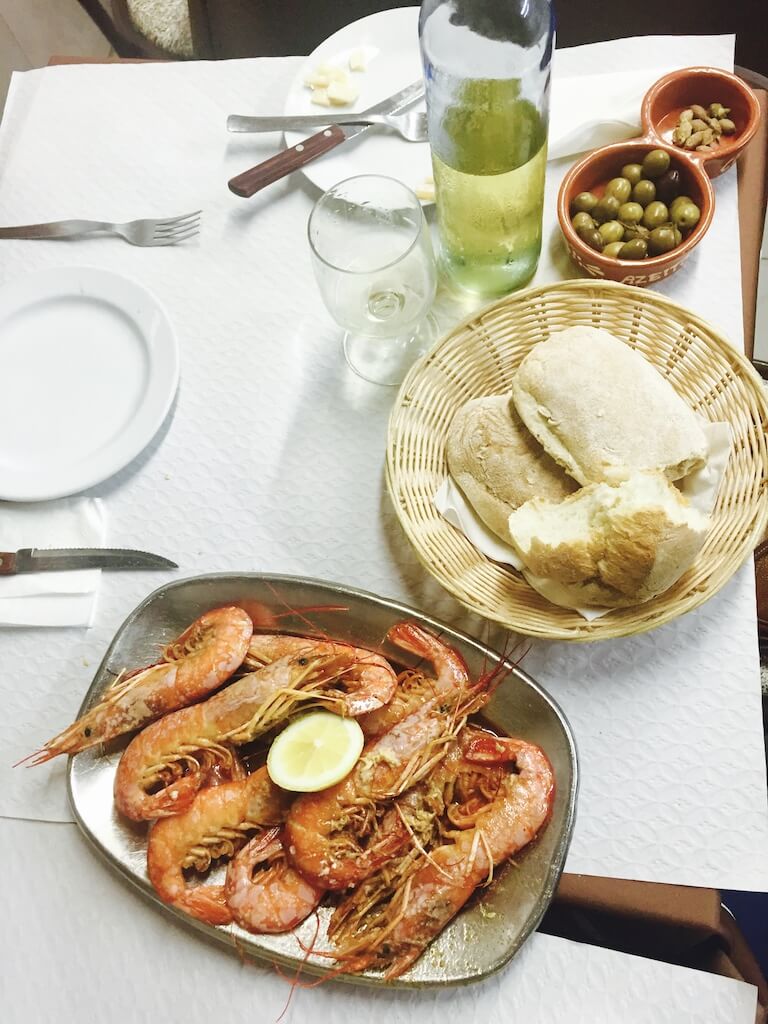 #7 Bella Ciao
Just in case you'll want to eat some Italian food, go to an Italian chef!
The funny evening and the latest dinner ever we had in this place! 🙂 We booked a table, came around 9:30 pm and it was still occupied. So we took some wine outside and were waiting for the rest of friends. Well, like this we spent around one hour, drank pretty much of wine and we already hanging out all together outside. 🙂 After one hour we finally got our table for 9 people. That evening I was the luckiest one to get my pasta at midnight! 😀
It was one of the longest and the funniest dinners! 🙂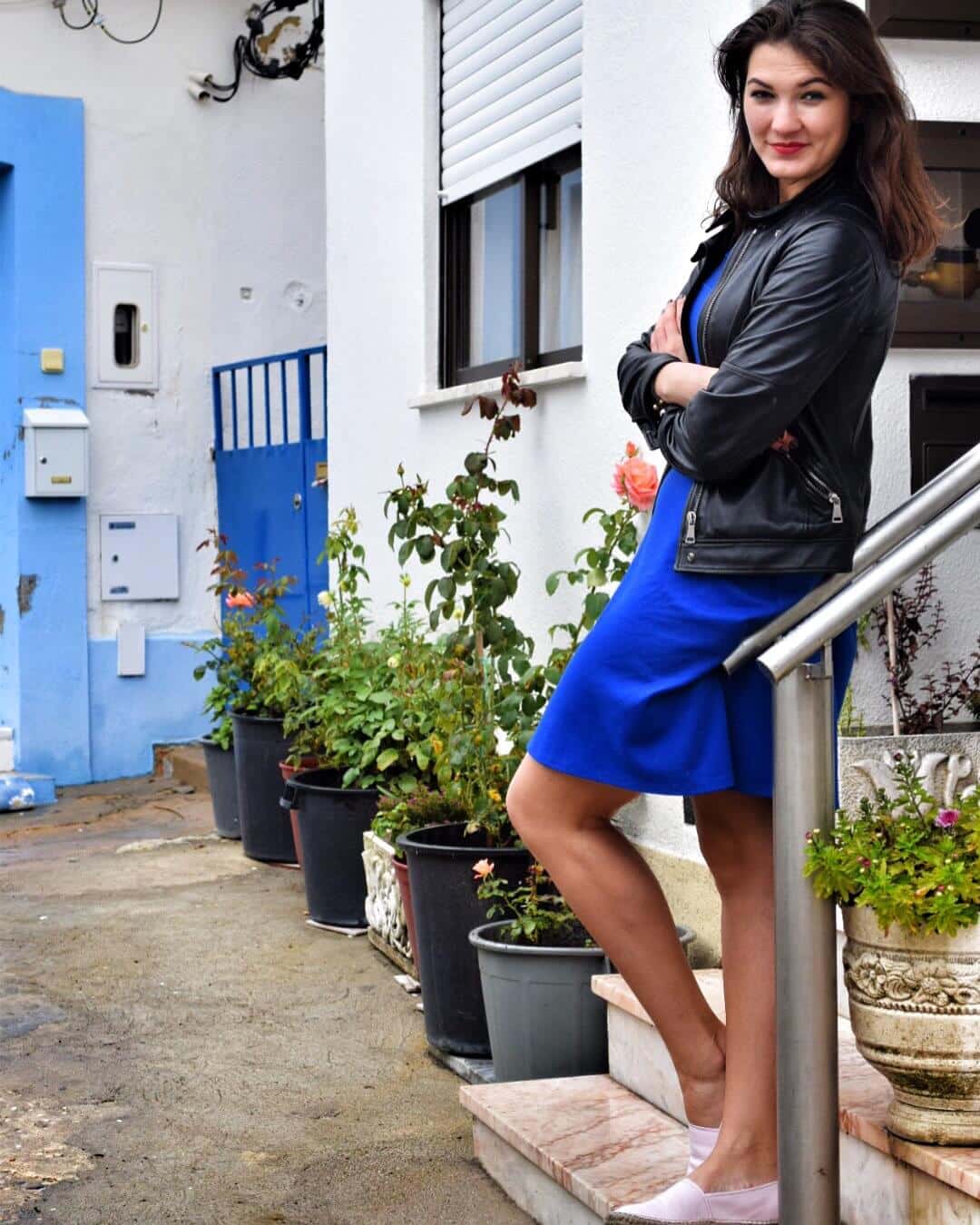 If you like the post pin it!